'Survivor: Philippines': Another one bites the dust
The second in the Tandang trifecta gets the boot this week, leaving Abi standing alone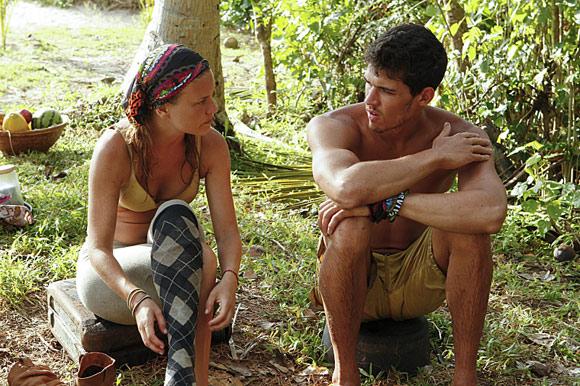 Last week on "Survivor: Philippines," Artis was the first of the Tandang trifecta to be sent packing – thanks to an unexpected flip courtesy Skupin, not Lisa, as meanie Abi had contended.

With their alliance crumbling, how long before Pete and Abi are sent home, too? "Tribal council disaster," Abi lamented. "I thought we were supposed to be strong together." She and Lisa had a chat, and Abi asked her if she was going to stick with them. "I have never been good with break-ups," Lisa said. "It feels comfortable to be used." But she was feeling the pang. Abi suggested that Lisa's chances were stronger if she stuck with her and Pete. But Lisa said she'd rather be strong with six people who she could be proud to hang with. "I do think I'm taking control of my destiny. I think it's going to have a profound effect on the rest of my time out here – and really, in the rest of my life."
Bing: More on "Survivor: Philippines" | Pete Yurkowski 
Skupin, meanwhile, said he was just getting started. "I don't think you can win this game with just one big move. You need to keep making big moves. Whichever way I go, I need to control this game as much as I can. It's the only way to go."

Reward Challenge Time! Two teams, each with three drums to defend. They have to get all three face up to win, but the other team, of course, would be flipping them over. The competition would be one-on-one for the teams.


The teams are Abi, Carter, Malcolm and Pete on Red, and Penner, Denise, Lisa and Skupin on Yellow.
First up, Penner versus Carter – and Penner scores. Next, Skupin versus Malcolm – Skupin scores. Abi versus Lisa – Lisa scores, thanks to a mistake by Abi. Pete versus Denise – Pete scores. We're tied, two to two, so Skupin and Malcolm rematch – and the Reds take it, thanks to an error by Skupin.
The reward: a private island spa day, complete with a bath, massages, pedicures – and a full on meal. "We've got all the young kids on a private beach," said Malcolm, "so no strategy talk." But of course he was being strategic. He wanted to figure out who his final three or four might be.
Pete, too, wanted a break to figure out his next move. "I'm refueled and ready to kick some butt."
Back at the Dangrayne camp, on Day 26, the older folks were just chilling – but pretty annoyed to hear Abi's Princess speech once the gang came back. "Abi's downright cruel," Skupin said as he ate his plain white rice. She just went on and on about the view, the bath, the calamari, the fruit basket. "And then I became Cinderella."
Want more "Survivor"? Meet the castaways from Season 25.

"Abi has all the social grace of a Mack truck," Malcolm noted. "She just doesn't know how to talk to people."


Which is why it didn't help when she said she was done with the kitchen. "I'm leaving soon," she said, "so I'm going to enjoy my last few days." Of course, she had the idol, so she knew was sticking around a bit. Way to rub it in.
"You know what," Denise declared. "Whiners are wieners. You need to go home."
Everyone was deliberating how to send her packing, but the immunity idol complicated matters.

Malcolm was still strategizing his final three. He had Denise on board, and reached out to Skupin about bringing him and Lisa aboard. "You have to say, strategically, heck yes," Skupin said, "or else you're on the chopping block." He took this information to Lisa, but she said she trusted Penner and Carter more. So Skupin said that it was worth reaching out.

Penner, however, said he'd rather take it one day at a time – and just deal with Abi and Peter first. "We all agreed we'd go to six, so that's what we should do."
Want more TV? Like us on Facebook or follow us on Twitter. 
But Lisa took it to heart. "I think he missed an opportunity." So they shook hands with Malcolm and Denise. But Skupin was still nervous about trusting Malcolm. "He's a gamer, and that makes me nervous."

Immunity Challenge Time! Skupin had to give up the Idol – but could he win it back again.

This time around, it was an obstacle course, with each individual player moving a boey forward through a series of obstacles – and one player eliminated at each round. Whoever made it to the finish with their boey would win. In the first part, Abi, Pete and Lisa were out. The next section, with three moving on, Malcolm and Penner were out, leaving Carter, Skupin and Denise in the game. This time they'd have to swim – and Denise was leading, but not by much. Carter picked up the pace, but encountered a jam, and then it was neck in neck, with Carter taking the lead, then Skupin, then Carter again. One knot left, who would it be? Carter took immunity – and a guaranteed spot in the final seven.
Post-challenge, Abi was feeling the pain. She knew her number was coming up soon. And the six did have a strategy in place – split the votes, and hope Abi didn't play the idol, then revote for Abi. Penner was hoping this would work for a change. "Could it screw up? Yeah, but you could get hit by a car walking from your house to the post office, too."

Pete, meanwhile, was trying to get some kind of game on by pitching a get-rid-of-Malcolm idea. "All I need is one person to flip, and it's going to be a whole new game." Abi immediately went to Lisa. But Lisa reminded her that she wasn't in an alliance with them anymore. Next up, Carter. No bites. Then Penner, who said he didn't trust any of them – but they all did trust him.

Peter finally went to Skupin with the vote-out-Malcolm idol. "Malcolm controls the game right now, and he has the idol. This would take a big threat out of the game." The plan would flush out both idols, send Malcolm packing and then leave Abi a sitting duck next week.
Skupin agreed that Malcolm was the biggest wild card. He started to rethink his alliance. "He's holding the idol, he's a smart, strategic player, and he's liked by everybody." Skupin didn't say no – but he didn't say yes, either.
Penner, though, spilled on the vote-out-Malcolm plan. "They just need one person to flip, and I'm going home," Malcolm said. "I'm going to have to keep my wits about me tonight, otherwise I'm toast."
Tribal Council Time! Jeff Probst immediately asked Malcolm how he was feeling. "I refuse to say it's a strategic move to get rid of me," Malcolm said, "but it's not hard to see the pieces coming together and know what's going on."
Pete, meanwhile, said "I'm pretty much slated for execution right now, but I've been working it all day, trying to make a deal."

Abi, too, was feeling it. She blamed cultural differences for the way she was perceived. But every other player grinned at her oblivion. Denise called her out, saying her personality had nothing to do with cultural differences. "I don't know how to explain myself any longer," Abi said. "I'm holding back my tears."

Then Denise called her dead weight, the unlikable person. Ouch. When Abi declared that she didn't realize that she was unlikable, Probst said she was clearly oblivious. Then he asked if Denise: If Abi was so unlikable, wouldn't she be a great person to take to the final three? Denise's response: "It's like bringing someone who's never played poker to a poker game, just so you can steal their money."
But Probst pushed. "With someone so clearly on the bottom, there's this great opportunity to shuffle the game."

Everyone knows, though, that they never listen to Jeff. Right?
When Jeff asked if anyone wanted to play an Immunity Idol, Abi turned hers over – but Malcolm did not.
Time to tally the votes. First vote: Abi. Does not count. Second: Abi. Does not count. Third: Abi. Does not count. Fourth: Pete. Fifth: Malcolm. Sixth: Pete. Seventh: Malcolm. Eighth and final vote: Pete. The tally: Two votes for Malcolm, three votes for Pete. Pete is the fourth member of the jury.
Pete's final words: "I felt bad for Abi. She's crying and everybody ripped her apart. I learned to deal with her, but I had to for my game. Malcolm has a lot of power now. He's definitely someone they need to get rid off. I have a ton of regrets. I did what I could."
"Survivor: Philippines" airs Wednesdays at  8 p.m. ET/PT on CBS.