'The X Factor' top 3 results: Ready for the country
Missouri native Tate Stevens beats out Carly Rose Sonenclar for the Season 2 crown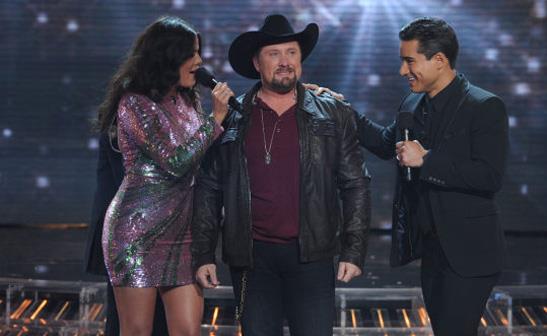 By Jilliane Johnson
After weeks of superb talent, dramatic episodes, shocking eliminations and unnecessary ways of fluffing up a two-hour time slot, the Season 2 finale of "The X Factor" is finally upon us!
Bing: 'The X Factor' | Photos: Season 2 highlights
Carly Rose Sonenclar, Tate Stevens and Fifth Harmony have all performed before America and earned their votes. Now it is time to crown a winner. Guest performers Pitbull and One Direction are in tow, as well!
More: 'The X Factor' on BuddyTV | Video: Watch clips
Is it necessary to have a red-carpet lead-in to the two-hour finale? Not really. It's really just another reason to fluff things up and stand out from other reality talent shows. Can we hit fast-forward? This only helps establish Khloe as a not-so-great hostess who needs to strengthen her improvisation skills.
Highlights of the red carpet: Pitbull and One Direction's arrivals. Things are so disorganized that Harry Styles (of One Direction) literally almost runs into a camera. No one even mentions former contestants Lyric 145 and Vino Alan passing by unexpectedly. Oh, well. I suppose they are old news? On with the show, please!
Top 3 -- "All You Need Is Love" by the Beatles
After another failed attempt at organization, all of the acts arrive in their own SUVs and sing as they walk the red carpet while greeting former contestants and other random people hanging in the wings. It's a good thing they sound good, because, to look at them, you wouldn't believe that this is the finale.
Montage time!  (I'm sure there will be plenty of these)
First up is a montage of L.A. Reid's best dance moves from the judges' table. "You are like a conductor right here at the judges' desk," Mario says to the man with the moves. He could be laughing either with him or at him. I'll go with the latter.
Tate Stevens -- "Please Come Home for Christmas" by Charles Brown
Country Christmas? Yes, I'll take some, thank you. Can't you just see Tate Steven's holiday album with a picture of him and his family plastered on the front, adorning the shelves of your favorite retailer? Maybe I've taken it a bit too far, but he sounds great crooning Christmas favorites.
Montage No. 2
Tate shows his emotions once again as his hometown, friends and family explain how much of a fighter he is. The tears begin to flow once his children pop up on screen. After the mishaps of the beginning of the show, they definitely make up for it with that package.
Montage No. 3
Simon as the Grinch? Yep, it's a compilation of Simon's best metaphors such as "it was like a dog trying to lay an egg." That has to be my favorite.
Fifth Harmony -- "Christmas (Baby Please Come Home)" by Darlene Love
Dressed in red and white candy-cane attire, the girls stand next to carousel horses, because that's relevant. I love these girls, yet somebody was flat. Not just flat, but really flat. Third place might be right.
Montage No. 4
It's a good thing they filmed this package of their parents expressing their pride before hearing their little girls sing that last one. And how many of these montages do we have to watch on this night?
Montage No. 5
Here's one I've been waiting for: the many faces of Britney Spears! She even makes an embarrassed face while watching her crazy faces.
Carly Rose Sonenclar -- "All I Want for Christmas Is You" by Mariah Carey
This wasn't expected at all (insert sarcastic tone). But the soldier dancers who resemble Oompa Loompas definitely were. I'd rather watch the dancers. This is not Carly Rose's best performance. She sounds muffled.
Montage No. 6 (Good grief!)
This time, we get to see Carly Rose's family, friends and overenthusiastic piano teacher.
Could it be? Is it time to get down to business? Yes! Let's find out which act has finished this talent race in third place.
3rd place: Fifth Harmony
Ally is obviously the emotional one, tearing up as she explains that she's thankful that she and the other girls were put together in this group. Simon says, again, that we'll be seeing and hearing a lot more from Fifth Harmony in the future. And with that said ... cue the next montage! This really could have been an hour.
Carly Rose Sonenclar and Tate Stevens remain in the top 2. They stand backstage with their families as Khloe asks the same questions that have been asked all season. Tate's mother is a cute little old lady, though, who reminds me of Mrs. Claus.
Montage No. 7
Want to know what happened this past season? Yes, I know that's the entire reason we've been doing any of this, but they've packaged the second season from the auditions to Hollywood, then from judges' homes to the live stage and then to the finale … and to the winner's afterparty. Oops, sorry. Took that one too far. By the way, wouldn't it have made more sense to do this package before sending Fifth Harmony home?
Best moment of the night!
Khloe asks Emblem3 if they are stoked to be here on this night. Drew answers, "Yeah, we're stoked, but I think that all of the contestants should rent a cabin ... and go skiing!" Amazing!
Guest performance
Pitbull -- "Don't Start the Party"
I'm grateful for this performance and not another montage. Pitbull knows how to get the crowd pumped and turn the tempo back up. HIs performance even gives Mario the impulse to speak Spanish. No, I didn't catch what he said, but it sounded great. Khloe agrees as she puts that oh-so-familiar hand on his back.  
Montage No. 8
Demi is a feisty one, and they've put together a nice little package of her best moments of poking fun at Simon, the boss.
Guest performance
One Direction -- "Kiss You"
It's a One Direction video game! Plus, there is a huge set of lips onstage -- appropriately so since the boys want to "kiss you." As all of the screaming girls expected, they put on a great performance, running around the stage, dancing and shaking hands. Mario asks the guys a question after their song ends, but I don't believe anyone listens to what is said. People are simply for listening to British accent.
Top 2 -- "The Climb" by Miley Cyrus
Yes, they are milking this for everything it's worth. Carly Rose and Tate take the stage together for this performance. Did Tate just flub his lyrics? Possibly, yes. I won't hold it against him to not have a Miley Cyrus song memorized.
Has Khloe been changing clothes, and was I just not paying attention? She was in a tight, black leather dress, and now it's pink, gold and glittery. Whatever, it's finally time to announce this season's winner!
And the winner is ...
Tate Stevens!
"First and foremost I've got to thank the man upstairs for taking care of me," says Tate through those infamous tears. Carly Rose put up a fantastic fight, but my predictions held solid. America saw something special in Tate and his story, and he now has a $5 million contract.
Tate Stevens -- "Tomorrow" by Chris Young
It's his victory lap. Tate's family looks on from backstage. The judges hug one another as they watch the winner of "The X Factor" Season 2 command the stage. And then it's not so much his stage anymore. The former contestants join him, dancing and enjoying the moment right along with him.
Well, that's it folks! Congratulations to Tate Stevens, and we hope to see you right back here for Season 3!
BuddyTV: Get the latest 'X Factor' news roundup
BuddyTV: Don't miss another episode! Keep up with your favorite shows, like "The X Factor," using the BuddyTV Guide app!