'Modern Family': Breast men
Cam and Mitch marry off their friend, Luke and Phil double-date, Manny fixates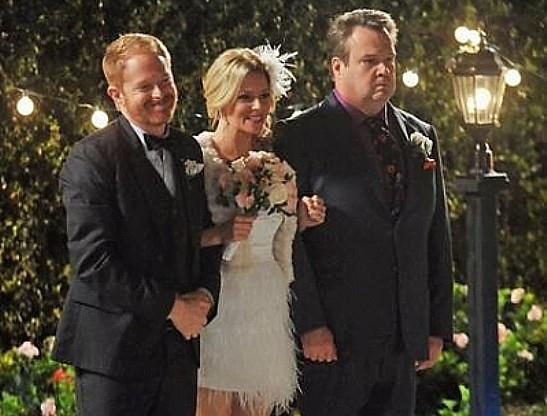 In Sunday's episode, titled "Best Men," Mitch (Jessie Tyler Ferguson) and Cam (Eric Stonestreet) are asked to be best men for a wedding. They can't believe that Wild Sal (Elizabeth Banks), their girlfriend from their party days (and Season 1), is finally settling down. It might be impulsive, though, since the wedding is later that week. But whatever.
Bing:
More on "Modern Family"
|
More on Sofia Vergara


Right before the ceremony. Mitch and Cam explain to Sal how excited they are. They'll be couple friends now. They'll play board games. Sal freaks out and makes out with the bartender working her reception.
Sal's feet warm up and the ceremony proceeds. When asked by the minister if anyone has anything to add, Sal's groom (Michael Masini) admits that he made out with a stripper the previous evening but just wants to start off clean. Sal shares her admission and they both couldn't be happier about the equivalency of their transgressions.


Claire (Julie Bowen) thinks Haley (Sarah Hyland) is entering the phase of adulthood where she's ready to reconnect with her mom. They go out to dinner, and then to what Alex (Ariel Winter) described as her cello "thing."

But it's not a classical cello thing. It's a rock band, and Alex is singing. Who knew? Not Claire and Haley. They invite their secretive loved one out to dinner afterward. But Alex has plans and is embarrassed by their presence. She apologizes to her band mates on behalf of her mom and sister. Haley is insulted at being apologized for.


Gloria (Sofia Vergara) breastfeeds the baby in front of everyone, to the point that the UPS guy asks her to sign a whole bunch of extra times. Jay (Ed O'Neill) tells his wife to pick her breast-feeding moments.


Manny's art teacher calls Jay and Gloria in to discuss their son's fascination with upper female anatomy. They're handed a sample of his naked boob sketches. There were even more, but the janitor took some home. Wait, there's a connection. Gloria realizes it and promises to be less free with her body.


But it's not Gloria. It's Dahlia, the baby's hot, young nanny. Every poem, every drawing is for her. Jay and Gloria realize this when they take a closer look at their son's work while on the movie night that Manny suggested they take -- so that he could be alone with Dahlia. (Doh!) While alone, Manny fixes his love a candlelit dinner complete with its own menu. He asks her to read the poem on the back. Dahlia gets only as far as the part about her supple olive skin before Jay and Gloria burst in and Gloria demands to know what Dahlia is doing to her son. (She apologizes later, while overhearing Dahlia break her son's heart sweetly.)


Want more TV? Like us on Facebook and follow us on Twitter.


Luke (Nolan Gould) has his eyes on someone his own age. He tries to send a message to her on Facebook but freezes. Phil (Ty Burrell) takes over. As he explains, he certainly knows how to pick up a 14-year-old girl. Phil instant-messages her. Score. Dinner date accomplished. (Strange, since kids don't do dinner.) Phil accompanies Luke. He'll be at the bar if his son needs him.


At the bar, Phil meets the girl's mom. She's a divorcee who admits that her daughter was so nervous, she had to instant message for her. So, wow, this is really their date, not their kids'. Mom enjoys the banter a lot. Phil does not mention that he's happily married until he gets some solid flirting in and she causes him to panic by unbuttoning a button.


She's angry. Phil apologizes. A debate ensues over how much touching there was. She touched his shoulder, Phil claims, then demonstrates on her how she did it. He slips and apologizes for touching, in his words, his hand with her boob. Mom can't get enough. She works herself up into a frenzy, alerting Phil that her minivan is parked outside.


"Modern Family" airs Wednesdays at 9 p.m. ET/PT on ABC.