'American Horror Story': Redemption songs
'Asylum' finale delivers hope, and heaps of blood, as 'Madness Ends'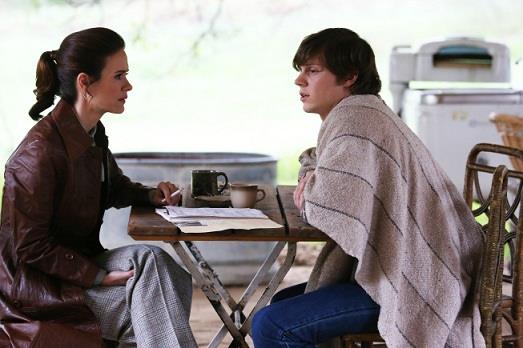 Last week
, the penultimate "Asylum" chapter dropped us off in the psychedelic late 1960s, where Lana was becoming a feminist icon, Kit's blended family quickly fell to pieces, and Bloody Face Jr. got himself a gun to kill Mommie Dearest. 
By the conclusion of "Madness Ends"--and thus the Briarcliff saga--Ms. Winters came face to face with her crackhead son Johnny, Kit had successfully pursued forgiveness and peace, and there was one more murder and suicide a piece before the credits solemnly rolled. 
So one last time, and without further, "Man, Massachusetts schoolyard bullies circa the mid-'70s were particularly cruel," here are the five things we took with us while reveling in the beautiful insanity of "Madness Ends."
OK, JUDE, WE FORGIVE YOU
Hell, if Kit can look past all those lashings and her indirect role in abetting Dr. Arden's vicious experiments, then who are we to cast Judy Martin out as an irredeemable sinner? Kit, angelic soul that he is, intuitively grasps that Jude has been a victim all her life (more on that below) and that forgiving his former torturer will offer them both a clean slate. Credit is due to "Asylum" writers and directors for staging the ex-Sister's fall from grace very carefully these past few weeks, making it possible for us to feel sympathy and even vicarious relief as Kit took Jude into his home and nurtured her back to health.
Jessica Lange
's final on-screen moments recalled the grand, 
"Angels in America"
-inspired loftiness we've experienced whenever Frances Conroy's Dark Angel has appeared, buoyed by finality and James S. Levine's heavenly score. If only humanity were always that poetic.
ADAM LEVINE JUST WON'T DIE!
Well, he does, and in gruesome fashion, but that was half a season ago. While we appreciate the need to tie up all loose ends, and in this case, reveal what happened to 
Levine
 and his lady friend from the killer's POV, it was so nice being rid of pop culture's most ubiquitous and overconfident pretty boy. Then again, we had fun watching his arm get hacked off with a machete from a totally new and more gruesome angle, ruining whatever sexual gratification he was receiving. Please don't judge us.
THAT WAS ACTUALLY PRETTY GOOD OLD-LADY MAKEUP
We still insist the switch to Flower Power fashions and groovy tunes in "Continuum" was too abrupt to avoid feeling cheesy. We have to hand it to the "Asylum" crew though. Lana's septuagenarian transformation looked pretty subtle and authentic, even if her character attributed a talented Parisian surgeon. And in flashbacks (or were the present-day scenes flash forwards?), Kit and Lana's '70s getups were a bit easier on the eyes than their Woodstock-chic styles. Overall, props to makeup and wardrobe for ensuring "Madness Ends" won't begin to look disastrously tacky and dated for future generations. And our sincere hope that
Sarah Paulson
isn't too mortified by this unassailable window into her elderly self.
BULLYING + ABANDONMENT = DRUG HABIT AND BULLET IN THE HEAD
For all those, expecting parents out there who hope their kid grows up slightly less deranged than
Dylan McDermott
's Johnny, even if their dad was a psycho rapist, here are two helpful tips we picked up from "Madness Ends": 1. Interject if you witness or perceive of any bullying going on at school. 2. Once you've demonstrated any kind of affection, do not withhold thereafter. If you don't follow either or both of these, especially the latter, that child will slit a cameraman's throat, trespass in your home during a television interview and point a gun at your cranium with intent to pull the trigger. Fortunately, Lana was the wrong orphaning mama to mess with (more on that below), but most of us would probably rather avoid that kind of Oedipal reckoning.
A WOMAN IS A WOMAN IS A WOMAN
Themes of feminism and pure femininity--in its myriad forms--have been hardwired into this season's DNA. They've been prevalent enough to singularly justify the leap ahead in time, so we'd have the opportunity to see for ourselves that Lana and Jude's struggles weren't for naught. Of course, they are two wildly different examples of womanly distinction. Jude's life story has been one of abuse and manipulation at the hands of men, whether one-night stands, Monsignor Timothy or Jesus himself. But just prior to her dying words, she urges Kit's children to refuse typical gender assignments and ignore anything but the passion and potential inside them. She herself has transformed into an enlightened soul more tested and considered than whatever icons she once blindly followed. Lana is a bit more inscrutable, even at season's end. Circa-1970s Ms. Winters symbolizes a generation of women's struggles to differentiate unprecedented voice and opportunity from naked, muscular ambition. But 2013 Lana Banana (loved that callback to the callback) is damn near a superheroine. After coyly playing a TV reporter with orchestral finesse, she goes mano a womano with her twisted son Johnny in what would prove a fatal confrontation. When it's all over, and as we flash back to she and Jude's initial 1964 encounter, it all feels clear: Lana is the sum of half a century in modern womanhood--marked by scars and tough choices, but shaped by resolve and perseverance. Battle-worn but utterly self-possessed, Lana Winter is tough, but she ain't no cookie.
HONORABLE-MENTION OBSERVATION: FINALE ADDITION
See you in hell with Dr. Hans Nazipants, Bloody Face and Mary Satan, Cardinal (nee Monsignor) Howard!
Hope you guys enjoyed following the show with me this season, and that you'll keep up with my recaps of FX's latest thriller, "The Americans," premiering Jan. 30 at 10 p.m. ET/PT on FX.