'The Bachelor': And then there were 6
Canada attacks Tierra, while a one-time frontrunner gets an unexpected dismissal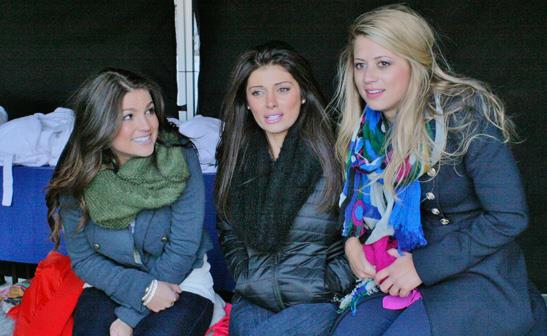 It's the second night of our two-part "Bachelor" extravaganza, and when we join Sean and the women, they're on the shores of the amazing-looking Lake Louise. (Want to go to there!) Everyone's getting a date this week (even Daniella, sort of), and we start off with Catherine -- thus far an under-the-radar candidate but lately more of a contender, not least because now that we've gotten a good look at her, it's clear that she looks like a model for a surfwear brand. Sean's still grumbling about how badly things went last time ("I desperately need to turn things around this week") and to make that happen, he's decided to pick up Catherine in a blizzard, at the wheel of a "snow bus." But hey, those freezing temperatures are totally cool with Catherine: "I never get cold with him," she says. (Really, Catherine? Really?) He might be able to control Catherine's internal temperature, but he cannot control turning bright pink in the cold, while his hair looks almost yellow -- Oompa Loompa-ish? like a scary robot? Catherine's up-for-it attitude is winning over Sean's grumbly heart: "This is what I want from a wife -- someone who can totally embrace the moment and have fun." 
Later that night, a horse-drawn carriage arrives to deliver them to an ice castle. Catherine takes the opportunity to tell him her one big story: "a very traumatic experience when she was 12." It's a legitimately tragic story -- a hiking partner of hers was killed by a random falling tree -- but you have to wonder how that girl's family likes hearing this experience trotted out on national TV. (Though who knows -- maybe they're gratified to know that their daughter's memory lives on.) In any case, Catherine delivers her take-away message: "At 12 years old, I learned that things can be taken from you very quickly." Sean laps it all up and gives her the first rose of the night: "This rose means more to me than any other rose I have ever received," Catherine says. We're sure that's true. 
Next we have the group date. Sean's thinking it pretty much has to be an improvement on last week's, which was "just full of drama" (mostly between Tierra and Robyn, whose pithy interviews are sorely missed this week.) We begin with a canoe ride across the lake -- Lesley jumps into Sean's boat, but it's not a particularly dramatic moment even if Selma's all, "I wanted a great big shark to come and eat them heh heh heh" with the "heh"s representing this insanely weird little laughs. As the women approach the shore, they see a distinct lack of the hot tub they were all hoping for. Instead of chilling in a sauna, they'll be jumping into the "glacier-fed" water for a "polar bear plunge." The women are generally unenthused about this -- except for Lindsay, who's still playing the up-for-anything card -- and Selma quickly bows out: "I would do anything for a rose, but I won't do this." Is she purposefully channeling Meat Loaf? Hard to say. "Call me a princess, I don't care," she continues. "I'm from Baghdad. We are warm weather people!" You have to admire her, though -- she decided she didn't want to do it and didn't let her feelings for Sean interfere with what she wanted for herself. (This is in contrast to Daniella, who clearly doesn't want to participate but sucks it up because she doesn't think Sean will like her otherwise.) 
As we all could have guessed, only one participant has trouble with the polar bear plunge, and it is, no surprise, Tierra. First she can't breathe; then, she's rushed into the back of a car. That car doesn't seem to go very far, and soon enough Tierra is warming up, back in the hotel. (You have to wonder if the producers briefed the medical staff on what, exactly, it means for Tierra to be "sick.") Desiree and Catherine had been watching this unfold from a balcony, and they rush down to get a look at what's going on. "I mean, she was disheveled," says Catherine. "She literally had hypothermia. At least, that's what she told us." (With Tierra, a caveat is always necessary.) She and Desiree are half-expecting the other girls to return to the hotel hunched over in pain -- but of course, they're buzzing with excitement: "I want to go all over the world and do the polar bear plunge," Lindsay says. "It's the boy who cried wolf," AshLee concludes. 
Still, nothing succeeds like success: Even if AshLee's right, Sean doesn't care, and Tierra, chilling in bed, is delighted to welcome him to her room. "After I came back in a wheelchair, I was like this guy better marry me," she tells him. Sean tells her to skip the evening's cocktail party and asks her if she would want a proposal at the end of the show. It's so random, and so not in tune with how they've been getting along lately, that it feels like producers put him up to it. In any case, Tierra looks like the cat that got the cream when Sean leaves. 
That night at the cocktail party, there's assorted lunacy -- Sarah, for example, busts out some family photos -- but none of it compares to the moment when Tierra, apparently fully recovered from her bout of hypothermia, walks through the door. "She is a professional at getting attention-- if this was a class, she could teach it," Lesley says. "We have a Tierrorist on our hands." It wasn't exactly for those lines, but Sean gives Lesley the rose -- so we can pretend that he rewarded her for seeing right through Tierra. 
We should, at this point, be moving on to the third date, but we have a surprise in store -- a shock, actually, for the women, who are doing their nightly therapy session when Sean knocks on the door. It freaks everyone out -- especially Sarah. It turns out that the family pictures move just reminded Sean that he wasn't feeling a future with her -- so even though they got off to a fast start in L.A., Sean's putting an end to the whole thing here, and not even waiting for a rose ceremony to break it off. "Lately I felt like I've been trying to force it," he says. "I felt like we were reaching. I don't know if you felt that or not. I wanted it to work so badly but it hasn't been there." Sarah takes this as well as she can, even as she looks properly shocked: "I'd be lying if I said I wasn't totally hurt and caught off guard," she says. She saves the crying for the moment after Sean drops her off to pack her bags: "I wanted to stop him before he even started because I knew what he was going to say," she says. "It's always the same: 'You're an amazing girl; I want to connect with you so bad, but I don't." Well, that's properly sad. With that, Sarah is driven off, into the cold Canadian night. 
Finally tonight, we have another one-on-one date, this time with Desiree -- whom, you'll remember almost got kicked off/quit last week after a go-nowhere talk with Sean. She seems determined to turn things around: "I think it''s hard for me to fall in love without knowing if it's reciprocated," she says. Only on this show is that an unreasonable position. They rappel down a cliff, but this date, really, is pretty boring -- like watching two people who are slightly less interesting than your friends go on a date. They have a picnic and climb a tree. (The tree-climbing is, actually, really impressive.) Equally notable: Desiree's admission over evening drinks that she spent time living in a tent as a kid, when her parents couldn't make ends meet. She does not let it go unnoticed when this former tent resident starts smooching a dude in a teepee. 
The final cocktail party comes and the women scramble to make some final last moves. In a short-sighted burst of optimism, Selma decides to kiss Sean: "to kiss someone on national television is a huge shame for my family -- Mama, forgive me! I had to bring out the big guns tonight." If Selma's at home watching this episode, she's going to know that she never stood a chance next to someone like Lindsay, who might be less sophisticated than her but apparently can't go more than a few sentences without stopping to lick Sean's face. Also, she sleeps naked. Lindsay, rose, check. 
In fact, she's the first woman to get a rose, beyond the three who already have them: Desiree, Lesley, and Catherine. There are only two more after Lindsay's, and they go to ... AshLee and, yes, Tierra. "I don't think Tierra is the right person for Sean," says Selma, who is, notably, not that close to tears in her final interview. "Everything rises to the surface." Much more visibly upset is fellow rejectee Daniella, who probably knows she should have seen this coming (no one-on-ones, sadly): "I never got that shot with him." And now she'll never go to St. Croix either -- unless it's in a couple years time with her legitimate boyfriend or husband and they have an awesome time without Sean.