'Survivor: Philippines': Swan Dive?
Season 25 off 'Survivor' starts of with a bang -- and a blindside!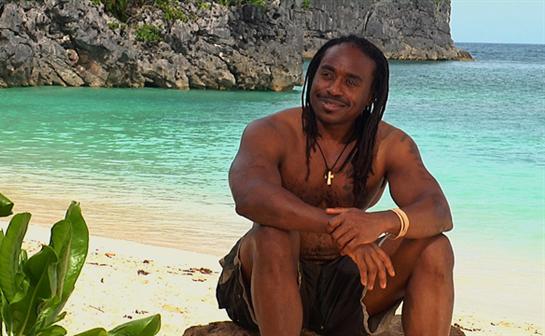 In its 25th season, "Survivor" heads back to its roots – at the ocean's edge in the Philippines.

Two famous faces join the 13 unknowns this season – the first, baseball legend Jeff Kent. The second, Lisa Whelchel, whom you'll best remember as Blair Warner on "The Facts of Life."
"Blair Warner would never in a million years be on 'Survivor,'" Lisa says. "But I'm very, very different from Blair. I'm a huge fan of 'Survivor' – I've never missed a show."
Bing: More on "Survivor" | More on Russell Swan | More on Lisa Whelchel

Jeff Kent's take: "This is going to be a challenge for me, no doubt. And I'm hoping people won't recognize me."
The first surprise for the 15 castaways? Three more players – and they're all "Survivor" veterans who were medi-vacced off the island.
The first returning player is Russell from "Survivor: Samoa." No, not that Russell. The warm, friendly, affable one. "The last time I played," Russell Swan says, "'Survivor' smacked me in the chops. And this time I'm smacking back."


The second is "Cook Islands" and "Micronesia" player Jonathan Penner: "You know how on fire I am to win this thing? I can actually see it -- 39 days from now, I'll make a million dollars."
And last but not least, "Survivor: Australia" – that's right, season two – burn victim Michael Skupin. "I think to dwell on what ifs would cheat the experience from me. But I'm in love with the fact that I'm able to come out here and do it again."
Wait – what? But what about… that's right, folks, that means last season's uber-villain, the racist and classist Colton, is not back this season. Boo!


Let the game begin! Outwit, outplay, outlast – 39 days, 18 players. Who will claim the title of sole "Survivor"?


First things first, as Jeff Probst points out, this season, there are three tribes, not the normal two. Trouble starts brewing immediately as the much-tattooed Zane, who has an oddly-shaped head, says he's cool with the three tribes – as long as there are no celebrities. Of course, Lisa, who's sitting right next to him, uses that opportunity to pontificate about her plans to not out herself as the former Blair Warner.

But there's no time for that. The speedboat with the "Survivor" vets pulls right on up, and jaws drop. "All three of these players were leaders on their tribe, and all three have something none of the rest of you have," Probst tells the newbies. "Experience." 
He then hands Russ the first buff and map, declaring him the head of the blue tribe, Matsing. Joining Russ on the blue tribe are Malcolm, Denise, Roxy, Angie and Zane. 
Jonathan gets the red buff, for Kalabaw. His teammates: Jeff, Carter, Dana, Dawson and Katie. 
Skupin heads Tandang, the yellow tribe, with Lisa, RC, Abi-Maria, Pete, and Artis. And naturally, he recognizes Lisa instantly. Oh well, so much for that strategy. "It almost feels like it's the first time again," Scoop says. "It's amazing to be here."
Jeff gives the gang the rundown, then cues the race for supplies, as all three teams scramble to grab what they can, then jump to their rafts. The red tribe goes right off the edge, drowning chickens and losing their goods. Jeff Kent – the ball player – immediately twists a knee, which Jonathan catches. "If my teammates smell blood," Jeff says, "they're gonna kick me off this island real fast."
As soon as Russell and the blue tribe get to the island, he declares that there are no leaders here. Then, of course, he starts bossing everyone around. But there are others around who could manage the role: Malcolm, a strapping, shaggy-haired dude, is a former ESL teacher who lived in Micronesia for a year – and knows how to start a fire. But he makes Russ do the actual work, which, "works out in a way, because he wants to be the leader so bad. So it actually takes the target off my back."
The red team finally hits dry land, and Jeff Kent is stressing about that knee. But there's plenty to do. Jonathan, meanwhile, is just basking in his return. He doesn't realize that his whole tribe is already plotting against him. "He's had his time, and I'd like to see one of us win it," says cosmetologist Dana. But she's hoping to bond with Jeff over their Southern roots. She doesn't realize that she's dealing with a former MVP. "Yeah, I don't need the million bucks, but I sure would like to be the sole survivor." But Dawson, an insurance saleswoman, is on to him. "I don't think the other tribe members know, and I think Jeff likes it that way. But I will tell him that I know – as soon as it becomes valuable to me."
Skupin, meanwhile, is appreciating his team's mix of brains and brawn. But alliances are already forming on the yellow tribe. Brunette banker RC is hiding her killer instinct – "if I can handle Wall Street, I can certainly handle 'Survivor'" she says – and joining forces with Brazilian blonde business student Abi-Maria, whom she tells she's an executive assistant. Together, they recruit engineering student Pete. But RC wants a strong fourth, so she goes after Skupin. "My strategy going into this was make sure you go with the game," says Skupin. "If your tribe is moving slow, go slow with them. Don't try to jump into the lead. The three younger people move fast. I feel like I have to move fast with them, or I'm in big trouble."
Want more "Survivor"? Meet the castaways from Season 25. 

That, of course, leaves Lisa out in the cold. But she's still playing it close to the vest, hiding her TV roots. Instead, she says, "I'm trying to play to my strengths and connect to each person on a one-on-one basis." Not the smartest move, since RC isn't buying it. She doesn't trust Lisa – and she doesn't realize that she was a '80s child star. Later, Skupin calls Lisa on it. He suggests it might be helpful to her to reveal her past. He'd like her to stick around, but he isn't willing to step up for her.

Denise, the sex therapist, is digging deeper into Zane, the tattoed high school drop-out from Virginia. From his tattoos, she's deduced that he's lost someone close to him. So she proposes an alliance. He agrees, but then turns around chats up seminary student Roxy – and then blondie Angie, and then Russell and Malcolm. He fancies himself another Russell Hantz. "I'm already a super-star. I've made alliances with everyone on the tribe – and they all seem to think I'm their only alliance. It's really just up to me now to pick up apart and see who I'm ready to send home after this first challenge." But it's not so easy, Zane. Malcolm compares notes with Denise, and they form their own alliance.
As the rain starts coming down at the Tangang tribe, Skupin starts stressing and overdoing it to get the shelter going. "He keeps being Super-man, but Super-man needs to take a little break," RC says. Yeah, especially from that massive machete. Skupin's a mess – cuts and bruises everywhere.
While the red tribe is hiding out in  a cave to take shelter from the rain, Jonathan is flying solo, out hunting for the immunity idol, which doesn't sit well with the rest of the gang. He finds a clue hidden in the rice. Meanwhile, at the blue camp, cooking rice, Russell Swan finds a clue, too. As he starts hunting for the idol, Zane spies, and he's not happy. "If we lose first challenge," he decides, "we're going to get rid of Russell."
IMMUNITY CHALLENGE TIME! It's an obstacle course – step ladder, paddle boat, puzzle. The first two teams to finish get immunity. The champs also get a complete fire-making kit, while the second placers get a flint. As the teams pair off for each leg of the challenge, Russell gets bossy again. But no time for that – the race is on. The first leg gives the yellow tribe a lead, while Zane and Russell lag behind for blue. But Dana and Katie, repping red, are the slowest.
Then it's everyone in the water. Skupin and Pete score a big lead for yellow, getting their puzzles back to shore first. The red team makes up their lag, getting their puzzle pieces ahead of the blue tribe. Puzzle time: yellow seals their lead, with red close behind. The ladies of the blue – Angie and Roxy – are the slowest.
But in the end, Red takes it, with Yellow right behind them. The blue tribe, Matsing, is going to tribal council. Russell takes part of the blame, saying he assigned the roles. Back at camp, he "I-told-ya-so"-s them, which only further annoys his tribemates. Oddly, Zane interrupts and says his game wasn't up to par, pretty much volunteering to bow out. It's all a ploy to get his team to speak up. And it works. They play right into his trap. You can almost see Zane twiddling his fingers, Mr. Burns-style. "You ain't never seen a move like this in 'Survivor' history." 
And then, three days in, they arrive at the first tribal council of the season, lighting their torches for the first time. "In this game, fire represents your life," Jeff Probst announces solemnly. "When your fire's gone, so are you."
Probst then begins his questioning. What's Denise's take on having returning players? She's conflicted. She wanted a very pure game, but having the knowledgeable vets around came in handy during that storm. 
Want more TV? Like us on Facebook and follow us on Twitter.

Then Zane calls it an onion: "The more layers you peel back, the more you start to cry." Huh? He tries to explain it, but it gets more confusing. He then says Russell is the better player by far. So Jeff boils it down: "Russell, does that sound like: 'I love what you taught us, but man, you're too good of a player, and so you'e going." Yeah, that's it! "I went into dictator mode," Russell admits, but getting voted out at the first tribal council, he says, "would be a dagger in the heart." Still, he wouldn't be surprised. Then Zane reiterates his offer to step into fire. Still, Russell doesn't buy it. He knows they've been talking behind his back. The vote is the vote. And it's time.
When Jeff asks about immunity idols, Russell shifts around, but doesn't offer one up. And then, the count. One vote Russ. Five votes Zane. Yup, his super-sly plan backfired. And the game just got interesting.
Zane's parting words: "I honestly thought that I had this game figured out. I thought I was allowing them to pull the strings, instead of me being the one in charge. But it just backfired on me."
Check out the MSN reality blog tomorrow for our "Survivor" exit interview with Zane.
"Survivor: Philippines" airs Wednesdays at 8 p.m. ET/PT on CBS.