'Dancing With the Stars: All Stars': Two steps back
Emmitt Smith and Apolo Anton Ohno are eliminated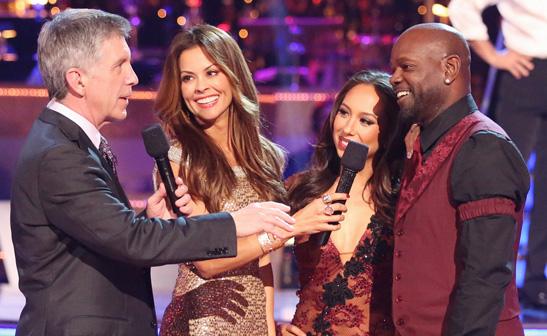 This was quite an elimination show! Paula Abdul performed a decidedly strange medley of her greatest hits, which is certain to be stuck in my head all day tomorrow, and we said goodbye to Apolo Anton Ohno and Karina Smirnoff, as well as Emmitt Smith and Cheryl Burke.
Apolo called the competition "hard from the beginning," and praised Karina for being a great teacher. He was all smiles as he praised the show and his fellow contestants – you have to give the guy credit for being a good sport.
Bing: More about 'Dancing With the Stars: All-Stars' | Videos: Watch clips and more
In a bit of a shocker, Emmitt Smith was eliminated at the end of the broadcast. He described his second time on the show as "a great ride," and had nothing but love for the show, his fellow contestants and even hosts Brooke and Tom.
Photos: See season highlights
Here's how our three finalists did this week:
Shawn Johnson
Shawn's "Knight Rider bhangra" was pretty amazing. As usual Derek choreographed a routine that showed off Shawn's gymnastic flexibility. Their Argentine tango had a lot of style. Bruno called it breathtaking and stylistically perfect. It's no surprise that Shawn and Derek are headed to the next round!
Melissa Rycroft
Melissa's "caveman hustle" had plenty of hustle and a crazy amount of energy. Len loved it and Bruno made some predictable jokes about animal skins. Her devilish Argentine tango was incredibly intricate – Tony threw in so many lifts her feet might have been in the air more often than on the ground. Bruno called her "possessed," and praised the lift sequence in the routine. Tony hurt his back in rehearsals last week, which could hurt their chances to take home the mirror ball trophy. Let's hope he can get in some R&R!
Kelly Monaco
Kelly's "surfer flamenco" was a hit with the audience but not the judges. Her second round rumba was more to their liking: Len praised the control on display and thought Kelly's lines and shapes were fantastic. Kelly has had a lot of ups and downs this season, but she's been one of the most interesting dancers to watch because she pushes herself to the limit and shows exceptional creativity. I can't wait to see what she and Val do in the finals.
Who won the week: Shawn
Who needs to step it up: Kelly
"Dancing With the Stars" airs Mondays and Tuesdays at 8 p.m. ET/PT on ABC.
Want more TV? Like us on Facebook and follow us on Twitter.