'American Idol' Las Vegas: Tough choices
Gals improve drastically over the guys, but judges falter in the clutch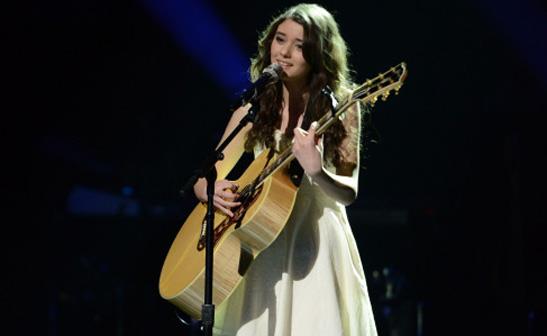 Guitars won't get you far: Two singers played instruments on Wednesday's 'Idol,' but neither Juliana Chahayed (pictured) nor Jett Hermano made it through. Way to choke the diversity out of the season, judges.
The Curse of the Unseen struck again on "American Idol" Wednesday, claiming the two most creative performers and fast-forwarding more run-of-the-mill but previously spotlighted singers. Musically, it was an above-average evening, but the judges' decisions put a sour spin on the proceedings.
Bing: More about 'American Idol' | Video: Watch clips | Photos: See highlights
The beginning was less than promising, as Melinda Ademi sang her second Jessie J song of the competition, "Nobody's Perfect," and since all Jessie J songs seem to sound identical (except for "Domino," which sounds identical to Katy Perry), a dull time was guaranteed for all. It wasn't helped by Melinda's affected, stagy vocal. Keith and Mariah wrote it off to nerves, but Nicki busted her on the Jessie J over-reliance, and Randy, as he often has this season, bemoaned the lack of big moments.
Candice Glover, who's been treated as if she's been anointed with fairy dust, sang Aretha Franklin's "Natural Woman," whose first-verse rhymes of "uninspired" and "tired" might have been describing the song's cliché status on "Idol." But it was a commanding, self-assured performance, despite a gratuitous (though understandable, under the nerve-wracking circumstances) final glory note. Keith sang his praise (literally), calling her "a nat-u-ral singer," and Nicki's brain was boggled that Candice hadn't made it out of Vegas last season. Randy deemed it "not your best," but tagged her as one of his favorites. Mariah, exercising her pseudo-posh accent, said Candice was a "bona fide singah, veddy nice."
Things got much more interesting when seldom-seen Juliana Chahayed, just 15, began to strum Demi Lovato's "Skyscraper" on her guitar. Juliana's delicate voice suited the slowed-down arrangement, more interesting than the stock-pop original, and it was a relief to hear something other than the dime-a-dozen pop, R&B and country divas who make up most of the female survivors. But Keith thought she struggled with pitch and was nervous, although he compared her "purity of tone" to Jewel and Taylor Swift. Nicki was pleased that Juliana didn't try to sing the same "big old songs," and Randy applauded the honesty of her delivery. Mariah discerned an "angelic" quality, having jotted down a note that read "celestial." (Impressive vocabulary and an on-the-mark insight, actually.)
Another rarely seen contestant, Jett Hermano, also accompanied herself (on piano) and also rearranged a pop hit, Rihanna's "Only Girl in the World." It was another effective reimagining, and Jett sang it well, again promising a refreshing injection of originality into the ranks of some talented but predictable singers. Keith loved the "unique arrangement," which he said brought out the song's sexiness, and Nicki echoed his sentiments. Randy partially agreed, but was disappointed because Jett didn't step away from the piano and start belting (exactly the move that doomed Shubha Vedula's "Born This Way" last week). Mariah found it intriguing and contradicted Randy about the need for belting.
Former pro gospel singer Cristabel Clack chose Alicia Keys' reggae-tinged "No One," adding a lot of needless church-diva vocal gymnastics. Keith thought the "soul croaky thing" in her voice was fantastic, but Nicki thought the rasp was out of control this time. Randy disagreed, loving the rasp and calling her a "racehorse singer," one who might over-sing at times but who would just let it all out each performance. Mariah wanted to hear her sing gospel.
A third virtually unseen singer, Aubrey Cleland, remedied that situation with an arresting version of Beyoncé's gorgeous ballad "Sweet Dreams," although the quality of the song may have outstripped the quality of the vocal. Keith was pleased with her "balance of poise and fire." Nicki surged over the top, not for the first time, declaring that Aubrey was the first contestant to come out looking and sounding like a current artist and also pointing out the difficulty of succeeding with a Beyoncé song, which she felt Aubrey had. Randy thought she was commercial and signable, but questioned the song choice, a remark loudly disputed by Nicki. Mariah limited her comments to "you're limitless."
The night's first country singer, Rachel Hale, sang Grace Potter's not-quite-country-bu​t-close "Nothing but the Water," a rousing gospel tune in line with Rachel's admission that she prayed a lot before the performance. Keith thought the song "may have gotten on top" of her, but loved her spirit. Nicki valued the "burst of crazy confidence" Rachel displayed. Randy was just happy it was up-tempo after a run of ballads (but generally good ones, he failed to add). Mariah liked Rachel's smile, but didn't think it was her best performance.
Breanna Steer, who wasn't quite unseen but had not had a ton of airtime before, strutted onstage with Jasmine Sullivan's major-attitude opus "Bust Your Windows," and her sass and look somewhat overshadowed her vocals. Keith was impressed, but Nicki was stunned he didn't know the song (although he doubtless knew its car-destroying spiritual sister, Carrie Underwood's "Before He Cheats"). Nicki went on to link Breanna with Aubrey as two singers ready for a record deal, and said Breanna delivered "sexy on a stick." Randy agreed with the signability assessment and thought the song choice was dramatically perfect. Mariah agreed, heaping praise on the idea of contestants choosing their own songs (as well she should; it beats the hell out of tedious theme nights).
Country singer No. 2, Janelle Arthur, went with Lady Antebellum's undistinguished ballad "Just a Kiss," delivered with a vocal that also lacked distinction and was a bit strident and strained in spots. Keith astutely observed that the song's melody limited Janelle and failed to give her a chance to soar. Nicki thought that it fell flat and that Janelle overdid it vocally. Randy agreed about the  song choice and the performance, but rated her his favorite country singer in the competition. Mariah said it wasn't the best song choice.
Taking the prize slot was Zoanette Johnson, who on the previous televised evidence seemed to have been chosen for comic relief. But she stunned everyone with a passionate performance of the"Lion King" showstopper "Circle of Life," reflecting her Liberian roots. Too much vibrato for me, and I can't envision her advancing much further, but this was an undeniable moment for her. Keith celebrated her unpredictability; Nicki thought it was a smart choice and an unforgettable performance; Randy crowed that she had now shown America why the judges had chosen her; and Mariah said her "spirit was too big to be contained."
So now it was time for me to throw together an instant handicap before the commercial break ended and the judges announced their five keepers. Based on their comments, I thought there were five sure-shots: Zoanette, Candice, Cristabel and the signable duo of Aubrey and Breanna. But it also sounded as if Rachel had a shot, assuming they wanted to keep a country singer, and perhaps they might see the light and recognize the creativity of Jett and Juliana. So my only two definite negatives were Melinda and Janelle.
Well, that turned out not quite accurate. Four of my five definite yesses – Zoanette, Candice, Aubrey and Breanna – sailed through, but Cristabel got a surprising ax. Melinda was the first one eliminated, followed by Juliana (perhaps because, at 15, she could easily try again). Disappointingly, Jett was also let down, and the last spot came down to the country singers, Rachel and Janelle. Though Rachel had received more positive comments from the judges, they ultimately – and unwisely – chose Janelle, who resembles a less-eccentric Kellie Pickler. (Actually, since they'd sent country-oriented Kree Harrison through last week, they would have been better off divesting both Rachel and Janelle.)
The competition will be, I'm sure, less diverse and interesting without Jett and Juliana, and it's disappointing that the two most-adventurous contestants were rejected. But when you're aware beforehand that you haven't seen much of them, you can't be surprised that they didn't make it. Bad judgment, though.
Eliminated: Melinda Ademi, Juliana Chahayed, Cristabel Clack, Rachel Hale and Jett Hermano
Deserving triumph:  Aubrey Cleland may not have the strongest voice, but she stepped out of obscurity to wow the audience and judges.
Third-time charm: Janelle Arthur is on her third stab at the crown, and should count herself lucky to have survived.
What did you think of Wednesday's episode? Connect and sound off on Facebook and Twitter
"American Idol" airs Wednesdays and Thursdays at 8 p.m. ET/PT on FOX.