'Modern Family': Old year's eve
Family escape proves there's no escaping family ... or aging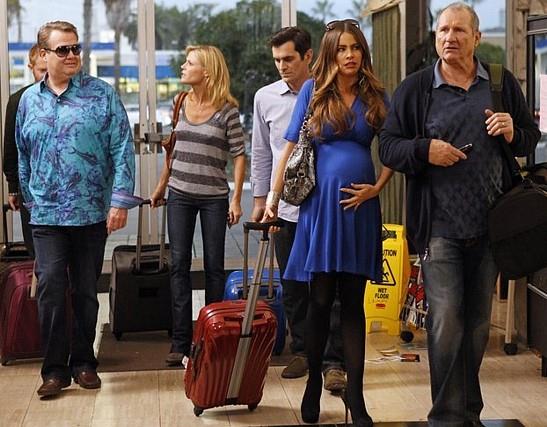 'Modern Family' returned from a three-week break on Wednesday with "New Year's Eve," an episode that was 10 days late but not short on laughs. Having caved into Jay's (Ed O'Neil) request, the family rings in 2013 with an adults-only stay at his favorite Palm Springs hotel. Like Jay, it has seen better days. Jay explains that he was last there "not that long ago -- '74 or '75," to which Gloria (Sofia Vergara) replies: "When I was two." ("I hate when you do that," Jay says.)


Bing: More on "Modern Family" | More on Sofia Vergara

Secretly, nobody looks forward to spending New Year's Eve talking and eating with the same people they will talk and eat with for most of the next 365 days. So secret plans hatch to get away from the getaway. Mitch (Jessie Tyler Ferguson) and Cam (Eric Stonestreet) resolve to hit a gay club recommended by a happening friend. And the bellboy tells Claire (Julie Bowen) and Phil (Ty Burrell) about a romantic hot spring accessible only by a remote trail off the golf course.

Back home, Haley (Sarah Hyland) is in charge of Alex (Ariel WInter), Luke (Nolan Gould), Manny (Rico Rodriguez) and Lily (Aubrey Anderson-Emmons). Of course, we assume this means that Alex is really in charge. But Haley shows uncharacteristic responsibility. When secretly arranged double dates show up for Luke and Manny, Haley feels challenged. She and Alex approach Luke's shut bedroom door and demand that he and his date keep it open. It doesn't work. (Manny, they needn't be as concerned about. When he asks his date if she has any New Year's resolutions, she responds: "Yeah. No more blind dates.")

For Haley's second attempt to throw cold water on her little brother's situation, she pretends to put laundry away in his room. ("That's a bra," Luke notes, "and a tablecloth.") Finally, Haley puts her foot down and sends the girl packing. ("I think I owe mom a huge apology," she says.)


While all this is happening, no one has been watching Lily, who at various points gets into Claire's makeup and jewelry and slips outside into the cold night, where she reports spotting a coyote.


Back in the hotel restaurant, an epidemic of fake sickness befalls everyone who wants to spend New Year's Eve somewhere better. Preggers Gloria passes out for real, so Jay walks her back to her room, but really only to the elevator because he wants to return to the table, where he's wanted so much. And what Jay finds when he does is an empty table. 


Claire and Phil can't find the hot spring in the dark. As they walk, Claire confronts the fact that they haven't had sex in a full month. "Is this who we are now?" she asks. "First it's a month, then it's a year! Then we're sleeping in twin beds and you're calling me 'mother!'"


At the gay club, Mitch and Cam feel uncomfortably old. "Everyone in here is 11!" Cam shouts over techno music while failing to get a bartender's attention. They storm out but vow -- instead of falling asleep before another New Year's countdown -- to check out some neighboring clubs before turning in. Like Goldilocks, they sample the second bar. It's not too young like the first one. But it's definitely not just right. (They run out, leaving it up to our imagination.) The third bar has its faults, too, but it sure feels nice to be the youngest couple in a gay senior bar.


"This is what models must feel like," says Cam after a gentleman sends over a drink. ("Thank you!" Mitch screams, twice, because the guy doesn't hear him the first time.)


Jay returns, dejected, to his hotel room. But the woman who runs the hotel invites him to play poker. Random luck has placed Billy Dee Williams (as himself) in the game. Jay launches into a description of "Mahogany" for the other players, who have never seen the movie. The description is peculiarly detailed.


"My son made me watch it," Jay explains.


"He's gay," Jay adds after an awkward pause.


"Good," Williams replies. "I didn't want to have to be the one to tell you."


Gloria shows up to the game. She wants fresh grapes for some Colombian New Year's Eve tradition. The freshest the hotel can do is to fish some out of a can of fruit cocktail. So Billy Dee offers to drive Jay and Gloria to his house. Gloria even gets to drive his classic Rolls-Royce Corniche. ("In my village, if you didn't drive one of these, you couldn't call yourself a drug lord," she says.)
Want more TV? Like us on Facebook and follow us on Twitter.


Phil and Claire have found the hot spring and are about to get romantic when a bunch of mostly overweight people show up and start disrobing. It's the Palm Springs Nudist Association and this is their "Nude" Year's Eve.


"You saw the flyer?" one of the nudists asks them.


"Nope," says the bellboy from earlier. "I told them."


Phil and Claire can't even reach for their clothes because they're now at the bottom of a growing pile. ("You really want to stand there naked sifting through drawstrings?" an agitated Phil asks.)


Sometime long after the ball has dropped, Jay brings Billy Dee back to meet the rest of the gang. Phil is star-struck to meet Lando from "Star Wars" and says so.


"You must be Mitchell," Williams says. "Jay has told me so much about you."


"Modern Family" airs Wednesdays at 9 p.m. ET/PT on ABC.