'The Vampire Diaries': Making a killing
As Elena mourns her first kill, Jeremy pays the price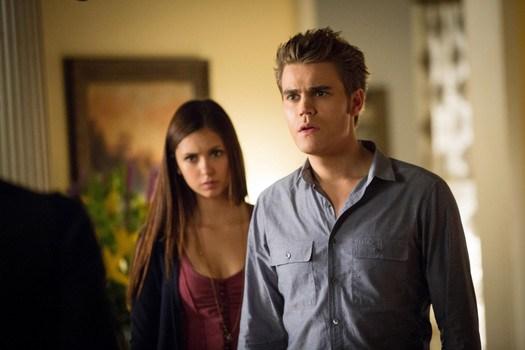 Last week on "The Vampire Diaries," the hunter that Klaus and Damon wanted to take down managed to escape – and he went to see Professor Shane, Bonnie's new pal.

This week, he reamed the guy out for not letting him know about the hybrids – specifically, how to kill them. But Shane was more worried about Bonnie, and what hunter Connor's game would mean for her. "Anybody that gets in my way," he warned, "is dead."
His first stop back in Mystic Falls? The bar where Jeremy worked.
Elena and Stefan, meanwhile, were both lamenting in their diaries about her transition. Elena confessed her fears – and Stefan wrote that he must find the cure. For Elena. "I'll do it," he said, "no matter what it takes."

Klaus supervised some digging at the site where Rebecca's ancient hunter love – and the guy's vampire-killing knife – were buried, but he called Stefan to tell him to get on finding Connor, who had taken Klaus's hybrid minions head to get some werewolf venom. That, of course, indicated some not-so-fun moments in all the local vampires' futures. Plus, "his tattoo is our only map to our cure, so find him, capture him, keep him alive," Klaus warned. And he told Stefan to refrain from telling Damon, or he'd throw that cure-promising sword right into the ocean, and they could forget about the whole thing.
Bing: More on "The Vampire Diaries" | Photos: Meet the Cast
Damon showed up at Elena's, demanding to know where Stefan was. "Maybe he's dodging me," Damon said, reminding Elena about their dance party dalliance. "Classic shame spiral. Newbie vampire remorse, it's worse than a hangover!" He called Stefan from Elena's phone. Still no answer. What could that mean?
Back at the bar, April Young came a calling to see if Matt had seen Rebecca, who was MIA. But then Connor stepped out of the kitchen, a knife to Jeremy's throat, and they forgot all about Rebecca. Connor said they had some unfinished business  -- things Jeremy would remember if he had more vervain on him. "Compulsion, secrets, vampires," Connor said. Matt told Connor that their vampire pals would come for them – and Connor noted that every vampire that showed up was another one he got to kill. Then he sent his hostage message, via text, to the Salvatores and Tyler Lockwood.

Tyler, Damon and Elena were hashing out a plan of attack when Stefan showed up, saying he'd came up with a plan. They were all going. But Stefan insisted they weren't going anywhere till he figured out their plan. "Until you figure it out?" Damon asked incredulously. "Is that where you've been all morning, buying bossypants?" That's when Stefan told them Connor had werewolf venom. So Damon gave him one hour, and ordered Elena to get Bonnie on the case.
Bonnie, of course, was hanging with Professor Shane, who was giving her "witch therapy." This apparently involved hypnosis. He told her the guilt was weighing her down.
Stefan called Klaus again, and said he needed hybrids for his plan. Elena watched him from the window, wondering whom Stefan was talking to. She and Damon mapped out the plans as Stefan checked out the grounds. Elena, impatient, said she'd go into the tunnels to get into the building, but Damon refused to let her go. She reminded him that Alaric had trained her – and then she pulled the gun right out of his hands to show him, turning it right on him. "For someone who doesn't want to be like me," he said, "you sure are good at it."

In the bar, April thought Connor was delusional, with all the talk about vampires. Jeremy was stressed about the whole being compelled thing, but Connor was more interested in showing him his latest vampire-killing strategy. "The more I kill, the more the mark grows," Connor said. "The mark held the answer to the way I am. I learn my story and all this will mean something."
Want more "Vampire Diaries"? Check out our episode guide.
When Stefan showed up and told Damon and Elena about the hybrid plan, Damon flipped. "Why is Klaus involved? Did he compel you?" But as Damon was about to storm off to kill Connor, Stefan stabbed him with a shot of vervain. He told Elena he was going in alone because he couldn't trust Damon. And Elena would get hurt. But she couldn't risk Jeremy being hurt. He kissed her and reminded her to trust him.
At the Lockwood mansion, Caroline ran into Tyler's "buddy" Hayley. But when Caroline started digging, Hayley said: "Yeah, I don't do teen drama. Take it up with Ty." Tyler, in the other room, was arguing with Dean, a hybrid, whom Klaus had ordered to take Connor with non-violent force. A suicide mission, essentially. Tyler told Dean he'd broken the sire bond, and he could too. So Dean told him to call Klaus. Klaus blackmailed Tyler with the whole Hayley thing, so no go. Dean was walking into the death trap.
Stefan called Connor and tried to negotiate, telling him he had information on the hunter's mark – and that Klaus wanted him alive. "Don't you want to know why?" Jeremy lurked, and Connor warned him that if he made a move, he'd be dead. "They're not all bad, you know?" Jeremy said, but Connor shared a story of his history with a vampire – his ex. "Vampires are like a loaded gun, you know? Eventually they're going to go off." He'd earned his mark when he killed his own girlfriend.

April, meanwhile, was asking questions. "There's something so familiar about him," she said. Matt started digging, trying to get to the old tunnels. Stefan was already down there, under the bar.


Dean's entrance triggered the booby trap, pummeling him with glass before Connor shot him with an arrow. But that's when Stefan snuck in from the tunnels. He gave Matt and April his cell, telling them to follow the map out of the tunnels.
Want more TV? Like us on Facebook or follow us on Twitter. 
Jeremy watched Connor flex as his tattoo grew – and that's when Stefan confronted him. Connor grabbed Jeremy again, and Stefan hid, but tried negotiating again, saying he'd tell him everything he needed to know about the Five. "I don't make deals with vampires," Connor shouted.
Elena, hearing the explosion at the bar, decided she couldn't wait any longer. But Damon stopped her. "This guy's dangerous," he warned again. "So am I, Damon," she shouted.
Damon told her she needed to be smart about it, since he didn't know Elena was a vampire. Elena ran to the bar, swung open the door and confronted Connor, who had his gun trained on Jeremy. Stefan stepped forward, and as Connor turned, Elena jumped him – but not before a gunshot hit Jeremy. Then another booby trap went off, and all of the sudden, Stefan and Connor disappeared.
Elena fed Jeremy her blood so he'd heal. "How did this happen, Jer? Why did Connor come after you." Jeremy told her about the tattoo – the one Stefan and Damon hadn't told her about. Then he told her he'd been compelled, that he didn't remember anything Connor said.
As Stefan dragged a still-very-much-aliv​e Connor through the tunnels, he ran into Damon, who was pretty pissed. "I don't know what Klaus has over you, but even if I have to go through you, I'm going to kill him," Damon said. Stefan told him to trush him, but Damon said: "Don't have to, don't want to, not gonna." And then, Connor ran as Stefan and Damon fought, Damon reaching for Stefan's heart if he didn't reveal the truth. "Connor's tattoo is the cure. For Elena. And if Connor dies, we'll lose it forever. It's hope. It's her only hope."
Connor ran toward the light, almost free, but then he ran into another vampire. Elena. Taking a big bite, she warned him to stay away from Jeremy. "Look at you," Connor said as Elena dripped in his blood. "So worried about your brother. When you're the biggest monster he'll ever meet." He tried to stab her with a stake. That's when she broke his neck. And killed him.
At the university, Bonnie told Professor Shane she couldn't get into hypnosis. "What do you think we've been doing for seven hours," he said. Then he asked her to light a candle – with her magic. "If you can't, it's only because you're afraid. You have a power of your own you haven't even approached yet – and you don't have to be afraid of anyone." So as she tapped into her power, candles lit up all over the room.
As Elena dug a grave for her first kill, she cried. "I need to bury him," she told Stefan and Damon. "I killed him, I should bury him." Then she confronted Stefan about his secret deal – and screamed at Damon when he told her it was complicated. "I killed someone," she said, breaking down.

Hayley moped on Tyler's shoulder about Dean's death when Caroline showed up. She was livid. She confronted him about Hayley and their relationship, but Tyler told her it wasn't like that. Hayley had helped him break the sire bond – and they could help other hybrids, too. But not if Klaus found out. Then they'd all be dead. So he let Klaus think what he wanted. And he let Dean sacrifice himself.
Jeremy sat on a bench, exhausted, when he ran into Matt and April, who had clearly been told a load of bull by Matt about their escape. Jeremy slipped her his vervain-coated bracelet, and she marched off, oblivious. And as he told Matt he was sick of all the secrets, he looked down at his never-die ring and noticed something new – a tattoo on his hand. Invisible to all others. With the mark of the Five, just like Connor's.
At the Salvatore pad, Damon and Stefan reunited in their mission, now that Damon understood what as at stake. Stefan's plan: find another hunter and then the cure. "Sure, Stefan, since you asked, I'd be happy to go on a suicide mission with you for a potentially non-existent cure, no problem," Damon said. Then he asked Stefan why he really wanted a cure. Because Elena was a vampire and she wasn't cut out to be – or because Stefan couldn't love her as a vampire? "I'll always love her, but she's not supposed to be this person. I don't want her to be."
To which Damon replied: "I'm fine with her either way, brother, so if I do this, I'm doing it for you."
At home, Elena showered, washing blood off her hands. "Dear Diary," she wrote, "I lost control. I killed someone. I used to think the worst feeling in the world was losing someone you love. But I was wrong. The worst feeling is when you've lost yourself."

As she wrote, she realized their was blood on her notebook, and on the floor, and all over the bathroom. And on the mirror, written in blood, the word: "Killer." And then, just like that, it disappeared.
"The Vampire Diaries" airs Thursdays at 8 p.m. ET/PT on the CW.