'The Americans': God and country
'The Clock' tells a tightly wound story while thickening the layers of counterintelligence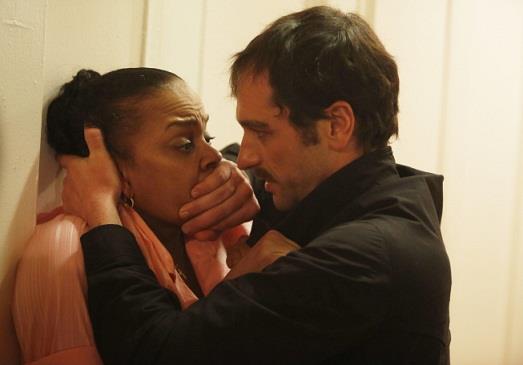 Last week
, FX's Cold War thriller "The Americans" stirred up hot buzz thanks to a heady blend of expertly captured period details, ferocious sex appeal and a wildly intricate network of geopolitical and interpersonal spy games. We were hooked. The only question was how they'd keep pulling at all those threads without completely unraveling.
As we learned tonight, the answer is simple: Strip away all the musical cues and big-production action sequences, stay squarely in the present tense and get back to basic storytelling. The pilot made it very plain that there's global implications to Elizabeth and Philip's dual lives, and there's plenty of time to get to all that. Nor did "The Clock" fail to make insinuations about what's at stake amid all the caviar-eating, ear-piercing and wiretapping. 
Thus, without further, "Hey Paige, hope no more of your innocent blood winds up on my hands down the road when we nuke the shit out of this filthy democracy and I'm either dead or being tortured in some clandestine government internment camp," here are the five paramount things we took away after our time with "The Clock."
SO, THIS SHOW'S THE REAL DEAL HUH?
The premise sounded appealing, and the pilot was outstanding. Now, after settling into its normal hour running time, "The Americans" appears loaded with great ideas. "The Clock" concerns Elizabeth and Philip's (whom we now know operate under code name Directorate S) risky attempt to infiltrate the U.S. Secretary of Defense's private study and wiretap his meeting with the British Defense Minister. Since, ya know, they be talkin' bout bombs and stuff. Unfortunately, as often happens in matters of international intrigue, everyday people get caught in the middle. In this case, the Secretary's housekeeper, Viola (more on that in a bit. All of which means we get more nifty Philip disguises, lots of awesomely analog spy technology (more on that further below as well) and the show's best ongoing conceit thus far: that KGB tactics circa 1981 are full of holes if you know where to punch. All of that, and an increasingly predatory Stan (gleefully sunk into by Noah Emmerich) playing bad cop/creepy good cop with Russian agents on the street and neighbor Philip, respectively. Just watch he doesn't underestimate Elizabeth.
GOD DOESN'T LIVE HERE ANYMORE
Long before George W. Bush authorized an intellectually bankrupt set of policies that emphasized divine hubris over sensible leadership, President Reagan was swept into office on a platform of rugged, faith-based individualism. The early days of Ronnie's first term were a magic carpet ride of wind-swept American flags, proudly cocked bald eagles and the prevailing sentiment that God, citizenship and blue-collar labor would lead us all to outer prosperity and inner resolve. Tell that to Viola, who's young son was lethally poisoned and being held hostage by Elizabeth and Philip (it was an interesting look to see the Jennings' undercover together) until she agreed to bug her boss's via the titular clock. Viola clung to her absolute certainty that the lord above would intervene, going so far as to balk at an initial attempt to plant the corrupted time-telling device in Secretary Weinberger's study. Eventually, seeing no way out, Viola complied, and Directorate S's mission was accomplished. But not without serving notice that no matter what your appointed leadership says, neither God nor country will always be there to protect you.
ELIZABETH IS A HARD ONE TO FIGURE
Then again, maybe they all are. All we know is, in the pilot, Elizabeth was a traumatized, brainwashed badass wearing the pants in her arranged marriage and espousing loyalty at all costs to the country that took her identity and transformed her into an assassin. But "The Clock" gives us a counter view, one of a loving mother worried that she'll leave her teenage daughter no less alone and vulnerable than she was by 17. She also has doubts about their current task, no matter how explicit her dedication to KGB. As well she should, as it turns out, given that high-ranking members of her organization are acting at cross purposes and ol' Stan is very much trying to insinuate himself into Philip's psyche. Elizabeth is a fascinating character: shrewd, embattled, sexy, tough, fiercely protective and quietly longing. And
Keri Russell's
kind of a fox with that feathered hair and those windbreakers and high-wasted pants. No?
LOW-TECH EQUALS HIGH DRAMA
When Stan and his partner Chris (
Maximiliano Hernandez
) interrogate the owner of a hi-fi shop in downtown D.C., it takes a moment to remember what decade we're in and realize the auto-belt turntables and AM/FM radios for sale are top of the line. They're also one of several fun props that crop up during "The Clock" to remind us of the '80s' multi-national rivalry over new electronic gadgets and simply force agents on both sides of the law to get creative. For Stan and Chris, that means rolling up a speaker pad and shoving it down the guff-offering proprietor's gullet until he spills the beans about why a Russian woman is giving him expensive caviar as payment for goods. Over at operation Directorate S, it necessitates Philip listening in to the Secretarial clock's emissions via clunky transistors and fussy plastic earbuds. It may lack James Bond's nesting-doll toys or the impenetrable precision of Saul and Carrie's intrusive tactics on "Homeland," but all this uber-functional, battery-operated hardware sure makes spying unpredictable and fun.
GOD, TEENAGERS ARE THE WORST
If there's one thing "The Americans" has in common with "Homeland" thus far (besides utilizing a naive floozy as a mole and putting her in grave danger), it's that the Brodys and Jennings' both have to contend with petulant teens. Henry, as we learn, is quite like Philip: He can go with the flow and stand on his own two feet. Paige, Elizabeth fears, has inherited her stubborn insecurity, even if she doesn't realize it yet. She's also certifiably annoying. It'll be interesting to watch how influential Paige and Henry are on their parents' actions and, unwittingly, the possible fate of freedom and democracy. Jeez, and we thought Viola was simply an innocent bystander suddenly implicated in the reality of her surroundings. 
"The Americans" airs Wednesdays at 10 p.m. ET/PT on FX. And don't forget to check back here every Wednesday after each episode for the five things we learned that week, and feel free to share your thoughts and reactions in the comments below.