'Nashville': Playing the game
Rayna and Juliette suck it up, act like pros and get it done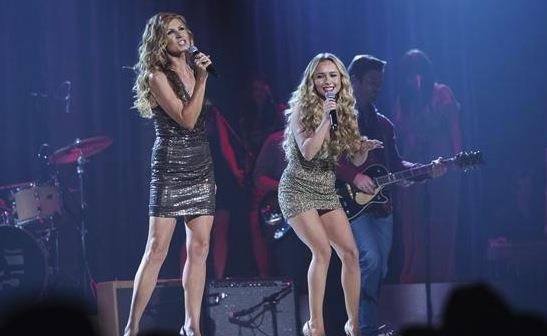 Rayna was loving the music her new producer Liam brought her. She already had the perf' lyrics to put to it. She was less pleased when she heard label head Marshall still wanted her to do a greatest hits album. She rolled her eyes and decided to shake things up by closingEdgehill Republic's big 25th anniversary party with one of her new songs.
Bing: More about 'Nashville' | Watch clips and full episodes of 'Nashville'
Back at home, it was movie night. Rayna and Teddy were bonding, but Coleman called him out for a late night meeting. Coleman showed Teddy the romantic-looking pic of him with Peggy. Even though he believed there was no affair, he tried to use it to blackmail Teddy into dropping out of the race. When Teddy told Lamar, Lamar admitted it looked bad, but he wasn't worried about the campaign. He was worried about Rayna. Teddy called Peggy to warn her that this would probably get out, but held off on telling Rayna till after her big show. 
Later, Lamar wondered if Peggy was unstable - that could work in their favor. They could say Teddy was giving her support. Teddy was offended, but Lamar had a better plan anyway. He was going to "feed the news cycle" more Coleman drug drama. Even though he knew Coleman was sober, he'd put a call in so the possessions charge would go to trial. 
Juliette and her new football beau Sean were in new couple heaven, until her publicist revealed there was more backlash. Sean's fans and the tabloids were blaming her for his bad passes on the field. With everyone thinking she was kryptonite, Marshall was only going to let her perform one song during the big show. Juliette reminded Marshall she was his top artist and she better get to close the show. He smiled that she would - with Rayna! Juliette balked, but her manager thought it sent a good message. She didn't want or need Rayna's approval or to be under anyone's wings, but he said she didn't really have a choice, unless she wanted to miss playing the music event of the year.
Over at Blue Note, Deacon's sad songs brought Scarlett to tears. Sexy sassy manager Marilyn had gotten Avery and his band a gig at Tequila Cowboy. She actually had a lot in the works for them, but Avery couldn't stop thinking about Scarlett. It turned out, Scarlett was as upset about missing Avery's big break as he was. She wondered if she was making the biggest mistake of his life, so Gunnar suggested she write about it. She had a bad case of writer's block. Deacon's answer to her blues was to "get out of the damn house" - in part because she was driving him nuts cleaning up after him. He put her and Gunnar on the guest list for the anniversary show.
Hailey also took a stab at Scarlett's writer's block, but her plan backfired. Scarlett's high heeled, low cut makeover had all the guys staring, including Gunnar. When she got onstage and sang "Ring of Fire," Gunnar was a goner - and Hailey saw it. There were tequila shots and some guy kissing Scarlett, which Gunnar jealously interupted. She stormed out embarrassed and angry... and went straight to Avery... who had a topless Marilyn over! Ouch. Avery chased after Scarlett, crying that he didn't sleep with Marilyn until after Scarlett dumped him, but Scarlett wasn't interested in hearing it.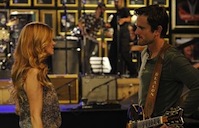 Things went better when 'exes' Rayna and Deacon ran into each other. Their quick catch up session was warm and friendly. Liam was thrilled to meet him and marveled that he'd never pursued a solo career. Rayna was spared explaining that story when Marshall popped in. He told her the duet with Juliette was "not a request" and threatened to release her greatest hits album if she didn't sign on.
Rayna ranted to Liam, who totally got it: It was Marshall's "passive aggressive maneuvering" that had infamously inspired him to take a leak in one of Marshall's plant. As for Juliette, Liam said the upstart had a "nice rack, okay voice" and knew how to play the game. Rayna knew how to play too. She picked up the phone and sent word to Marshall that she'd do the duet, but only if he dropped the greatest hits BS and let her do her album with Liam.
Juliette was feeling out the Ryman Auditorium stage when Deacon found her. It had only taken her three years to get there and she insisted she was not a flash in the pan, no matter what people were saying. He told her a duet with Rayna could help her prove the haters wrong, adding that she could learn a thing or two from the queen of country.
Needless to say, their big duet planning meeting was tense. The guys tried to smooth things over, but Juliette told Rayna to save the fake smiles. Rayna wasn't fazed by the "kiddo," but they were soon arguing about what kind of song to play and who was helping whose rep. Deacon told them to "shut up" and come together, but they couldn't. When Rayna sneered that Juliette hadn't earned the right to close the show, the starlet stormed out. Deacon followed, but not before reminding Rayna people used to say she wasn't "traditional" enough. "She sure got you whipped, doesn't she?" Rayna sniffed. Instead of arguing, he told her to listen to the song he wrote with Juliette.
Want more TV? Like us on Facebook and follow us on Twitter.
Juliette wanted to work out her frustration with her new guy. She threw him down on the couch and straddled him, but he wasn't responding. "I'm just not into casual sex," he balked. She went on the attack, accusing him of using her as publicity stunt or a beard. He insisted he wasn't gay and just wanted to take it slow, but she threw him out.
Then Rayna showed up at her door and suggested they write a song together, because that was the only way their duet would work. "We're going to suck it up, be pros about it and get it done." They pulled an all nighter. The next morning, Juliette wondered if the song was about Deacon for Rayna. For Juliette, it was about "all of them."
Liam and Deacon were jamming and wondering how things were going with the girls. Liam cracked he wouldn't want to get between those two and then quipped, "Actually, I would." Of course, Deacon already knew that wasn't as fun as it sounded.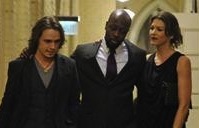 On the night of Edgehill Republic's anniversary show, there was a lot going on. Marilyn introduced Avery to Domino Wells of Cascade Records. He got distracted when Scarlett showed up, but quickly got his head back in the game and invited Domino to his next show. Domino was heading back to Atlanta, so he invited Avery to come play for him there.
Scarlet, meanwhile, headed straight for Gunnar. It looked like things were going to be tense, but then she revealed she was ready to write again. She thanked him for changing her life by helping her turn her poetry into music. If she had to lose someone, at least it wasn't him. (Ouch, Avery!)
Backstage, Rayna had some pre-show family time, while Sean showed up with flowers for Juliette. He told her respected her too much to have sex "outside the confines of marriage." He wanted to get to know her, but she figured he wouldn't like her. "It's too late," he said and kissed her.
As Rayna and Juliet prepared to take the stage, it was clear there was still no love lost between the divas. They even swore they'd never share the stage again, but that could turn out to be a hard promise to keep. The crowd went nuts when Rayna invited her "friend" on stage. The girls rocked the house - as did Deacon and Liam - and put on a great show. Marshall was licking his lips over how their "Wrong Song" would sell.
"Nashville" airs on Wednesday at 10 p.m. ET/PT on ABC.