'The Voice' top 8 perform: Groomed for the win?
Front-runner Cassadee Pope makes the most of the last spot of the evening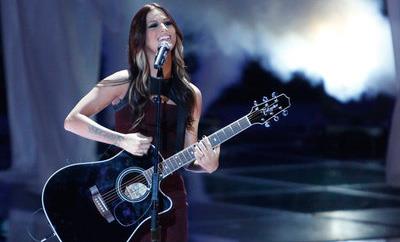 By John Kubicek
Things are moving quickly on "The Voice." We're already down to the elite eight, and we're just three weeks away from the finale. Christina Aguilera is left with just one singer, uber hottie Dez Duron, while Cee Lo Green is sitting pretty for his potential first win with all three singers still in the competition.

Bing: 'The Voice' | Photos: See more of the action from Season 3 | LNOTV: Watch recaps
What does "The Voice" have in store for the top 8 performances? And more importantly, which of the 10 remaining songs on Xtina's new album, "Lotus," will she perform this week?

More: 'The Voice' on Buddy TV | Video: Watch clips and more

This is "The Voice"!


"My Life" by 50 Cent with Adam Levine
I guess Xtina lost the coin toss to Adam this week for the right to perform a song. The obvious problem with rap artists performing on live TV is the amount of bleeping. Adam runs all over the smoke-filled stage, and it makes me want to see him play Caliban in a Shakespeare in the Park production of "The Tempest." That would be a good role for him.
I know "The Voice" likes to be different from all other reality singing competitions, but I think it would be better if there were theme weeks instead of the singers just doing whatever song they want every week. There's no real structure.
Christina Aguilera has a weird, studded leather jacket that makes her look like she should be offering drugs to Brenda Walsh in the girls' bathroom at West Beverly High. During the opening chat with the coaches, we learn Terry McDermott is singing a Blake Shelton song -- meaning, for the first time ever, he's singing something current. Blake is one shrewd coach.
Amanda Brown ("Someone Like You" by Adele)
Ooh, she's going for the big one and wants to turn it into a rock song. Or rather, Adam Levine wants to turn it into a rock song. This is very interesting and very cool. She takes a song that usually makes people cry and transforms it into a kick-ass rock anthem that makes you want to burn your ex's clothes on the front lawn. And it helps that the girl has the best voice in the competition. It's really good, but not her best, only because she has some very impressive performances under her belt.
All the coaches admire the risk, but the kudos should probably go to Adam, who seems like the architect behind this arrangement. Hopefully this will stop the trend of the past two weeks where the first singer gets eliminated.
Cody Belew ("Somebody to Love" by Queen)
Wow, a Queen song. And a second song that starts with "Some." And a second song covered by "Glee." It's yet another brilliantly over-the-top spectacle, the kind of extraordinary performance I've come to expect from him. It also gives him the chance to actually sing a lot, and he does a great job. I just kind of love this guy, and so does Xtina. We could be in for another night of impressive performances.
Christina Milian talks to Amanda and Cody about being BFFs. I desperately want to hang out with those two. Can someone get them a reality show?
Cassadee Pope, Dez Duron, Melanie Martinez and Terry McDermott ("Move Along" by the All-American Rejects)
This is the first group song, and one thing is clear: Melanie is outmatched. The other three positively destroy her. Cassadee is amazing, and Terry does a great job with the power notes. Dez, meanwhile, has stolen Adam Levine's wardrobe consultant, dressing in nothing but a very tight, white T-shirt. Good choice. It was a pretty great performance, but it would've been better if Melanie weren't in it.
Terry McDermott ("Over" by Blake Shelton)

Meh. For me, this is a bit like when Trevin took on Usher last week. This kind of country song just isn't for Terry. The power chorus is fantastic, but the tender, softer verses just don't seem right for Terry's voice. The whole thing seems like Blake being self-indulgent and trying to pander shamelessly for votes instead of serving his artists. The other coaches are careful with their words, clearly suggesting they aren't wild about this direction for him.
Melanie Martinez ("Too Close" by Alex Clare)

I still think the only reason she's here (and Bryan Keith isn't) is because her iTunes votes got multiplied by 10 last week. This is a breakup song, and she's going through a breakup right now. Why would you break up with someone who is so easy to shop for? All you need to do is find a new, wacky bow for her hair.

Once again, I find myself liking her despite the fact that I really don't like that whiny tone of her voice. But it still sounds cool, somehow, and she does some impressive singing. Xtina thinks it didn't go anywhere, which is a fair criticism since almost all of Melanie's songs are primarily one-note and don't have many levels. But then again, Xtina spent the entire performance taking mental notes on how cool the set design was in preparation for her upcoming tour.
Dez Duron ("U Smile" by Justin Bieber)

Oh jeez, the Biebs! You don't even need to watch it to know Dez is gonna be safe. The performance is everything you'd want it to be from his sexy crooning. If Robin Thicke and Michael Bublé had a baby, it would be Dez. It's not as stellar as last week, but he still grooves on it and makes the ladies swoon. Xtina compares him to MacKenzie Bourg in terms of revamping songs, though she forgets his name. How dare you forget the Bourg! Xtina then begs America to vote for Dez.
Trevin Hunte ("The Greatest Love of All" by Whitney Houston)

Obviously someone learned a valuable lesson from last week because Trevin's heading back to the power ballads. There's some more sob story about how he was going to try out for football, but his mom couldn't afford the uniform. We get it: He's "The Blind Side." As for the performance itself, I thought it lacked a lot of the magic I was expecting. Sure, he hits a few of the big notes, but it's pretty dull. I think he got a little too overconfident from the early front-runner status, and it got him a little mixed-up.
Christina Milian and Terry McDermott

Christina Milian talks to Terry about how his wife's birthday is this week. He starts to send his wife a message, but then it turns out his wife and son are there! Terry seems genuinely shocked, lets out an expletive then makes out with his wife like there's no tomorrow while Christina chats with the kid. It's adorable and awesome.

Amanda Brown, Cody Belew, Nicholas David and Trevin Hunte ("Any Way You Want It" by Journey)

The second group performance is all Team Cee Lo (Amanda was originally picked by Cee Lo before getting stolen by Adam). I'm going to try to pretend Nicholas and Trevin aren't there and instead focus on the utter awesomeness of Amanda and Cody rocking out on scaffolding. Seriously, VH1 needs to give them their own TV show.
Nicholas David ("What's Going On" by Marvin Gaye)

Of course Nicholas is singing Marvin Gaye. His tradition is to grow his beard the entire time his wife is pregnant, and she's due in February. He gets a bonus surprise when Bill Withers shows up for his rehearsal. "Holy buckets!" he says, keeping alive the best catchphrase of the year.

For the actual performance he wears a brown leather jacket, plaid pants, giant sunglasses (like the ones you get after leaving an eye exam) and his hair in Pippi Longstocking-style pigtails. I'm sorry, but it's impossible for me to properly judge him when he's dressed like that. His outfit is so loud that it burst my eardrums and made me unable to hear him. I still don't get the massive amount of love the coaches have for this guy.
Cassadee Pope ("Are You Happy Now?" by Michelle Branch)

Cassadee hit No. 1 on iTunes last week, beating "Gangnam Style," and now she gets the last spot? I think she's definitely being groomed for the win. She's definitely going for the deep, emotional songs with a rock edge. Cassadee's very intense and angry, and she's definitely the best of the top 8 at conveying an emotion through her music. This is the kind of song and performance that just makes me want to rock. She's definitely the new front-runner, and even the other coaches know it.

That does it. Who's safe? Who's going home? And how excited are you for Cee Lo and Kermit the Frog to duet on the results show?
BuddyTV: Cee Lo Green to duet with Kermit the Frog on Tuesday's results show
BuddyTV: Don't miss another episode! Keep up with your favorite shows, like "The Voice," using the BuddyTV Guide app!
"The Voice" airs Mondays and Tuesdays at 8 p.m. ET/PT on NBC.

For
****
's sake, Kubicek, why the hell are you a contracted music blogger for MSN?! Every single damn week you bitch and moan about the same people without offering a shred of intelligent or credible opinion.
You're an unattractive older fat dude who apparently has the same taste in music (and little boys) as prepubescent girls who haven't even begun menstruating.
Just to spite your sorry
****
, I hope one of the singers you constantly put down is crowned the winner of this show.
Just. To spite. Your sorry.
****
.

she may not be as hot as she thinks she is, don't all the female contestants on that show think they are hot?  All I know is that she is a good singer which is all that is supposed to matter. But I know that once the USA public get to vote, it will be all over for Amanda. It does not matter, she has a nice voice.  

Your blog really pisses me off!   So you don't like Nicholas or Melanie, so what?  I agree she is trying too hard to be quirky but there is no need to piss and moan about two artists repeatedly.   Bryan sucked and was not as unique as the judges sometimes made him out to be.  I am shocked he lasted as long as he did.  I also think Amanda Brown is not as hot **** as she thinks she is.  She did a good job on the very very end of Dream On and rocked the last 10 seconds of that song but she is generally not impressive.  I will be very happy if she goes home but honestly I have no faith in America to make the right decision on this. 
Clearly if your opinion was an actual reflection of what Americans want in an artist we would never have had: Lady Gaga, Bob Marley, Madonna and many others.  You do not like things that are different.  Open your mind to new things or stop working on this blog for MSN.   
Are you sure you want to delete this comment?