'The Americans': Coup d'duh
Russia and the U.S. nearly commit a mutual, globally destructive whoopsie trying to stay 'In Control'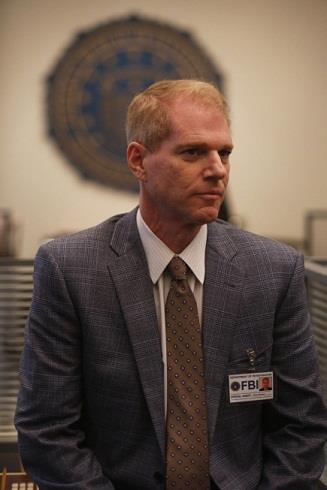 Last week
, we discovered that Elizabeth's been one half of a longstanding interracial affair with a civil-rights activist-turned-KGB recruit. Scandalous. Not only that, but Philip and Elizabeth fist realized that their fallen comrade left a secret wife behind in Philly. And while they were eager to protect her,
Margo Martindale
's duplicitous Soviet agent Claudia aka "Grannie" had other ideas. Namely, death by lethal heroin injection. On the bright side, there was fun music by
David Bowie
and
Roxy Music
!
Tonight's episode centers around 1981's most potentially catalytic political incident. In the process, it illustrates just how easily nations can go to war—and that it's not always men with their finger on the trigger. 
So without further, "Hey, wait a second, that's the fabled Bamonte's Restaurant in Brooklyn where those Congressional aides gather, not a bar on North 17th Street in D.C." here are the five crucial transmissions we intercepted while staying on top of "In Control."
Paige is Smart
We got a better understanding of what makes Philip and Elizabeth's teen daughter, Paige, tick, and how she'll come to embody (and perhaps ignite) the simmering dichotomy between her parents' differing nationalism. She questions everything and is fast developing a savvy about the volatile world around her underneath all those "Girls' World" magazines. After President Reagan gets shot (the episode's aforementioned key event), confusion and paranoia abounds about whether the Russians were to blame or
John Hinckley, Jr.
was acting alone. Evening news hysterically references the 37 million lost in World War I. Their youngest, Henry, asks when that happened. Philip brushes him off, says it's not his concern. Paige, astutely, rebuts, "It's history, which repeats itself, so he does have to worry about it." Right then, trigger-happy Elizabeth recognizes how her fiery impulses can directly affect the ones she loves, while Philip is reminded that, whether he likes it or not, he will eventually have to engage in warfare for his motherland. You know what they say: If it's not one irrationally incited global slaughter, it's your predictably incisive daughter.
Stan, Like All Shadowy Government Agents on TV, Is a Crappy Husband
Noah Emmerich
is a perfectly rugged, handsome man. But, in the grand tradition of television coupling, his on-screen wife,
Susan Misner
, is kind of disproportionately attractive. Or just a different kind of pretty. Like, homecoming-queen pretty. Perhaps all this makes it easier to swallow that her character of Susan Beeman just can't seem to connect anymore with G-Man hubby Stan, which was one of the more cliche developments in "The Americans" so far. At least it did lead to more background on Stan's previous gig overseas among "militants" doing something nefarious and secretive that probably explains his own paranoia and why he'll constantly be second-guessing his instincts about Philip and Elizabeth. And why Susan probably won't be in the picture too much longer. Not that the image of them together computed to begin with.
Wars Have Probably Started for Stupider Reasons
As with all historically fictional series (e.g. 
"Boardwalk Empire,"
"The Newsroom"
 et al.), it's often hard to distinguish where "The Americans"' factual adherence ends and scripted liberties begin. We'll just assume in this case that one aggro female travel agent's bloodlust didn't nearly instigate WW III. But it's not at all hard to fathom that both Soviet and U.S. war-room figures immediately assumed the worst of each other, internally cried conspiracy or coup and readied their nukes. Or that deadly battle across the world has reared itself on account of hasty judgment and ingrained prejudice. WMDs, anyone?
Actually, Travel Agencies Are Incredibly Suspicious
Stan's shaggy-haired teen son, Matthew (
Danny Flaherty
), has it rough. Dad's away on classified government business all the time, dad and mom are clearly drifting, and he's left to fend for himself in a new, strange city. Luckily, he's got Paige, who tries to comfort his unease in the wake of Reagan's shooting and how it might endanger Stan at work. Paige is embarrassed that she overlooked his reasonable fears, and allays him by admitting some naivete, given her parents are mere travel-agent bores. "Travel agenting is a world filled with peril," he quips back reassuredly. Oh, if they only knew, which was kind of the joke. But you have to assume the show's creators purposefully selected that occupation for their KGB operatives. Even if the Cold War was being fought mostly on ground, or potentially from behind desks with big red nuke buttons, our contemporary understanding of terrorist initiation is that it happens on hijacked planes and below ground in urban transit tunnels. Travel agenting is a perfectly innocuous cover for 1980s spies on the low, but in 2013, it's a queasily insidious context that marries our very real modern fears with thrilling peeks inside the machinery of vintage espionage.
The Music Continues to be the Message
This week's highlighted post-punk cut was courtesy of
Echo and the Bunnymen
and their suitably neurotic 1980 (once again, all song selections seem to be culled from just prior to, or precisely at the, turn of the decade) single, 
"Pictures on My Wall."
 The ongoing intimation behind the show's soundtrack—whether it applies to Stan moving past his pre-FBI experiences, Philip and Elizabeth staying on mission while acknowledging their home country's propaganda or Russia's persistent certainty that the U.S. is salivating for nuclear war—is: We're trying to relax here in 1981, but can't seem to shake all this inherited anxiety; the future is fuzzily bright, but our past is presently clear.
"The Americans" airs Wednesdays at 10 p.m. ET/PT on FX. And don't forget to check back here every Wednesday after each episode for the five things we learned that week, and feel free to share your thoughts and reactions in the comments below.

It's not too far-fetched to believe that the assassination attempt on Reagan could have led to mutually-assured destruction considering that the Soviets thought a coup was going on. I was in my office at DISH when one of my coworkers dropped by for a minute and agreed that historical accuracy and fiction blurred a bit, but yeah wars have started for far less. This was a great episode and I may watch it again on my way home from work through the DISH Anywhere app on my iPhone. I like that I can view live TV and saved programs on my DVR anywhere I go by using this feature.  
Are you sure you want to delete this comment?