'Survivor: Philippines': Penner takes a bow
Lisa's wishy-washy ways mean Penner's going to pay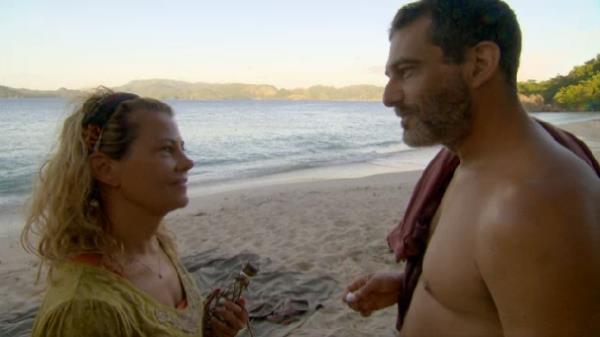 Last week on "Survivor," the Tandang trifecta came tumbling down as Abi's only remaining ally, Pete, was voted off during the season's least surprising tribal council.

This week, Abi was left lonely – and without the all-important immunity idol that had saved her more than once. Would she be able to make it through another vote?

Given her continued negativity, it didn't seem likely. Denise was already plotting her demise, but on the odd chance that Abi did manage to win immunity, she'd decided Jonathan would be the next to go. Given the numbers with her alliance – which included Malcolm, Lisa and Skupin – it did seem like she could call the shots.
But maybe, just maybe, Abi could work it. "Last night, Abi just got destroyed," Malcolm said after he'd taken a few moments to console her. "Abi's very unself-aware, so it's hard not to have a little sympathy when she's breaking down."
Bing: More on "Survivor: Philippines" | Jonathan Penner 

And it was time for the remaining castaways to participate in the always fun "Survivor" auction. They each got $500 with which to bid on food and other prizes. First up: a pancake breakfast – and immediately Denise bought it for $500. "Well spent," she insisted. Next up, cheese, crackers and wine, which Skupin snatched up for $20. Coffee and donuts went to Malcolm for $200. A surprise -- $100 to Penner. Turned out it was fried chicken.
Abi didn't bid on anything. "I know I'm going home next, so I'm going to keep that money."
Another surprise went to Carter for $200. A baked potato. Probst offered him a choice. He could keep the potato, or get a sack of rice and beans for the tribe. And he traded it in. "You are the living legend," Skupin said.
Another surprise. Carter and Lisa fought it out, but Lisa got it for $320. Two massive sandwiches.
The next item: a scroll that offered an advantage in the game. Abi bought it immediately for $500. "That speaks to where you are in this game," Probst noted. Abi agreed.
Another covered prize went to Carter for $200. Veal shanks – for the entire tribe. With a 60 second timer. So they all dug in.
After the auction, everyone was feeling good. For a minute. And then Abi said that Penner owed her an apology. "I was demoralized, I was ganged up on, I left there crying, genuinely crying," she said. He told her she could have been friendlier. To which she said, "I have nothing to say. I just wanted to hear what you have to say."

Lisa was annoyed. She pulled out some saying about pearls and swine, and said that, truly, Abi did not value people. She was pretty much sealing her fate with her continued attacks.
Abi still felt she had a power position, though, thanks to the advantage she'd bought during the auction. So she went off by herself to go check it out. "This note could possibly change my game, if I play my cards right." And it really could: it offered her a one-in-three chance at winning the immunity challenge.
Want more "Survivor"? Meet the castaways from Season 25. 
Day 29. "I woke up very ambitious," Abi said. "I am not going to go without fighting."
Penner, meanwhile, rounded up the gang to reiterate their plan to vote out Abi.
Abi decided to work on Malcolm. "Abi's like a bitter ex-girlfriend," he said. "She just doesn't get the message and won't leave even after you've broken up with her, but you don't have any of the benefits of having a girlfriend anymore. It's like the worst situation possible."

But he was thrown for a loop when she told him she'd already found another immunity idol. "You guys are going to have to figure something out for tribal tomorrow," she noted.
Immunity Challenge Time! Carter had to return his immunity idol to Probst, and the obstacle course involved getting through various challenges while strapped to a rope. There was also a trivia question at the start of each portion – and if you got it wrong, you were weighed down with an extra five-percent of body weight to carry through. The winner would have a one in six chance at the grand prize. Of course, Abi had to read her advantage note to the gang, too. She told them that there were TWO messages in the note, and that she'd only read one. She told them that she was automatically in the final three.
Right off the bat, Denise and Lisa got weighed down as they headed into the challenge, but Denise still made quick work of the challenge, making it to the end of the first portion first, followed by Carter. Penner was next, along with Malcolm. Lisa was out. Carter took the lead, followed by Penner. Denise and Malcolm were out. So the final three were Abi, Carter and Penner. Abi was through first, then Carter, with Penner trailing. Energized, Abi was moving ahead – it was her challenge to lose, Probst pointed out. Carter wasn't far behind, but the advantage really put Abi ahead – and she actually managed to win the challenge.
Want more TV? Like us on Facebook or follow us on Twitter. 
Bad news for the others, who'd really locked down into a final six alliance. "What a victory," Probst said. "What a journey it has been. You went from being on top, to being on the bottom, to being an outcast to being safe. Abi can not be voted out tonight."

"Hell hath frozen over," Malcolm said, "Abi won the challenge today." He acted all upset, but he was secretly thrilled. Because this gave him the opportunity to vote off a real threat: Penner.
When Malcolm took his strategy to the others, Lisa felt that old familiar ache in her heart. "I love this game, I'm just not cut out for this game. I think it's too big for me," she said again. "I'm in such this huge inner conflict. I mean, I like Denise and Malcolm. But I really have this heart connection with Carter and Penner. And now I'm going to hurt someone I care about."
So of course she told Penner about their conversation. She reminded him that she came to him earlier and said she wanted to be in the final three with him and Skupin. She said that in the meantime, she'd formed an alliance. And that his was the name that she was told to put down. "Lisa once again lost her mind and had to confess to me that she's in another alliance and that she's voting for me tonight. To her credit, she's going to stick to her guns," he said. "She will not be swayed. I think her guns are ridiculous."

So he asked her what he was supposed to do. "Go do your magic that you do," she told him.
Penner realized that his mistake had been not making a commitment. So he told his peeps – Carter and Abi, as it were – that they was going to vote for Denise. He also told Skupin. "You are now the swing vote," Penner said. He told him that Lisa was conflicted, but that she would not go against her word.

"Tribal council day is a zoo," Skupin said. "My dilemma today is that I'm going to make three people very happy today, and I'm going to upset three people. I'm going to win three jury votes and I'm going to lose three jury votes."
Tribal Council Time! Jeff Probst congratulated Abi on her strategic bidding – it totally paid off.
Penner told Probst that things got crazy after the challenge. He called Lisa out on her trust issues – and Skupin pointed out that they'd come to Penner first and he didn't trust them enough to shake their hand.

Malcolm noted that he felt, too, that he had a bond with Lisa, too. He hoped he was in her heart, too.

Penner said if he was voted out, Lisa would be handing $1 million to Denise or Malcolm. When Probst asked Skupin how he was doing, Skupin said he'd like to be friends with everyone, but if he was playing to win, he'd have to admit the truth in what Penner had noted.

Time to vote. When Penner went up, he simply announced that he was voting for Denise. Which got a laugh.
Time for Probst to tally the votes. No hidden immunity idols played. First vote: Denise. Second: Denise. Third: Penner. Fourth: Penner. Fifth: Denise. Sixth: Penner. We're tied, with one vote left. Seventh: Penner.
The 12th person voted out, and the fifth member of the jury: Jonathan Penner. "Which means this game really is totally up for grabs," Probst said. 

Carter got a hug, but no one else. "That sucks, Jeff," he said. "Keep your sunny side up, and suck eggs."

Penner's Last Words: "My strategy once again has failed. I'm very, very disappointed in myself for not doing better. But I guess that's the way 'Survivor' crumbles. I've spent six years of my life with 'Survivor.' I'm one of the lucky few that's played three times. It's been fun, and extremely painful."
"Survivor: Philippines" airs Wednesdays at 8 p.m. ET/PT on CBS. 

SURVIVOR is not a show of surviving the elements  but personalities.  they shud just put 18 on an island, film them, and whomever cries "i want my mommy" gets taken off.  make it LAST PERSON STANDING.  give them all fishing equipment and water source (cant drink saltwater) but no source of fire and let it ride.  unfortunately, the wimps will go first and then let the stout hearted ones show their survival skills. 
Are you sure you want to delete this comment?