'The Voice' top 4 results: Trevin says goodbye
Can Terry or Nicholas catch Cassadee in next week's finale?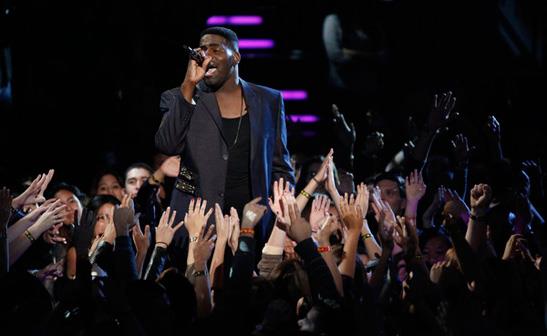 By John Kubicek
"The Voice" is doing things differently this week. Only one singer is going home, meaning we'll have a three-way battle for the championship next week. Saying goodbye to only one singer means Cee Lo Green and Blake Shelton will both have a chance to become the winning coach of Season 3.
Bing: 'The Voice' | Photos: See more action from Season 3

The pressure is on, although I'm not sure it's going to be that much of a shock. By my count, Cassadee Pope, Terry McDermott and Nicholas David all had their songs hit the top 10 on iTunes, meaning their iTunes vote totals will be multiplied by 10. But I don't think Trevin Hunte made it, making him the odd man out. I'm 95 percent certain Trevin is going home. 
More: 'The Voice' on Buddy TV | Video: Watch clips and more

So instead, let's focus on other things, like the hope of Adam Levine's wearing another suit. We'll also get performances by Season 2 alums Chris Mann, Juliet Simms and RaeLynn.
I'm hoping Cassadee does a duet with Trevin, so the Pope duet curse can continue. During the top 8 results show, Cassadee sang a duet with Dez Duron, and he got eliminated. Last week she did a duet with Amanda Brown, and Brown got eliminated. Cassadee is like the black widow of Season 3 of "The Voice."

This is "The Voice"!
Wardrobe Watch: Xtina has pink streaks in her hair. Adam is, thankfully, in another suit, looking very GQ.

Carson explains that iTunes is only one of five voting methods, which I assume is a defense against those of us tossing around top 10 conspiracy theories. He claims all of the songs dominated the charts, but I think he's being generous with the word "all."
Cassadee Pope and Terry McDermott: "Little Talks" by Of Monsters and Men
Uh oh, Terry is singing a duet with Cassadee -- does that mean he's going home? I doubt it, but I'm prone to paranoia. I have to admit I have no idea who this band is (they're Icelandic, which instantly makes them kind of awesome), but the song rocks, and it's great for both of their voices. We get Cassadee's emotion, and it's the most Scottish Terry has been all season. I kind of wish there were only two people going to the finale, and that it was these two.
"Wild Child" by Juliet Simms
Carson overemphasizes the last S in her name, making it sound like "Juliet Simmz." What's up with that, Carson? Even more confusing is her silly outfit, with a leotard and cape, and the background vocalists who sing about "a million, billion, trillion, gazillion" something or others. I'm no musical expert, but this is a bad song.
Results: Part 1
The first singer in the finale is ... Terry McDermott!
Hooray, the Pope duet curse is broken! I hope this means we'll get to see more of Terry's adorable son building gingerbread houses next week.
"Boyfriend" by RaeLynn
Wait, is Juliette Barnes from "Nashville" a real person? I'm digging this song, which is all about a girl who wants to steal another girl's boyfriend. Her Southern drawl is way too thick for my liking, and it sounds pretty annoying at times. She's an adorable spitfire, but she doesn't answer Carson's question about whose boyfriend she's trying to steal. If the answer is Taylor Swift, all RaeLynn needs to do is wait for Taylor to dump Harry Styles or whoever she's dating now. I'm sure it will happen as soon as Taylor needs to write a new album.
"The Voice" confessional
The question is: Who from the show would you want to be stranded on a deserted island with?

Carson Daly wins by saying that he'd bring Adam Levine because "he's a man, but he's pretty like a woman." Seriously, nothing else that was said in this segment warrants any attention after that gem.
Want more TV? Like us on Facebook and follow us on Twitter.
"Roads" by Chris Mann
Hey, Josh Groban got a haircut! I'm sure plenty of people love this kind of bold, inspirational power ballad, but there's no room on my iPod for such things.
Results: Part 2
The second singer in the finale is ... Cassadee Pope!

And Team Blake wins again. I also just got a message from my future self. It says, "Congrats, Cassadee, on being the first female winner of 'The Voice.'"
Nicholas David and Trevin Hunte: "Hero" by Mariah Carey
This just seems cruel to make these two guys sing together, knowing one is about to go home. It's also cruel to make Nicholas sing a Mariah Carey song with Trevin. That's like me playing a game of H-O-R-S-E with LeBron.
Final results
The third singer in the finale is ... Nicholas David!
Trevin Hunte is eliminated!
No real surprises there. Trevin was in a downward spiral for a long time, and Nicholas just blew him out of the water last night.

The best part is that the end credits literally started rolling before Carson even announced who was eliminated. C'mon, "The Voice," I know you wanna keep people glued to their seats until the very end, but you're really pushing it. And no matter how late you drag it out, after one sampling, there's no way I'm gonna waste another hour watching Howie Mandel's super-boring "Take It All" six-night holiday event, especially since the ending, which is billed as some incredibly tense, groundbreaking new format, is a direct rip-off of the GSN show "Friend or Foe."

Now the question is: Does Nicholas David have a chance to win? Or will one of Team Blake's two singers make him a repeat winning coach? Since my future self already told me Cassadee is gonna win, I'm a bit biased.
BuddyTV: John Kubicek's pre-show analysis and picks for the finale
BuddyTV: Don't miss another episode! Keep up with your favorite shows, like "The Voice," using the BuddyTV Guide app!
"The Voice" airs Mondays and Tuesdays at 8 p.m. ET/PT on NBC.