'Revenge': Game-changing revelations
Daniel outplayed everyone, while Jack wised up about his partners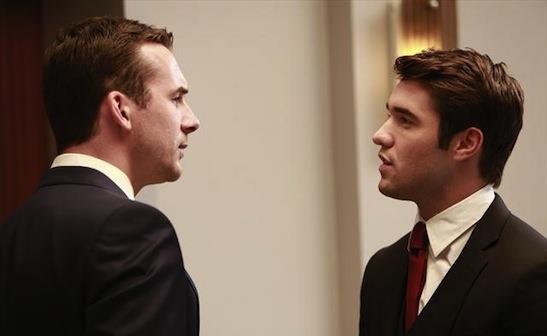 "For the righteous, the revelation is a joyous event, the realization of a divine truth. But for the wicked, revelations can be far more terrifying, when dark secrets are exposed and sinners are punished for their trespasses," Emily voiced while Victoria, Conrad and Grayson board members like Salvador Grobet played with guns.
Bing: More on 'Revenge' | Watch clips and full episodes of 'Revenge'
It was a crowded affair and with Conrad's no-confidence vote looming, everyone was fixated on securing Grobet's vote. Though he'd built his success on his wife's fortune, Grobet had great power: The rest of the board would follow him. In spite of Conrad's best efforts, Daniel seemed to be making headway. The Initiative's Helen, who was always watching, warned Conrad she'd take out Daniel if he told his son about their arrangement.
Nolan was ready to sacrifice his company to Emily's plan, but only because he had a mysterious plan of his own in the works. Whatever it was, he wasn't counting on Daniel having his old NolCorp colleague and boyfriend Marco in his corner. Marco had even told Daniel about the missing $500 million that caused their split back in the day. Daniel was willing to forget about the money and any legal investigation if Nolan agreed to give Grayson 51% of NolCorp. Grayson would have controlling interest, while Nolan remained at the helm of his company. Nolan called Daniel "Boss" and sashayed out. 
Daniel wanted to let Aiden tell Grobet the good news about how the NolCorp deal had come together, but Ashley said it should be him, especially since he hadn't trusted Aiden enough to have him in the meeting. She reminded him of how things had gone with Tyler and suggested Daniel properly vet Aiden before making him his right hand man.
Watching via spy camera, Aiden and Em realized Ashley was becoming a problem for them. Luckily, Emily knew how to put the kibosh on Ashley: She had a sex tape of Ashley and Conrad! The next morning, Nolan set things in motion by sending the file to Victoria. 
While they awaited Ashley's downfall, Emily was off to Carl's Christening. Aiden wondered what Jack meant to her. She admitted their relationship had almost become more than friendship, but ultimately hadn't been meant to be. He reminded her she didn't have to keep secrets from him. "Old habits," she apologized.  
Then godparents Emily and Declan joined Amanda and Jack at the church. Jack had also invited some of his dad's old pals, Nolan and Stowaway partners Kenny and Nate, who were so touched at being included that they offered to cover an open bar after party. Declan looked like he was starting to get suspicious of the Ryan brothers, while Emily looked miserable watching Amanda live out her former fantasy with Jack.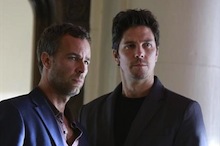 After the ceremony, Jack was thrilled to see his father's old pal Matt Duncan had crashed the party. Matt warned Jack to get away from the Ryan brothers, so Jack asked Nolan to look into them. The next day, Matt returned to see Jack, but the Ryan brothers spotted him first. They cornered him and asked about their father's death. Nate wanted to "settle this like men" and promised to "jog" Matt's memory.
Nolan called Jack to warn him that the shady Ryan boys were Joe Ryan's sons and that Kenny was fresh out of jail. As they were talking, Charlotte came in screaming about a bloody man. It was Matt, beaten to a pulp. He gasped a warning to Jack, saying the Ryans weren't his friends: They believed Jack's father had killed theirs and were out for revenge. Matt admitted he was the one who'd actually shot Joe Ryan with Carl's gun, adding that Carl had hidden the gun for him.
After things quieted down, the Ryan brothers showed up at The Stowaway. Jack pretended he didn't know they were behind the beating. They'd "accidentally" lifted his father's phonebook and were returning it. After they left, Jack saw that Matt Duncan's name had been crossed out. "Lock the doors," he told Amanda.
Conrad was upset about losing Grobet to Daniel, but that turned out to be the least of his problems. Victoria threw the sex video in his face. Conrad insisted the romp was during their breakup and before Ashley had hooked up with Daniel. He was sure The Initiative had sent it to drive a wedge between them and reminded her they needed to work together to rescue their son.
Victoria went right to Ashley with the video. The slut got teary and pledged her love for Daniel. Victoria chuckled that it would be "a simple pleasure to annihilate" Ashley. Then she sent Ashley to sleep with Grobet and change his vote.
"That's not an option," growled Emily, who was spying.
Ashley got tarted up and made an excuse to leave Daniel, but not before cooing over his kindness. As soon as she left, Aiden called Daniel and asked him to meet at the Cooper's Neck Inn ASAP. He asked Daniel why he'd been left out of the final negotiations with Nolan and why Daniel was questioning his loyalty. He knew it was because of Ashley and sent Daniel to find her and Grobet wearing matching robes. Daniel assumed his father had sent Ashley to Grobet. He took a photo, threatened to show it to Grobet's wife if he voted against him and ordered Ashley to move out of his house.
Want more TV? Like us on Facebook and follow us on Twitter.
The next morning, everyone came together at Grayson offices in The City. It looked like Daniel's reign was in the bag, so Victoria decided they had to tell their son the truth. He chuckled over the idea of getting the truth from them. She warned he was too young to lead and that winning would put him in unspeakable danger. Since she couldn't explain why, he didn't buy it.
Daniel was crowned CEO. He reminded Grobet to smile and stay loyal. Then he told Aiden he wouldn't be able to get him on the board, after all, unless someone willingly vacated his or her seat, which wasn't likely now that there was all this NolCorp money on the table. He was super smarmy about it all.
Marco popped in on Nolan and snidely noted that Amanda must not have seen those stolen millions, after all, since she was living in squalor above The Stowaway. He wanted his old job back, but Nolan sang Padma's praises. Later, Padma again apologized to Nolan for costing him his company, but Nolan had a contingency plan and she was a key part of it. "I have no intention of letting those bastards profit off David Clarke," he promised, calling himself a Trojan horse. When Marco interrupted, Nolan told a surprised Padma they were going to find a position for him at the company. (Love triangle at NolCorp?)
As Aiden and Emily sat by the fire, she wondered if people like them could ever be happy. "Maybe not completely," he admitted, "But right now, I'm happy." He only felt at peace with her. She curled into his arms.

"Revelations help us accept the things we need the most, expose the secrets we so desperately try to hide and illuminate the dangers all around us. But more than anything, revelations are windows into our true selves... of the good and the evil and those wavering somewhere in between," she voiced. "But the ultimate power to destroy all that we cherish most."
At The Stowaway, Jack pulled up floor boards and fished out a gun wrapped in plastic. 
Nearby, Ashley left Grayson Manor with her bag in hand, while Daniel deleted pictures of her from his computer. He stumbled on shots of his happier days with Emily and smiled. When he went to pour himself a drink, he found a clock with a note welcoming him into the fold. As he looked at it, The Initiative watched him through a camera on the clock.
"Everything in place," Helen said to her cohorts. "Shall we put the plan into action?"
Victoria called Emily to talk about Daniel. It was dire, but she could see from her house that Emily was with Aiden, so she asked Em' to call back when she was alone.
"Leverage," Emily said.
"Revenge" airs Sundays at 9 p.m. ET/PT on ABC.