'The Bachelor' finale: And then there was one
One bachelorette's dreams end in heartache as the other gets quite a different ending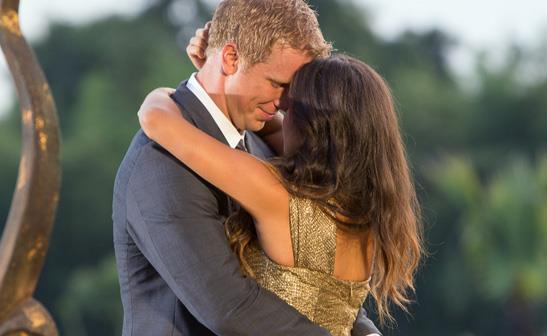 We're finally here. It's the live, three-hour "Bachelor" event. It involves one man, two women, and at least one elephant. Do we believe Chris Harrison when he tells us that we're headed for a "dramatic conclusion"? Or does he have a tendency to abuse that phrase season in and season out? All will be known. So let's get to it. 
We're in Chiang Kai, Thailand, and Sean is into it: "Thailand is the most beautiful country I've ever seen," he says. But all is not well in the kingdom of Sean. "My fear coming into this week is thinking I'm madly in love with two women," Sean says. He's hoping, though, that the arrival of his family will help clarify his feelings. "It feels like a part of home is now here with me," he says, welcoming sister Shay, mom Sherry, dad Jay, his brother-in-law, and a niece and nephew, the last of whom is happy to remind him that "Emily didn't pick you." 

More: See the most dramatic 'Bachelor' finales ever | 10 love lessons from 'Bachelor'
The entire family is more than slightly meh about the entire proceedings -- chiefly because Sean himself (as he keeps reminding us) is so torn. "I didn't think I could have this strong feelings for two people at the same time," he says again. Sean's mom is slightly confused by this but puts a happy face on the whole thing: "It makes us all the more excited to meet both of them." 
Will Catherine and Sean stay together? Tell us on Facebook and Twitter
Catherine's up first -- and she doesn't really seem like the most enthusiastic future daughter-in-law. Maybe she's just incredibly nervous, and that nervousness comes out as standoffishness? They ask her what drew her to the show: "I knew it was going to be a trip," she begins, before (not smoothly) going into all the ways that Sean has "taught me a lot about myself, which is more than I could have asked for." Sherry doesn't seem completely convinced: "I just want it to be so obvious," she says. "I'm consumed by him," says Catherine. Isn't that kind of a weird thing to say to someone's actual parent? The most touching scene of the entire segment, weirdly, comes between Catherine and Sean's dad, who tells her that if she marries Sean, "I'll love you -- you'll never have a bigger fan than me." Knowing about Catherine's fraught relationship with her own dad, it's sort of touching watching her realize she'll get a second chance at a father figure. 
Of course, Lindsay still has her chance with Sean's family, and she does seem to fit in from the beginning. There's a lot of giggling, anyway. "There's not any monkeys in Missouri," Jay says. "Just me!" Lindsay replies. She's much more emphatic in her responses that Sean is the guy for her: "I want to hang out with him -- I want to hang out with him for the rest of my life," Lindsay says. "He's everything I've been looking for and more." Lindsay tells Sherry that she and Sean have already begun discussing the details on their post-show lives together: "We want to be married before we live together…." Perhaps not surprisngly, though, Sean's still not sure which way he's going to go: "I think I could have a long, happy marriage with Catherine and Lindsay at this point," he says. None of this has gone unobserved by Sean's mom, who's basically begging him to hold off on proposing if he's still so uncertain: "My greatest fear would be he's not absolutely sure and proposes," she says. "If you're supposed to propose in two or three days and you're not sure, it makes it a little difficult for me to hope he proposes to either one," she says. Ultimately, just like we expected, Sean's family waffles and leaves him to make the decision for himself. 
We only have two dates tonight, and we begin with Lindsay's: floating down the Mekong River. Sean points out Myanmar and Laos and they talk about wrestling (as you do): "I would pin you so fast right here on the river," Sean says. They also discuss themselves as an old married couple: "What do you think we'll look like when we're old?" Lindsay asks. "I can picture you being a hot old chick," Sean says. There's really not much else to the date: just floating and flirting and smooching, so basically it's like every other date between them, this entire season. Except, of course, for the massive deadline hanging over Lindsay's head. "I could leave with everything I've ever wanted and more, or I could leave with nothing," she says. Now that is pretty stressful. They cap off their evening by releasing paper lanterns into the sky -- three of them, symbolizing family, love, and happiness. "At this moment, I really feel like she's the one for me," Sean says. Massive qualification there. 
Catherine's date certainly does seem more enthusiastically planned out -- because elephants are involved. Catherine freaks when she sees the massive animal, and presumably as a result of that excitement, begins to open up, ever so slightly, to the idea of talking about a future life with Sean. "I honestly can't see it going down any other way than me accepting your proposal," she says. It's weird, because you wouldn't necessarily think of Catherine as a cold person, but it definitely does seem like her warmth goes so far and absolutely no further. She tells us it's hard for her to be open with him (and on national television, no less), but then she gets her act together and makes one big play as he's walking out the door at the end of their date. "Sean, I love you," she says. He mutters something about thanking her "for the day," which, as you can imagine, does not go over well. "I was looking at him for a glimmer of 'I want to be with you forever…" and … nothing," she says. She's so distraught that she runs out to chase him down, but even after she finds him, they leave things in no better a place. "This is one of the most horrible goodbyes I've ever had," she says. "I can't get anything out of him, even hearing him say certain things. I need something from you, please." She sniffles a bit as she settles into bed for the night. 
The big day arrives, and Sean says that now, finally, he's made up his mind. Could that be possible? Is it at all possible to be torn between two women until literally the morning that you propose to one of them? If we asked Sean's mom, it seems pretty clear that she would not approve. Still, she's not here to remind Sean of this. "I honestly think I could marry both of these women, but I've searched my heart and I've made up my mind," he says. First, of course, he needs to stop to see Neil Lane. There's a bit more crying (all from Sean), and then we're ready for the final announcement. Sean's standing above a reflecting pool, surrounded by flowers. Chris Harrison, as ever, is waiting in the parking lot. And the first woman out of the car is ...
First, we poll the defeated Bachelorettes, and they pretty much all say it's going to be Lindsay even if there's no way on Earth they don't already know who Sean proposed to. Does AshLee see why Sean kept them and kicked her to the curb, Chris asks her? "They're both more laidback than I was -- I'm a more reserved, serious person … needless to say," Ashlee says. "Although we had a great time, they were more playful than I was." 
Anyway, back to the car of doom. The first one out is … Lindsay. This is not going to go well. "Sean is my everything," she says, slipping into a silver (second-place!) gown. "I can't even imgine when he doesn't have to hold back anymore." She thinks this about three minutes before Sean breaks up with her -- it's clearly coming completely out of the blue for her. "I'm breaking up with a girl and I have no reason to give her," Sean says. He seems super stuck on this whole idea of sending her home with closure -- which of course doesn't exist. It doesn't really get any more complicated than "I'm just not that into you," does it, Sean? He starts off with that preamble where no one can figure out what's going to come next. "You have been such a surprise," he tells Lindsay. "I didn't see our relationship coming." On and on until the "but." Actually, it's an "um." Then: "Lindsay, this is the toughest thing I've ever had to do. I want to give you my heart so bad, but my heart's leading me somewhere else. As of yesterday, I didn't know what I was doing." (Is she supposed to find solace in that?) "I've been praying for clarity, and I think I've finally gotten it." To her everlasting credit, Lindsay handles this as well as anyone could, as Sean goes on and on and on, while she tells him to stop talking. She takes off her heels and leads the way back to the van, while he keeps talking. Oh, Sean. Be quiet. Or as Lindsay says: "Please, just don't. It's okay." Sean's reply: "I think it's important you know how hard this is for me." Of course it is. Because it's the Sean show now -- make no mistake, that's all about Sean feeling better, not about Lindsay feeling better. "I feel so blessed for having gotten to know you," Sean says. He probably means it but geez, dude: Just let her go. 
We have only one thing between us and the proposal we've apparently all been waiting for: a mysterious letter. Is it from Sean's mom? AshLee? Nope: Following on their tradition of passing notes, Catherine's written Sean a long letter about her feelings for him: "Sean, this journey of ours has already been the most memorable experience of my life." It goes on from there, but basically it tells us what we already knew -- that Catherine will say yes if Sean proposes. ""All I want to do is move to Dallas and become part of your wonderful family. I don't want to say goodbye anymore." 
Lucky for her, those feelings are reciprocated: "Catherine, I want to spend the rest of my life telling you I love you, and making you feel like the most special, beautiful woman in the world." He proposes. She accepts. They're engaged! 
"The Bachelorette" returns in May on ABC. We'll be back with all the drama, tears, cocktail dresses and inappropriate touching anyone could handle.