'1600 Penn': Bill Pullman plays President again
Series kicks off with a ... baby?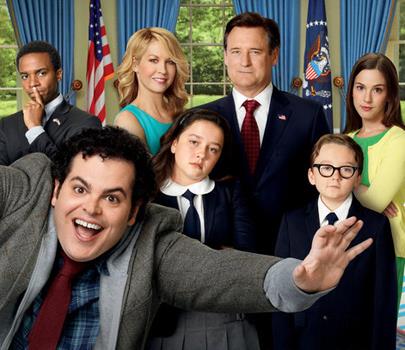 It is being touted as NBC's "Modern Family." By NBC. Heck, the cast was hosted at the actual White House this week! Co-created by one of the series' stars, Josh Gad, Episode One introduced us to the dysfunctional Gilchrist family: President of the United States (and father) Dale Gilchrist (played quite well by Bill Pullman, who showed us a much more serious President in the hit film "Independence Day"), First Lady and step-mom Emily (Jenna "Dharma" Elfman), and kids Becca, Marigold, Xander, and Skip. Gad plays Skip and is sure to be the breakout star here. Episode One ends with Becca disclosing to Emily that she's pregnant, unaware that their microphones are still on.
Bing: "1600 Penn"  |  Josh Gad   
Episode Two picks up right where the first left off, and never lets up, in both the pace and the laugh departments. Becca (Martha MacIsaac) realizes, along with the step-mom who just hasn't earned this oldest child's trust yet, that they televised the fact that she's pregnant. Worried that her father caught the uber-blooper, they rush to find him, only to discover he hasn't, that he is instead swimming with his oldest boy Skip, a mercurial sort who, after seven years in college, is still in unwind mode. While dad is supposed to be timing his grown son's underwater capabilities, Becca comes clean. Dale is stunned, to say the least.
Dad's first order of business is to tell his daughter to stay away from reporters, forcing all within earshot to recite his mantra: "reporters are the worst people in the world." Emily's first order of business is to get Xander and Marigold out of school so they don't get the news second-hand. While Xander is certain they have been taken out due to a meteor hurtling toward earth, Emily finds herself telling the kids that the reason they've been pulled from school is an impromptu island getaway.
Want more TV? Like us on Facebook and follow us on Twitter.
Meanwhile, Becca luxuriates in the pool with brother Skip, for whatever reason confiding in him that the father of her baby is a one-night stand who she only knows by nickname. Or, as she more succinctly puts it: "Jell-O shots and consequences." The President is trying to go about business as usual, surrounded by the heads of his military, but it riotously devolves into a pow-wow on parenting, with one stand-out, thick-jawed military man telling the leader of the free world that "sometimes the best weapon in your arsenal is a hug." By the time this same man congratulates Dale on his first grandchild, Dale realizes there is a much bigger, potentially beautiful, picture here.
Sadly, Skip will clearly see to it that these pictures are always destroyed, mistakenly leading Becca into a lion's den of reporters when he instead thought he was leading her into the White House kitchen to teach her how to make the tastiest S'mores. Here big bro Skip thinks he takes control, blurting out everything exactly the way it happened, punctuating his official statement with, "don't even bother asking her his name because she doesn't know it."
The press runs with Skip's faux pas, with one reporter deeming Becca "First Slut." And just as she shares the news of her pregnancy with her little brother and sister, at the same time earning Emily's trust, who spent the entire day lying to the kids just to get the trust of the oldest. "First Slut" enrages Dale, who then stomps off to greet the press, though ultimately says something quite poignant, assuring the daughter he thinks is "the sweetest" via network television that he "will be with her every step of the way." It's a moving moment in an episode that never stops doing just that ... moving. Becca couldn't be happier with her father's state of the family address, they embrace, and she relays that spending the day in the pool with Skip was actually the best thing she could have done. This despite the fact that he blurted everything to the press, and occasionally eats hot dogs out of the filter. "You take the good with the bad," her father tells her. That's what "1600 Penn" is so far: the good, with the potential to be great. NBC might have their "Modern Family" after all.
 "1600 Penn" airs Thursdays at 9:30 p.m. ET/PT on NBC.