'American Idol' auditions: Two-city triumph
Distractions minimal as talent overflows in San Antonio and Long Beach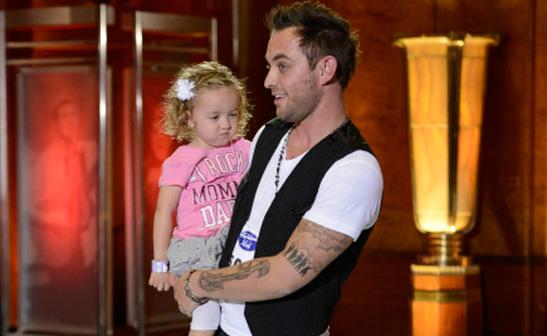 Farmer's daughter: Matt Farmer employs the sure-fire gimmick of bringing a small child into his 'Idol' audition. Of course, first you need a small child, and it turned out to be something of a miracle that Matt did. 
I know it's hard to believe, but "American Idol" may actually be listening to its critics. For years, the folks who write about the show on the Internet and in more traditional media have virtually unanimously called for fewer time-wasting, contrived, bad auditions. Gradually the producers have reduced them, so where in the past you might have seen someone in a chicken suit butcher an entire song, now you just catch a glimpse of the poultry exiting the premises.
Bing: More about 'American Idol' | Video: Watch clips | Photos: See highlights
On Wednesday's San Antonio and Long Beach auditions, the positive was accentuated so heavily that hardly a discouraging word was heard. Two fairly quick loser montages aside, there were only four rejects shown (one of them with reduced airtime), and just one of those was an obvious stunt. The approved talent was high caliber for the most part. Here's how it played out.
Returning contestant Vincent Powell professed to adore Mariah Carey, but fortunately was given little opportunity to demonstrate his ardor. Instead, the focus was on his blues rendition of B.B. King's "Rock Me Baby," as it should have been.
Brothers Derek and David Baceroti quickly proved to be undistinguished singers but motor-mouth talkers, protesting insistently over every critique attempt from the outgunned judges, who barely managed to sneak a "no" vote between the duo's complaints. Savannah Votion restored the positive vibe with a typical diva-style performance of the inevitable Etta James standard "At Last" (one of three covers for Etta, two of them credited).
Ricky Jo Garcia was depicted briefly dismantling that most dreaded of song choices, "And I Am Telling You I'm Not Going," but that was the last non-montage note of negativity from San Antonio. The producers again followed with a dyed-in-the-wool diva, Cristabel Clack, who meandered her way around Alicia Keys' "If I Ain't Got You" adeptly. Ann Difani, a former University of Arkansas beauty queen, sang "Stronger" (the Faith Hill song, not – for once – the same-titled Kelly Clarkson hit) with equal adeptness. As seems to be her habit, Mariah Carey quizzed Ann about her commitment to country, but this time Nicki Minaj refrained from storming out to attack the Alamo or something similar.
Mariachi singer Victoria Acosta had the questionable taste to choose Fergie's "Big Girls Don't Cry," which left the judges oddly unmoved (since she was unquestionably talented). But after she obliged Randy Jackson's request with a snatch of Spanish-language song, they were much happier. The following loser montage featured a formidable falsetto freakout and was over with fast.
Next came an eccentric fellow named Papa Peachez, a self-described "big black woman trapped in a white boy's body" -- an obvious setup for another musical disaster. Except he wasn't. He sang a strange original, complete with profanity, and divided the judges. Randy and Keith Urban were taken aback (though Keith contributed some of his welcome witty wordplay, muttering "Papa don't peach"), but Nicki fought hard for Mr. Peachez on the grounds of originality, Mariah reluctantly went along, and tie-breaker Randy changed his vote to a qualified yes.
Sixteen-year-old Sanni M'Mairura, of Tanzanian and Kenyan extraction, sang an overwrought version of Michael Jackson's version of Smokey Robinson and the Miracles' "Who's Loving You," displaying obvious vocal gifts. And Adam Sanders, another Mariah Carey fanatic with a high, weak speaking voice, displayed a freakishly big voice on Etta James' blues standard "I'd Rather Go Blind" and ended the San Antonio auditions on literally a high note.
The Long Beach auditions in hour two were held on the Queen Mary -- once an ocean liner, now a hotel. And much filler was devised around the unusual locale. The proceedings began minus two judges -- Nicki doing something at the "American Music Awards" and Mariah's limo being stuck in traffic. So one contestant, Shubha Vedula, appeared before the skeleton panel of Randy and Keith, both of whom had much unamusing trouble with her name. She sang Etta James' "Something's Got a Hold on Me" (fast becoming an audition standard) but credited it to Christina Aguilera, possibly inspiring protests from Etta's grave, and from Flo Rida and Avicii, both of whom incorporated Etta's astounding intro into recent hit records. The two judges were impressed.
As with San Antonio, rejections came in the No. 2 and No. 4 slots. Brian Martinez was the first to get a "no" vote. Mariah followed, led by the hand of a factotum into the room, as if walking unassisted would have been too great an ordeal after a traumatic ride in traffic. Brian's version of Phil Collins' "You'll Be in My Heart" never quite made it up into his vocal cords.
Matt Farmer, an Iraq veteran who suffered a traumatic brain injury and whose treatment was supposed to render him sterile, brought his 3-year-old daughter along to hear him render a reasonably impressive version of Sam Cooke's "A Change Is Gonna Come." "Idol" history may not have record of an audition accompanied by a small child failing to get a golden ticket, and Matt certainly didn't break the streak.
The pointless low point of the show followed: Stephanie Sanson, a teenager who allegedly sings in a band, delivered Adele's "Set Fire to the Rain" in an unrelenting screech, swore a couple of times for added enjoyment and stormed off. That led into an actual fire alarm, which disrupted Jesaiah Baer's performance of Kimbra's "Settle Down" (an interesting choice). Everyone (including a just-arrived Nicki) vacated the premises, a commercial break intervened, and the all-clear signal was given for Jesaiah to resume her song, which sounded more polished the second time around.
Some staged nonsense with the Queen Mary's ghosts segued into Long Beach's loser montage, in which disapproving spectral presences were superimposed behind the fragments of musical massacres. But in a sharp contrast, Micah Johnson, whose speech was impaired by a botched tonsillectomy, unveiled a powerful and crystal-clear vocal on Zac Brown Band's "Chicken Fried." He'll be interesting to watch.
As will Rachel Hale, whose enthusiasm and Southern charm enraptured the judges, provoking Mariah to observe, "I'm just enjoying you as an entity."  Pretentious? Maybe. But you definitely never would have caught Britney Spears coming up with something like that. The judges were also entranced by Rachel's strong cover of the Impressions' "People Get Ready," and likewise by bullying victim Briana Oakley (who apparently was picked on for appearing on a singing talent show in her younger days) and her stellar diva rendition of Patty Griffin's "Up on the Mountain."
And in the patented heartstring-tugging final slot, Matheus Fernandes, another bullying victim due to his extremely short stature (Ryan Seacrest towered over him), reprised "A Change Is Gonna Come," complete with an improvised name-check of the judges, that justifiably dazzled them.
There were zero distractions from the judges in either city (maybe one brief eye-roll apiece for Mariah and Nicki), and the emphasis on vocal talent was much appreciated.
Here are a few predicted to be worth watching:
Cooke-in': Both singers who did Sam Cooke's "A Change Is Gonna Come" have strongvoices and stronger back stories – indicators of "Idol" success. Matt Farmer has the soldier credibility and a young daughter, while Matheus Fernandes has the triumph-over-adversi​ty (his stature) angle covered.
Diva overload? Not all of tonight's several generic diva types will make it past Hollywood.They all seemed talented, but Savannah Votion, Christabel Clack, Shubha Vedula and Jesaiah Baer may find the field too congested with similar singers.
What did you think of Wednesday's episode? Connect and sound off on Facebook and Twitter
"American Idol" airs Wednesdays and Thursdays at 8 p.m. ET/PT on FOX.