'The Voice' top 6 perform: Ladies' night
Cassadee Pope and Amanda Brown are still the ones to beat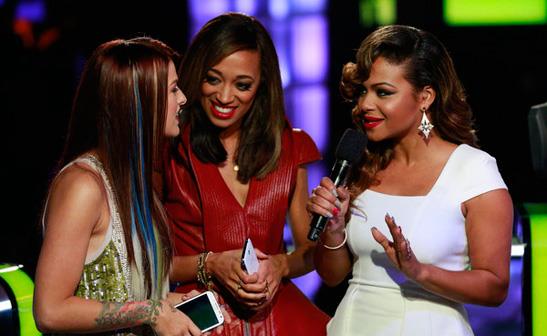 By John Kubicek
"The Voice" is down to its final six singers and, for the first time in the show's history, one of the coaches is out of the competition. Last week's shocking elimination of Dez Duron left Christina Aguilera with no singers, meaning she's now as useless to "The Voice" as Christina Milian.
Bing: 'The Voice' | Photos: See more of the action from Season 3 | LNOTV: Watch recaps
But I'll try to limit my exuberance over Xtina's defeat and instead focus on the final six singers, two from each of the three remaining coaches.

This is "The Voice"!
More: 'The Voice' on Buddy TV | Video: Watch clips and more
Wardrobe Watch: Christina Aguilera is in another fancy costume. I'm a little disappointed she didn't show up in sweatpants.

The top 6 will each perform twice, once with a song they choose and once with a song their coach chooses.

Cee Lo Green was sick this week, and the lead singer from Train stepped in during rehearsals with his team. Now that Xtina doesn't have a horse in the race, she endorses Cassadee Pope.
Nicholas David: "September" by Earth, Wind & Fire (Cee Lo's choice)
There's a full-on '70s dance party going on all over the stage. The song fits his voice, but just like with "The Power of Love," Nicholas' biggest weakness is singing up-tempo. He just doesn't seem all that comfortable with this kind of singing. Adam Levine starts with "You know I'm a fan," which is promptly followed by the "but." Nicholas just kind of sat back and didn't really sing during the chorus.
Cassadee Pope: "Stand" by Rascal Flatts (Blake's choice)
Man, Blake is obsessed with turning his artists into country singers. Luckily, Cassadee keeps it in the pop/rock category and nails it. She looks and sounds like a pro, from her intonations and vocal choices to her facial expressions and her movements. She gets it. And then, when she hits her big note, she elevates it to a new level. Xtina immediately jumps on her bandwagon as her second coach because she knows Cassadee is gonna win. Wow, I kind of love the new Xtina who isn't afraid to offer her opinions. Adam Levine wants to see Cassadee do something bizarre and unexpected.
Amanda Brown: "(You Make Me Feel Like) A Natural Woman" by Aretha Franklin (Amanda's choice)
This is just a remarkable song choice. It lets Amanda show off every last ounce of sexy diva awesomeness she has. Cee Lo Green gets the award for best comment, boasting about his love for women who are natural. "I love, appreciate and adore all women." I don't know what that has to do with this performance, but how can you not love Cee Lo's unabashed appreciation for the fairer sex?
Terry McDermott: "I Want to Know What Love Is" by Foreigner (Terry's choice)
They're cutting it all down, with just his voice and the piano and cello, and it's all in memory of his late mother. I was definitely not prepared for this. It's haunting, beautiful and brilliant. This is a completely new side to him that is raw and heartfelt. He gives a great performance at the perfect time, and Xtina is right when she says that it's obvious Blake has the best team. What kind of sorcery is she using to make me agree with everything she says tonight? Blake then lightens the mood by suggesting that he thought the "big violin" was called a Cee Lo, not a cello. That's such a dorky-uncle joke.
Want more TV? Like us on Facebook and follow us on Twitter.
Trevin Hunte: "Walking on Sunshine" by Katrina and the Waves (Cee Lo's choice)
What the hell is wrong with Cee Lo Green? Does he want to lose on purpose? He's clearly self-sabotaging with these awful song choices. Trevin tries to make it vocally interesting, but the musical arrangement is exactly like the original, which makes it impossible for the song to feel current. It's a giant mess as far as I'm concerned. I chalk this up to Cee Lo's sickness causing delusions.
Melanie Martinez: "Crazy" by Gnarls Barkley (Melanie's choice)
This is such a smart choice, but she does it exactly the way you'd expect: She Melanie-izes it. Still, it's mildly cool, like she just stepped out of a Tim Burton claymation movie. Xtina praises the set design again, but like me, she seems to be getting tired of the fact that Melanie does the same thing every week. There were also pitch problems.
Terry McDermott: "Stay With Me" by Rod Stewart (Blake's choice)
It's a song Miranda Lambert does at her concerts. Does Blake Shelton know any music that hasn't been sung by his wife? This is much closer to the Terry we've come to know: a power rocker from the '80s. It's good and it rocks, but he definitely shined brighter on his first performance. It's obvious the coaches just think he's cool.
Trevin Hunte: "And I Am Telling You I'm Not Going" from "Dreamgirls" (Trevin's choice)
Ugh, I loathe this song choice. It's just so obvious. It's been done way too many times, and even though he sings it extraordinarily well, as you'd expect, I'm too much of a cynic to appreciate it. I'm so over him and his whole vibe. The coaches lap it up like a saucer of milk.
Amanda Brown: "Here I Go Again" by Whitesnake (Adam's choice)
They're trying to recapture the "Dream On" glory, and this almost does. First of all, she's wearing some strange hooded leather costume that makes her look like she's trying to join the Avengers. The whole "taking classic '80s rock songs and doing them bad-ass diva justice" fits who she is.
Christina Milian and Terry McDermott
There's an amazing moment where Christina asks Terry if he's a Hobbit. He confirms that he's from a place called the Shire, so he has a little bit of Hobbit in him. Then he asks Christina if she has any Hobbit in her. He doesn't quite say "Would you like some?" but it's definitely implied.
Melanie Martinez: "The Show" by Lenka (Adam's choice)
What? The whole thing is done like a school play, where people show up with cardboard cutouts of cars, boats and a sun in the sky. It's a weird, cutesy production, and it completely overshadows the singing. Also, it's nowhere near as good as the version from "Moneyball," which is just the best. Xtina spends about two minutes singing snippets of Fiona Apple songs for no real reason.
Cassadee Pope: "I'm With You" by Avril Lavigne (Cassadee's choice)
I know some people don't like Cassadee's whole Avril Lite vibe, but I do. I wore out my copy of Avril's debut album, "Let Go," when it first came out, and I still really love "Sk8er Boi." I won't apologize for liking Avril, and I won't hate on Cassadee for loving her too. That said, this isn't her best performance. The biggest problem singing-competition contestants have is that they pick songs they like by artists they love and try to do them the same as the original, which isn't a great move. Still, Cassadee sells the emotion of a song better than anyone else.
Nicholas David: "Somewhere Over the Rainbow" from "The Wizard of Oz" (Nicholas' choice)
So Cee Lo chose terrible up-tempo songs for his singers, and they each chose incredibly schmaltzy, heartstring-pulling songs. I think that's a testament to what a bad coach Cee Lo is. To Nicholas David's credit, he gets real funky with it halfway through, which is something I've never heard. That's almost impossible to do with this song, so I kind of like it.
Now it's up to the viewers and voters. I really have no idea what will happen. I don't like Trevin or Nicholas, but they both ended with very big songs that might appeal to the masses. And Melanie always seems to have a huge iTunes following that get her votes multiplied by 10. Anything can happen.
BuddyTV: 5 reasons Christina Aguilera lost "The Voice" Season 3
BuddyTV: Don't miss another episode! Keep up with your favorite shows, like "The Voice," using the BuddyTV Guide app!
"The Voice" airs Mondays and Tuesdays at 8 p.m. ET/PT on NBC.