'Glee': Election Time at McKinley High School
Brittany and Blaine face off in a presidential campaign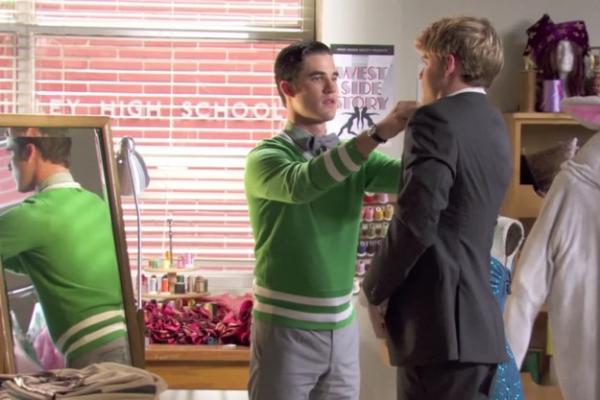 Last week's episode of 'Glee' was another tribute episode to Britney Spears. In New York, Kurt and Rachel moved in together, while Brittany went through a depression from being temporarily kicked off the cheerleading squad.
Bing: More on  "Glee" | More on Darren Criss
The episode opens with Blaine walking down the hall and deciding that as a senior this year, it's his turn to shine. He sings Tears for Fears' "Everybody Wants to Rule the World," and ends by signing up to run for class president.
Would you vote for Blaine or Brittany? Tell us at MSN TV on Facebook and Twitter.
Kurt is in New York interviewing for an internship at vogue.com with the new senior editor and "designer extraordinaire," Isabelle Klempt, played by Sarah Jessica Parker. Suddenly it's like an episode of "Sex and the City" as she emerges from a rack of clothes, explaining that she is also from Ohio, like Kurt. Isabelle is impressed with Kurt's resume, which is a collage of his eclectic outfits. During the interview, Kurt reveals that he hopes to graduate from NYADA in four years and be a star on Broadway. Isabelle appreciates his aspirations (and the ridiculous hippo broach on his lapel), and offers him a position at vogue.com.
Back at McKinley, Brittany approaches Artie and asks him to be her vice presidential running mate as she attempts to serve two terms as the senior class president. After likening him to be "part robot" like Franklin D. Roosevelt (both wheel chair bound), Brittany entices Artie by telling him he could make all the bright decisions if he were her vice president. Artie says he could be "like the Cheney to [her] Bush," and Brittany says she would rather be "landing strip." Artie agrees to be her running mate in hopes that as a man in power, he would find a girlfriend before he graduates.
In the music room, Will Shuester realizes he no longer has any new ideas for the glee club. Brittany announces to the club that she and Artie are running for class president and vice president, respectively, and asks if Blaine can prove his citizenship. Blaine retorts that the election isn't a popularity contest when Brittany says they'll get votes from vending machines since Artie is "part robot." (Note to Brittany: he's not.)
In the teacher's lounge, Will tells Sue he doesn't have a set list for sectionals. Sue responds by telling him he's already reached his dream of winning nationals, and he has nothing left to look forward to at McKinley. She suggests he start job searching elsewhere and move on.
Sam confronts Brittany and asks why she didn't choose him to be her vice president. She "introduces" Sam to Blaine and tells Sam to be Blaine's running mate. Sam convinces Blaine he will get sympathy votes since his family is on welfare, as well as the "not-gay" votes. Blaine agrees, and Brittany challenges them to a debate.
During a meeting at Vogue, Isabelle asks her team to pitch her ideas on "unexpected leather." Kurt gives her an apprehensive glance when someone suggests "leather socks" and "cowhide brassieres." Back in her office, Isabelle admits to Kurt that she's an artist, not a manager, and she has no idea what she is doing at Vogue.
Artie shares the results of a poll with Brittany: 90% of the students are expected to attend the debate, but they are all there to hear Brittany say something stupid. Blaine is concerned Sam doesn't look like a serious candidate. Both Blaine and Artie work with their running mates on debate questions and wardrobe choices while Sam and Brittany sing Hole's "Celebrity Skin."
Will is leading the Show Choir Committee meeting, and feels meaningless and bored. One of the committee members says that his budget has been cut and funding to the arts is drying up. Another member says they need representation on the Blue Ribbon government panel. Will suggests that he would try to do so as a show choir director who "wants to make a difference in the world."
Rachel is still being ridiculed at NYADA, much like she was at McKinley. Kurt suggests Rachel start dressing differently because "style and clothes determine the pecking order." When Rachel says she can't afford a brand new wardrobe, Kurt tells her to put down her chopsticks and follow him.
As expected, Kurt has taken Rachel to the Vogue office and into the "couture vault." Isabelle bursts in on them, and Kurt frantically explains that he was planning to give Rachel a makeover while shooting a music video. Isabelle says he had her at "makeover," and much to Rachel and Kurt's delight, launches into a mash-up of "The Way You Look Tonight" and "You're Never Fully Dressed Without a Smile." As Isabelle and Kurt duet, a montage of Rachel in various ball gowns ensues.
Will goes into Emma's office to seek her advice about applying for the Blue Ribbon panel. If selected, he will have to leave the high school and his students for several months. Will is concerned about abandoning Emma as well, but she encourages him to apply and chase his dream.
Before the election debate, Sam convinces Blaine to remove his bow tie because it makes him look like a "young Orville Redenbacher." Sue Sylvester is moderating the debate and introduces Sam and Artie as "the pimp and the gimp." Artie gives a long soliloquy (he has a "96-point roadmap to restore McKinley's future") in response to Sue's first question, to which Sam curtly replies, "I agree with that."
Next, Sue brings up Sam's scandalous past as a stripper and asks if he's ashamed. Sam responds that he is not and begins to strip, eliciting cheers from girls in the audience. Blaine likens Brittany to a tyrant for banning hair gel at last year's prom. Brittany responds with a promise to ban summer vacation and weekends so she could spend all her time with her classmates since she loves them so much.
Back in Isabelle's office, she tells Kurt that she forwarded his video to Anna (Wintour, style dictator and editor of Vogue magazine). Anna had responded with "great," and Isabelle is extremely proud. They are re-shooting the video in Bali with a supermodel, but Kurt will get credit for the idea. Isabelle hopes that Kurt never loses his optimism, and tells him he could really make a mark in fashion if his dreams to attend NYADA ever change. She invites Kurt to join the next brainstorming session with her team.
At the dance studio, Rachel wows Brody with her makeover. Brody believes that Rachel's outside has finally caught up with what she feels inside, and tells her he likes her. They dance, sing and flirt to Sheryl Crow's "A Change Would Do You Good." After the song, Rachel asks Brody if she could cook him dinner.
The results of the election are announced and Blaine has won. Artie congratulates him, and Blaine offers him a position on his administration. Artie declines, he got what he wants as Sugar has asked him out on a date (horseback riding).
Blaine attempts to share the news with boyfriend Kurt, but Kurt ignores the phone call, enjoying his time at Vogue with Isabelle. Blaine realizes he came to McKinley for Kurt but none of it matters anymore because Kurt isn't there. To cheer him up, Sam tells Blaine he's never had a "gay bro," and they can be like "Wolverine and Cyclops."
Will reveals to Sue that he applied for the Blue Ribbon panel and asks her for a letter of recommendation. Sue had a letter drafted for him already (even though she falsely claims he's a descendant of Harriet Tubman's).
While cooking dinner, Rachel has a slight mishap in the kitchen right before Brody arrives with flowers at her doorstep. After sharing pizza and embarrassing stories, Brody and Rachel kiss but are interrupted by a knock at the door. Rachel, thinking Kurt has locked himself out, opens the door and finds Finn standing behind it. Busted!
'Glee' airs Thursdays at 9 p.m. ET/PT on FOX.