'American Idol' Hollywood, part 3
Girls go through the group grind with heavy casualties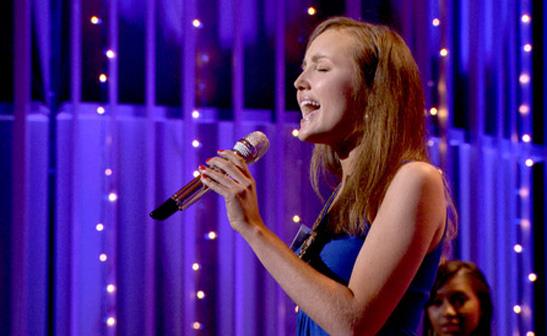 Hale yeah: Rachel Hale has an extroverted, aw-shucks personality and a strong country voice: two of the show's favorite traits.
Take 162 female contestants, a cappella performances, and the established tastes of "Idol" producers and judges, and you would expect to see a whole bunch of musical divas. Randomly assemble the survivors of that ordeal into quartets and you'd expect to see a whole bunch of behavioral divas. Both expectations were fulfilled Wednesday.
Bing: More about 'American Idol' | Video: Watch clips | Photos: See highlights
The narrative mirrored last week's guys' gauntlet, with solo unaccompanied song snippets first. Recovering anorexic Mariah Pulice had the distinction of going first with Sarah Bareilles' "Gravity," which she sang quite well. Angela Miller was also fine on Jessie J's "Who You Are," and Victoria Acosta was solid on Roberta Flack's "Killing Me Softly." So we had an instant pattern of good singers doing less attractive songs. Oddly, in a decision that was not the last questionable one the judges would make, Mariah Jr. was eliminated, along with seven unseen members of their 10-strong lineup. Ashley Smith, Ann Difani and Sarah Restuccio were also cut, without benefit of airtime.
Country singers Rachel Hale and Janelle Arthur were paired for reasons of dramatic tension, but both breezed through their songs (respectively, Grace Potter's "Nothing but the Water" and Hank Williams' classic "I'm So Lonesome I Could Cry") and were sent through, unlike their eight unseen line-mates. To make up for all the anonymous losers, a brief montage of anonymous winners came next.
Recidivist Candice Glover sang Christina Aguilera's "Impossible," which is impossible to render enjoyably, but her voice was stellar. Megan Miller, freed of the crutch that supported her in her audition, sang "Titanium," a bit colorlessly. She was rejected, while Candice and the unseen Lauren Mink and Shira Gavrielov made it through.
One-named contestant Isabella sang a one-word-title song, "Summertime," and got a one-word decision: Yes. Eccentric (or, in Nicki Minaj's words, "crazy psycho") Kez Ban bulled her way through the Moody Blues' "Nights in White Satin," but also won the judges' (or more likely the drama-loving producers') approval. Briana Oakley favored us with "Impossible" once more, and made it the early lucky-charm song, joining Candice in winning with it. Ryan's voiceover informed us that Ashley Feliciano and Melinda Ademi had also made it, part of 76 survivors. The a cappella round was over in a brisk 40 minutes.
The better to leave more time for the group round – as before, producers assembled the groups, 19 quartets in all, of which we actually saw an impressively high total of 11. The 19 groups had to choose a song from a list comprising all of 20, but luckily there were some good ones included, such as "Idol" Hollywood Week favorite "Hit 'Em Up Style" by Blu Cantrell, a challenging En Vogue-ish ditty that has been the ruin of many a poor girl, but was absolutely nailed by the "Swagettes": Kamaria Ousley, Denise Jackson, Melinda Ademi and Candice Glover. Definitely the night's musical highlight.
The country-oriented "Raisin' Cain" (Morgan Leigh Boberg, Brandy Hotard, Lauren Mink and one member left un-chyroned) chose the Dixie Chicks' "Sin Wagon" (another enduring "Idol" fave), and romped through it successfully, making the tally eight for eight in the early going. That changed when "Almost Famous" (Savannah Votion, Lizz Weiss, Daysia Hall and J'Leigh Chauvin) struggled through a fraught version of Gotye's "Somebody That I Used to Know." Their rehearsals had stressed (in more ways than one) building harmonies for a song that doesn't have many, and that emphasis turned out fairly disastrously, although the vocal leads all sounded pretty good. The judges conferred their approval only on Daysia, who forgot the words, leaving the rejects justifiably bitter, particularly Savannah.
"The Dramatics," an R&B-slanted group of Cristabel Clack, Janel Stinney, Kriss Mincey and one unnamed other, quirkily chose the Band Perry's country smash "If I Die Young" and delivered a roller-coaster revamp, with good singing and a spectacular lyric blank-out by spacy, weepy Janel. For some reason Nicki was captivated by this spectacle, and in the end all four were sent through.
In a speedy interlude, an unnamed group singing Yvonne Elliman's "If I Can't Have You" got an "I don't want nobody, baby" reaction from the judges, then Shubha Vedula, Sarina-Joi Crowe and Aubrey Cleland were declared sole winners from their unseen groups. "Urban Hue" (Kiara Lanier, Jett Hermano, Tenna Torres and Seretha Guinn) made a fatal choice – Estelle's increasingly irritating "American Boy." Nicki thought it was a bad idea as well, but everyone except Seretha, who sounded perfectly good, was passed to the next round, including the nearly-invisible Jett.
The "Pooh Snaps," featuring Erin Christine, Isabelle, Lauren Bettes and outsized personality Zoanette Johnson, sang "Knock on Wood" to reasonably successful effect, though not for the ousted Lauren. "Handsome Women" (Courtney Calle, Liz Bills, Alisha Dixon and Shira Gavrielov) gave us a second "Somebody That I Used to Know," contrasting with the earlier version in  that the ending harmonic blend was laudable, while the solo vocals were largely faulty. Liz and Shira sounded best, but Shira was turfed while Liz (who had been a missing person for much of the depicted rehearsals) was the sole survivor.
"4 You" (Stephanie Schimel, Alex Delaney, Holly Miller and Kalli Therinae) followed with a third Gotye cover (good thing I adore that song; if it had been three "American Boys" I would have been tempted to endanger my livelihood by hurling the clicker into the TV screen). This one featured some lyric stumbles from Stephanie and some questionable vocals from Alex, but Stephanie, along with Holly, got the nod, while the perfectly competent Kalli got the shaft.
A montage of forgotten words and contestants staring at their ink-covered hands for lyric prompts came next, followed by the "Dolly Chicks" reprising, what else, "Sin Wagon," complete with rehearsal-ditcher Haley Davis forgetting the words. She and bandmates Britnee Kellogg and Kree Harrison got yesses, while Brandy Neelly, possibly unfairly, did not.
And naturally the producers saved the big drama for last. The Misfits, featuring conventional contestants Angela Miller, Janelle Arthur and Breanna Steer plus square peg Kez Ban, had been fleetingly shown all night having trouble agreeing on a song or how to rehearse effectively. We saw Kez ditching the group to grab a late dinner, having trouble bestirring herself in the morning, missing the bus to the stage facility and doing jumping jacks to warm up just before the group's performance of the Ronettes' "Be My Baby." The song was a bit of a mess, with Kez unsurprisingly failing to mesh with the others, but all four managed to show enough singing talent or at least vivacity to get through.
Prospect watch: Rachel Hale looks like this year's obligatory country extrovert, in the Lauren Alaina/Skylar Laine mold.
Dim prospects: "Idol" likes to have a female eccentric in the cast, but Kez Ban doesn't seem lovable – or talented – enough.
What did you think of Wednesday's episode? Connect and sound off on Facebook and Twitter
"American Idol" airs Wednesdays and Thursdays at 8 p.m. ET/PT on FOX.