'Revenge': Sabotage
A careful nature doesn't always ensure success.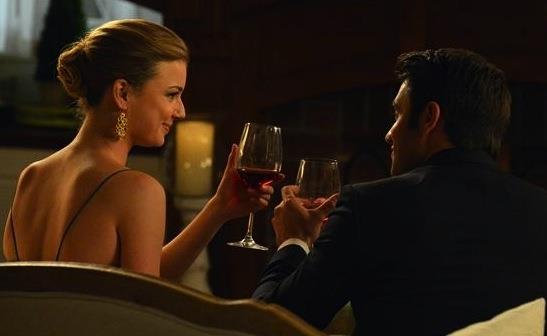 "They say the best-laid plans often go awry, because no matter how detailed the preparation, a plan will always have a weak point and there will always be those looking to exploit it," Emily voiced as Aiden and a well-heeled woman ran past a masked body in a pool of blood.
Bing: More on 'Revenge' | Watch clips and full episodes of 'Revenge'
Then the action cut back to two days earlier. Aiden was moping about Em's kiss with Daniel. She told him to trust her and reprimanded him for disappearing. He revealed he'd met with Helen, who didn't know about their connection to Takeda and claimed his sister Coleen was alive. He knew it could be a lie, but at the very least, they had an in with The Initiative and could forego the Daniel nonsense.
Em wanted to draw Helen out, so she visited Daniel. He greeted her with a hot kiss, but she told him to slow his roll and started talking up a charity wine auction. When Helen called, Emily eavesdropped. The Initiative rep told Daniel to buy a company called Stonehaven, which was set to triple its revenues. Daniel's interest was peaked, especially since Helen's earlier advice had led him to gaps in NolCorp's early R&D.
Among those gaps was Carrion. When Daniel asked Nolan about it, he shrugged it off, explaining not all R&D yields result. Carrion was, of course, the program Marco had recently plopped on Nolan's desk. Nolan was suspicious of the timing, but Marco insisted he was looking to rebuild trust. He jealously added that Padma's recent return to NolCorp had come just after Daniel's visit. Nolan countered that Marco's return had coincided with Daniel seizing his company.
Emily, meanwhile, passed the Stonehaven dish on to Victoria, who realized Conrad's frenemy Jason Prosser could be key in thwarting The Initiative. "Sabotage," she smirked. With a plan in mind, she convinced Em' to invite Jason to her event.
Over Chinese take out with Daniel, Emily casually asked after a client she couldn't nail down - Helen, who was watching them via her clock cam. After Emily revealed Aiden was coming on Takeda's invite, Helen called. Daniel put her on speaker and made introductions. Em' explained her wine auction would help foster kids who'd aged out of the system and added that Grayson investors in attendance would make Daniel look good. Impressed with Emily's tenacity, Helen agreed to come.
At the swank NYC fundraiser, Jason was quick to find Daniel and commend him for ousting his father. Then the guys got into a bidding war over the final bottle in the auction. When Daniel won it for a cool million, Jason wondered if Victoria had invited him to make Daniel seem more like a man. She claimed she was only after quality time with him.
When Helen arrive, she scolded Aiden for using his girlfriend to reach out to her. She agreed to talk about his sister, later. "I'm at your service," he said.
Back in The Hamptons, Ashley waltzed into Conrad's library and back into the game. She reminded him she was good at keeping and managing secrets, a trait the Grayson's could use - and already had! But she wouldn't work with Victoria. Conrad had just the job for her.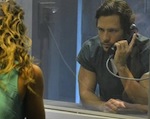 Amanda visited Jack in jail. He was sure the cops had tipped off the Ryan brothers, but urged Amanda not to launch a counter attack. Like Amanda was going to sit by idly! She pushed Charlotte to ask her parents to use their influence. Conrad offered Declan safe haven in their home, but was not interested in helping Jack's baby momma. Ashley chided that if Conrad was serious about politics, he was missing a big opportunity.

Declan accused the Ryan brothers of planting the drugs and the gun. As per their routine, Nate played bad brother and offered to buy the bar for a dollar, while Kenny played good brother. Declan wasn't buying it. He reported back to his brother and wondered why they wanted the bar. Jack told him about their fathers' past with the Ryans.
Want more TV? Like us on Facebook and follow us on Twitter.
Having snatched Conrad's watch, Amanda procured a gun. Just as she was pulling it on Nate, Ashley intervened. Jack was upstairs with Conrad, who'd made a deal with the court for lenient bale. Conrad wanted to help so he could rebuild his public profile.
Back in Manhattan, Victoria "accidentally" told Jason about Grayson's plan to buy Stonehaven. She left him with a kiss and hope of one day having her. Before she was even out of earshot, Jason called his people about Stonehaven.
Across the room, Aiden followed Helen onto the elevator. They were gassed and came to tied to a chair, their heads bagged. Someone with a voice distorter demanded info on Stonehaven. Aiden played hero and a tussle ended in gunshots. He freed Helen, pulled her to safety and then they split up. After they left, Nolan unmasked himself and commended his "dead" conspirator.  
"Let's hope she buys it," Emily said.
Aiden wanted to celebrate their play, but Emily was getting dolled up for a visit from Daniel. She wasn't ready to give up her in at Grayson, no matter how well the Helen con had gone.
"Every plan has a fatal flaw," Emily voiced as Daniel arrived. "Sometimes, it's the heart, even in those who are supposed to be the most careful. But a careful nature doesn't always ensure success. When a plan is built on an unstable foundation, failure is not only a possibility: It's a certainty."
Daniel and Em had a good laugh over the million-dollar wine, which had gone bad. Then Aiden showed up to fetch his things and be on his way. Daniel followed Aiden out, leaving Emily with a chaste but affectionate kiss on the cheek.
Nolan, meanwhile, returned to NolCorp, because a wide-eyed Padma had tattled about overhearing Marco talking to Daniel about "someone named Carrie Ann." Marco professed his innocence, but Nolan found a ghost file sent to Daniel on his computer and kicked him out. A surprised Marco told him he was making a mistake. He was right: Padma called someone to report Nolan was hiding Carrion!
"Good, we're counting on you," Helen responded.
"Revenge" airs Sundays at 9 p.m. ET/PT on ABC.