'Dexter': Which is thicker, blood or blood?
Deb asks Dexter to kill Hannah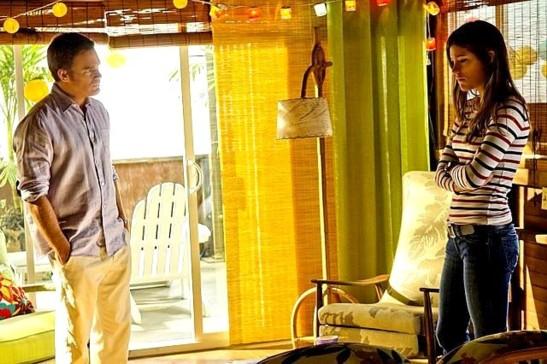 Hannah McKay (Yvonne Strahovski) is not like the other girls. As Dexter's (Michael C. Hall) creepy voice-over notes: "She isn't drawn to my darkness like Lila or blind to it like Rita, and she doesn't need it like Lumen. She accepts both sides of me -- the whole Dexter."


In last night's episode, "Chemistry," Dexter and Hannah try bidding each other goodbye several times. ("We both know it wouldn't end well," she explains.) Indeed, the episode begins with her pulling a knife on Dexter after their lovemaking session and asking how he thinks it feels. (You think your relationship has trust issues? Try wondering if, at any given time, your partner plans to kill you.)


Bing: More on "Dexter" | More on Michael C. Hall


Although goodbye never seems to take, the same is not true for the poison Hannah uses on true-crime author Sal Price (Santiago Cabrera) does. He drops dead in Dexter's apartment, which was certainly not her plan.

Price was getting too close. He recorded Hannah admitting to the newlywed murders for an upcoming book. And she was also helping Dexter out, because Price saw him drop Hannah off after their night of almost-murder/passio​n, immediately deducing that Dexter had intentionally fudged the newlywed blood work to whitewash Hannah's involvement. (He didn't realize Dexter's initial murderous motivation, however, thinking him to be merely a protective lover.)


Deb confronts Dexter with Price's independent blood work, forcing Dexter to lie, unconvincingly, about originally considering but then dismissing the possibility of Hannah's involvement because blood spatter is not an exact science. (Oh no?)


Although she knows exactly what's going on, Deb can't seem to pin a thing on Hannah. Price helps her locate the sister of Hannah's dead husband, for instance, and finds that, because Hannah elected not to have him embalmed, no DNA remains on the remains. (However, she did discover the juicy tidbit that Hannah was pregnant and miscarried after his death.)


Want more TV? Like us on Facebook and follow us on Twitter.

Continuing to close in on Dexter is LaGuerta (Lauren Velez), who cross-references the names of law enforcement officers with boat owners and notices Dexter's name on both lists. But the more pressing problem in the short run is Isaak Sirko (Ray Stevenson), who has just had a lunch meeting with Dexter during which he makes clearer than ever his intention to render him devoid of life. Sirko adds that he doesn't believe Dexter killed Viktor out of vengeance but out of some deeper twistedness. In retaliation, Dexter describes the killing in detail, adding that he intends to use the same recipe on Sirko. Sirko says that Dexter will regret his admission, then leaves a generous tip.

As we expected from last episode, Sirko was released from prison because the evidence against him went missing; Quinn (Desmond Harringon) stole it to save his kidnapped girlfriend and get himself off the hook. (Surprise, surprise: Criminals are liars. Sirko's Koshkas release his girlfriend but fail to live up to their end of the bargain, intending to use Quinn for further missions.) Batista (David Zayas) vouches for Quinn. In exchange, his partner donates $10,000 to Quinn's new restaurant.

To kill Price, Hannah uses an undetectable poison in conjunction with knowledge of his nasty habit of chewing on writing implements. (Yes, folks, the pen is mightier than the sword.) This renders Metro helpless and Deb lusting for justice. She knows Hannah is responsible for at least four murders, yet is powerless to arrest her. And now Dexter has one doozy of a choice ahead of him. It's between Deb and the one woman he could possibly find true love with.


When Deb phones to ask her brother to "do what you do," Hannah is actually sleeping in his arms. Stay tuned.


"Dexter" airs Sunday nights at 9 p.m. ET/PT on Showtime.