'American Horror Story': Fanning the flames
Demons get conquered, while other monsters continue lurking in 'The Name Game'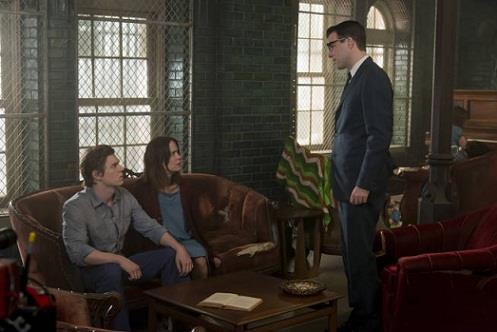 To paraphrase pioneering hip-hop producer 
Timbaland
, it's been a long time, and we shouldn't have left you without an "American Horror Story" recap to procrastinate to. But it's not our fault. "Asylum" took a breather for the holidays, which may have been for the best. Things have been pretty intense this season, and after 
the last episode's
 crucifixions and Bloody Face carnage, we all required some time apart from Briarcliff's loony bin. 
Bing: 
"American Horror Story: Asylum
|
Lizzie Brochere
"The Name Game" turns out to be a terrifically unholy resurrection, and one of this saga's finest installments. The battle between good and evil intensifies, new blood is delivered to the institution, and Sister Jude gets the shock of her life...and then leads a riotous musical number. And that's just the tip of the pinhead in this exceptionally naughty, nasty, lively hour of television. 
So without further diddling around, here are the five things we learned after playing "The Name Game" with Massachusetts' finest selection of righteous souls and twisted freaks.
Plus: 
Our favorite Golden Globe winners through the years
HAPPINESS IS A "WARM, WET HUG"
Even by usual "Asylum" standards, "Name Game" had a way with filthy turns of phrase, particularly characterizing intercourse as a liquid embrace, as Sister Mary Satan does while violating a feebly resistant Monsignor Timothy. Most of the night's tawdry dialogue isn't suitable for publication on a family friendly website, although we'll confess to our favorite new "AHS" pastime: imagining
T-Bag from "Prison Break"
uttering all of Mary Eunice's randy euphemisms in his perverse Southern twang. Unfortunately for poor Timmy, he might prefer to contend with Fox River's favorite inmate, or escaped psychopath Santa Leigh Emerson, than Briarcliff's resident possessed nun. After helping the good father recover from evil St. Nick's sadistic crucifixion, she confined him to the bed "Misery"-style, straddled him and took his virginity. Which, using her erotic poetry, gives new meaning to hugging it out. 
JUDE'S STILL GOT IT
Surreal musical numbers on otherwise spoken-word dramas are nothing new.
"Six Feet Under,"
"Buffy the Vampire Slayer"
and
"Grey's Anatomy,"
among others, have all given an episode the Broadway polish at one point or another. And it's certainly not unexpected for 
"Glee"
 mastermind/"AHS" creator
Ryan Murphy
to inject his horror anthology with a little song and dance. But none of the above have boasted
Jessica Lange
in their back pocket. After enduring brutal electroshock torture at the hands of Dr. Arden and Sister Satan, Jude returned to the recreation area in a daze. Lana tried to jog the once-powerful administrator's memory, reminding her that she's Judy Martin and the woman she's looking at is "Lana Banana." Naturally, Jude drifted off into fantasy, leading the entire ward in an imagined, uproarious, fully choreographed rendition of Shirley Ellis' "The Name Game." The sequence primarily serve as an entertaining, non sequitur illustration of Jude's cartoonishly frazzled psyche, but it once again provided Lange with a chance to flash her ageless beauty and go-for-broke gamesmanship. 
LANA'S FEELING "PLUCKY," PUNK
Dr. Thredson's a clever one, although even he doesn't seem to realize the extra-terrestrial and meta-physical forces he's up against. For now, he's got one mortal enemy, and thy name is Lana. Problem is, she's carrying his pulsating, unborn child, and Oliver wants to be a daddy. In recent weeks, Lana escaped his murderous clutches and thwarted his attempt to recapture her at Briarcliff, even tricking the usually canny serial killer into a taped confession. Now, Bloody Face is back and unbound, thanks to help from a certain bedeviled habit-wearer running the show. He's even got a full-time position on staff and dopey Carl to boss around. Only problem is, after manipulating Kit into exposing the whereabouts of said incriminating evidence, he discovers Lana's already swapped out the tape for a copy of "See Spot Jump." ("I don't want to ruin it for you, but Spot jumps," she memorably quips.) Oliver bristles at her hubris, but Lana turns his own backhanded compliment against him, seething, "I'm goddamn plucky, remember?" Duly noted.
THAT'S ONE SPICY PEPPER
Just when you thought Pepper the Pinhead (
Naomi Grossman
) was a slightly crass homage to
Tod Browning
, she becomes an integral figure in these final "Asylum" chapters. If you recall, Dr. Arden successfully lured the aliens out by nearly inducing Kit's death (because they rely on his essence or some such explanation), and the result was pregnant Grace's miraculous return, with a newly eloquent Pepper standing guard like a mystical doula. In an exchange that articulates the period's burgeoning culture war over reproductive rights, Pepper warns Arden that he can't examine Grace's insides with harsh X-rays or perform an emergency C-section to see what's in her womb. His experiments, she insists, are over, and adds insult to injury by relaying how the green guys mock him from above. Not to mention, it turns out Pepper wasn't even responsible for the crime she'd been accused of. She was just one more victim, cast out to rot for other people's sins because her uniqueness instilled fear in the weak. And Arden was, of course, no great scientific mind, but a coward who carried out arbitrary atrocities and deserved no claim to purity of any kind. Funny that, in the end, it wasn't a fiercely pistol-toting Anne Frank who unraveled the former SS solider, but just one of the so-called freaks. 
DR. ARDEN BURNS IN HELL WITH THE DEVIL...LITERALLY

Much of this season's flirtation with Holocaust narrative has been touch and go, but "Name Game" did finally deliver a cathartic resolution worthy of Quentin Tarantino's climactic Hitler assassination  in
"Inglorious Basterds."
 In a bit of imagery that was initially jarring but also deeply satisfying, despondent Dr. Arden climbs atop the deceased, deflowered Mary Eunice (kudos to Monsignor for knocking her off by the way, even if that was all a bit abrupt and her passing was unexpectedly bittersweet) on her way into the crematorium fire, screaming in agony as the flames engulf him. It's a horrifically befitting—if literally meted out—death for the Nazi formerly known as Hans Gruper, and a truly pathetic end to his miserable life. And. for better or worse, this season's side obsession with war-crime perpetrators. 
HONORABLE-MENTION OBSERVATION
The funny, sexy, out-there
Lily Rabe
will be sorely missed. May she reappear in "AHS" Season 3.
"American Horror Story: Asylum" airs Wednesdays at 10 p.m. ET/PT on FX. And don't forget to check back here every Wednesday after each episode for the five things we learned that week, and feel free to share your thoughts and reactions in the comments below.


I really liked Dylan in the first season, and I can say that the second season hasn't been disappointing at all. Personally, I'm glad that FX is committed to making the best horror show on TV, and also bringing in great actors from the first season. So far I've been watching all the episodes with my co-workers at DISH on our lunch break, and we can't get enough. At home, I've been recording all the episodes on my Hopper DVR from DISH, so that I can store all the episodes on the 2 terabyte hard drive, and watch all the episodes again with my wife when I get home from work. I have to tell people constantly that the best thing on TV right now is American Horror Story, and my wife and I watch it all the time; it's one of our favorites.
Are you sure you want to delete this comment?