'Californication': Absolutely rehab-ulous
Weed and women find Hank in 12-step, plus Charlie goes gay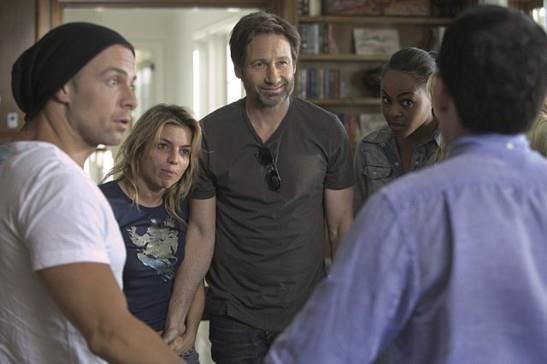 Hank (David Duchovny) finds faith in rehab -- but not the kind you usually find there. It's Faith (Maggie Grace), a hot blonde groupie whose famous guitarist just OD'ed. (One sentence after she tells Hank he's not her type, she also warns him that they kind of frown on hooking up there.)

Oh, and Charlie (Evan Handler) stops by with a dime bag of weed fresh from his butt cheeks. So it's a party at Happy Endings, whose fellow patients include Joey Lawrence (playing himself) pretending to be a former cast member of "The Wonder Years." In fact, when it comes time for Hank to introduce himself, he doesn't like the addict label. He prefers "drug and alcohol enthusiast."


Bing: 'Californication' | More on David Duchovny


"Isn't it normal," Hank asks, "to want to numb yourself when you're in pain? Would a doctor operate without anesthesia?" ("Nailed it," Hank celebrates registering this point in a high voice.)


Quickly, Hank earns the ire of addiction counselor Gabriel (Patrick Fischler), who points out how distraught Hank was over the former lover who tried to kill herself and Hank. Just as quickly, Hank points out that he caught said counselor on the giving end of an immoral situation while he was supposed to be serving as sponsor for Karen's ex-husband, Bates (Jason Beghe).

Hank earns the respect of everyone at Happy Endings, especially of the nymphomaniac who shoves her hand down his pants during group and pays him a late-night conjugal visit while he's sleeping. ("Feel that?" the nympho asks as she wakes him up. "That's my cankles!")


While visiting Hank, Charlie spots Robbie Mac (Johann Urb), an Oscar-winning actor looking to leave CAA. Charlie has no idea how badly he wants to sign Mac until Mac declares that he is gay and wants an agent who understands what he's going through both as an artist and a gay man ("a gaygent," he explains).


"I am gay," Charlie says, and it disturbs him how immediately convinced Mac is, considering how half-heartedly Charlie said it. News hits the trades of Charlie's new signing and his coming out.


Want more TV? Like us on Facebook and follow us on Twitter.


Becca (Madeleine Martin) also visits Hank. She's definitely Daddy's daughter because her brain didn't retain the information that contained the name of the guy who drove her there that she spent the previous evening with. She tells Hank he wants to start living -- which to her requires doing drugs and having more sex. ("Living is overrated," Hank replies.)


Back on the outside, Marcy (Pamela Adlon) and Karen (Natascha McElhone) get stoned and announce they're quitting men. In that moment, Karen's cell phone rings. It's the woman with him she just interviewed for a job. Because she is so stoned, she answers it anyway. She shows up to the woman's house grasping at bowls of munchies.


"Are you high right now?" she is asked. Karen cracks up, only to be told she'll be perfect for the job because the woman and her husband like to party. What she doesn't know -- when she agrees to the only rule: no sex with the husband -- is that the husband is hedonist rock star Atticus Fetch (Tim Minchin), whom Hank already met and fought with while on his bender.


While Karen is gone, Marcy's ex, Stu (Stephen Tobolowsky) shows up bringing cash, no strings attached. ("You think you can bribe me?!" Marcy asks as she takes the money.) He also brings what appears to be a pound of pot and they begin rekindling their flame on her couch -- only to have Little Stuart (Camden Gray) walk in later and turn on Marcy's vibrator.


Eventually, Hank tires of the "Kumbaya" nonsense. And that's where Faith offers him hope, but only if he sticks to the program. Hank rolls some of Charlie's pot on a copy of the Good Book. ("They don't call it that for nothing," he says.)


"Californication" airs Sundays at 10:30 p.m. ET/PT on Showtime.