'Dancing With the Stars: All-Stars': Spotlight on Shawn
Shawn Johnson and Derek Hough rule the semifinals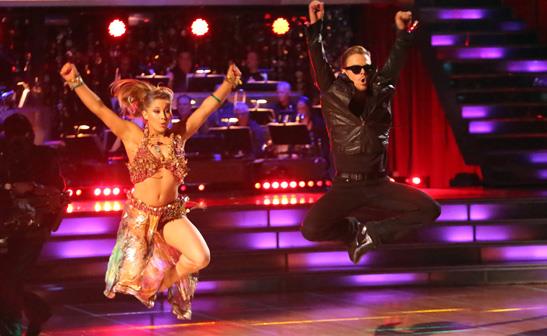 The semifinals followed the pattern we've seen the past few weeks – high highs, and low lows. Shawn had a great night, earning a perfect score for her wacky bhangra and a nearly perfect score for her impressive Argentine tango. Kelly, on the other hand, had a rough night. The judges weren't too keen on her first round performance, and she's tied at the bottom of the leaderboard with Emmitt, who danced two routines that were good not great.
Bing: More about 'Dancing With the Stars: All-Stars' | Videos: Watch clips and more
The first round featured some never-before-seen dances like the hustle and the Lindy hop, and was a bit of a stumbling block for our stars – only Shawn scored higher in this round than in the ballroom round. The second round featured Michael Jackson songs, and Apolo stood out with a lyrical, romantic rumba.
Photos: See season highlights
We're down to the wire, since there's another double elimination in this round. Here's how each of our stars did this week:
Melissa Rycroft
Melissa's "caveman hustle" started out with a terrifying animatronic dinosaur and got even weirder from there – she kind of had dreadlocks, and she and Tony were wearing leather wristbands. They also took a leaf out of Kelly's book and danced barefoot. Their hustle had plenty of hustle and a crazy amount of energy, but I have to admit it wasn't my favorite. Len loved this routine, and Bruno made some predictable jokes about animal skins and then pointed out that Melissa made a slight error when she turned, and Carrie Ann thought her hustle balance was a little off.
Melissa's devilish Argentine tango was incredibly intricate – Tony threw in so many lifts Melissa's feet may have been in the air more often than on the ground. Bruno called her "possessed" and praised the lift sequence in the routine. Carrie Ann agreed – her exact words were "those lifts were frickin' out of this world."
Tony hurt his back in rehearsals, which could hurt Melissa and Tony if they advance to the Finals.
Hustle: 27.5/30
Argentine tango: 30/30
Score: 57.5/60
Shawn Johnson
Shawn's "Knight Rider bhangra" was pretty amazing. As usual Derek choreographed a routine that showed off Shawn's gymnastic flexibility, but this routine stood out in that it was tough looking. Bruno stood up and shouted that he loved the routine, and Carrie Ann praised Shawn's energy. Len was also in love.
Shawn and Derek's Argentine tango had a lot of style. She and Derek didn't go in for props, but rather, went with a classic take on the dance. Bruno called it breathtaking and stylistically perfect. Carrie Ann praised Shawn's movement but thought she lacked passion. Bruno strenuously disagreed, leaning over Len in the process.
All in all, an amazing week for Shawn and Derek.
Bhangra: 30/30
Argentine tango: 29/30
Score: 59/60
Apolo Anton Ohno
Apolo's "Big Top jazz" routine channeled the circus and was nice and quirky to boot. Apolo's timing was off a few times, but his energy and dedication to the performance were great. The judges were split on this one. Carrie Ann pointed out the sync errors and felt the routine was disjointed. Len called Apolo a fighter, and Bruno thought the dance was edgy and surreal and praised Apolo's attitude and jazz hands. (Yes, jazz hands.)
Apolo's open-shirted rumba was lyrical and romantic. He and Karina had great chemistry and Apolo had just the right level of intensity. Carrie Ann said the dance melted her heart, and Len compared it to the sea because it possessed "wave after wave of effortless motion." Bruno thought the flow of movement was perfection.
A great week for Apolo, but he's been in the bottom two before. Let's hope the fans turn out for him.
Jazz: 27/30
Rumba 30/30
Score: 57/60
Emmitt Smith
Emmitt's "espionage Lindy hop" was fun if a bit predictable. He and Cheryl hammed it up to "Secret Agent Man," and Emmitt even did a somersault right at the end. Len said he liked the concept and the energy, and praised Emmitt's lift. Bruno called it a "Looney Tunes version of James Bond," which prompted Carrie Ann to do an Elmer Fudd impression.
Emmitt and Cheryl put the tango through its paces. The routine had that magical push and pull quality of all great tangos, though there were a few hiccups. Len pointed out that a ballroom tango isn't Emmitt's style, but that he coped well. Bruno said Emmitt's footwork could have been more exact, and Carrie Ann praised Emmitt for bringing his A-game to the semifinals.
Lindy hop: 27/30
Tango: 27/30
Score: 54/60
Kelly Monaco
Kelly's "surfer flamenco" was sexy even before Val ripped his shirt off. Their chemistry has never been better. Kelly lost focus a bit in the middle of the routine, but the ending was spectacular. Bruno said the routine had aggression and fire but thought Kelly's flamenco placement was off. Carrie Ann thought there wasn't enough flamenco content. Len, on the other hand, thought Kelly's energy and verve were notable and didn't seem to mind that the routine was light on flamenco.
Kelly's rumba featured some intricate choreography but had a slightly rushed feel. As usual, the chemistry between Kelly and Val was right on. (They kissed on the lips as it wrapped up!) Bruno praised the passion of the routine, and Carrie Ann called it beautiful and was a fan of Kelly's vulnerability. Len praised the control on display and thought Kelly's lines and shapes were fantastic.
Flamenco: 25.5/30
Rumba: 28.5/30
Score: 54/60
Who won the over the judges: Shawn
Who won over the crowd: Shawn
Who needs to step it up: Emmitt and Kelly
"Dancing With the Stars" airs Mondays and Tuesdays at 8 p.m. ET/PT on ABC.
Want more TV? Like us on Facebook and follow us on Twitter.
Are you sure you want to delete this comment?