'Revenge': Happily ever after
Several players laid their cards on the table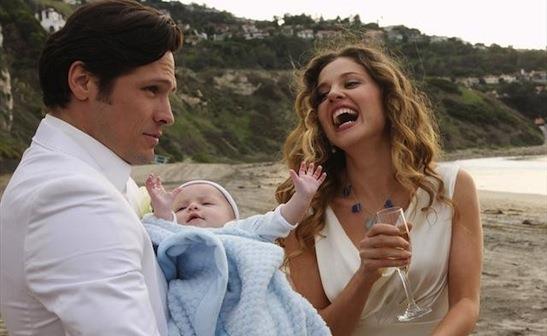 "In its purest form, a union becomes part of our very essence," Emily voiced as a young Amanda prepared for her pretend wedding to Jack. "When that bond is broken, our essence if forever changed."
Bing: More on 'Revenge' | Watch clips and full episodes of 'Revenge'
Emily's memory of happier times was interrupted when Nolan swished into the room. After he babbled about all the last minute wedding tasks he was handling for Jack and Amanda, Emily swore she was happy for the couple. Amanda and Jack deserved happiness. Nolan worried they wouldn't find it now that Conrad owned half The Stowaway. Emily was horrified by the news. She thrust a check at Amanda and demanded she and Jack buy out Conrad. The Graysons always have a hidden agenda.
Conrad's agenda currently involved working with Nate to turn the waterfront into the next Atlantic City. All the zoning issues would disappear once Conrad announced his candidacy for Governor of New York, but Nate was also ready to break some bones, if necessary. Ashley sniffed that Nate should leave the negotiations to them.
Over at Grayson manse, Daniel was on the phone with Helen. She wanted him to move money from the European markets to the Algiers, Bahrain and Tunisia. He worried those areas were too volatile, but she convinced him to take the risk and "facilitate reform."
Luckily, Victoria was eavesdropping. The conversation reminded her of a call she'd gotten from David Clarke after he'd been arrested. He'd insisted someone had set him up, somehow making it look like he'd handled the money that was used to blow up the infamous Flight 197. He'd been desperate, but Victoria had told him to never call her again. The memory left her shaking. Conrad was the one who'd moved the money all those years ago. Worried Daniel was falling into the same trap, she barged into Conrad's office demanding proof.
Aiden had gone MIA in the wake of his sister's murder. He resurfaced at NolCorp, confident there were clues in the video of Colleen's death. He was right. Nolan noted the file was created 6 years ago, which meant she wasn't murdered recently, as The Initiative had feigned. It also meant Emily wasn't to blame. Still, Aiden slammed the table at the mere suggestion of calling Em. He ordered Nolan to follow up on a lead and left.
By the time Emily arrived, Nolan had determined the video was shot in an abandoned Jersey City apartment. Nolan wondered why The Initiative had been interested in killing a teenager. Emily explained they'd used Colleen to manipulate her father into loading the bomb onto flight 197. Nolan wondered if Padma was being manipulated in the same way. Emily didn't care. Aiden was her priority. She tasked Nolan with searching missing persons cases in Jersey City from six years ago. 
Emily had just tracked Aiden to the abandoned apartment when Nolan called with bad news. Colleen was indeed dead. The couple even saw the coroner's file on her. Aiden had nothing left to fight for. Em' argued that he could still honor his sister. They needed to be level-headed about things. He scoffed, saying he couldn't turn off his feelings like she could. She was crushed by the slight. It was her deep pain that kept her fighting and she'd believed it was the same for him. "Don't leave me alone in this," she begged, but he walked away.
Want more TV? Like us on Facebook and follow us on Twitter.
Nolan promised to play it cool with Initiative spy Padma. Instead, he called Padma out, pointedly asking why she hadn't talked to her father in a month. "Not here," she wrote on a sticky note. Once free of prying ears, Padma revealed The Initiative was holding her father. To keep him safe, she'd gotten closed to Nolan and then found his code for Carrion. She swore her feeling for him were real. She hoped he would help her.
A freshly shaven Jack surprised Amanda by planning a mini-honeymoon. Amanda loved the idea of sailing to Nantucket, but ruined the moment by showing Jack the check from Emily. Ultimately, she convinced him it was better to be in debt to friends than enemies. Unfortunately, Conrad refused to sell back The Stowaway. When he showed Jack the hot new plans for the waterfront, Jack balked. He would never sell! But Conrad didn't need him to sell. He already had the bank reassessing Jack's viability as a mortgage holder. The bar would soon be his. Jack showed some serious backbone, promising to fight Conrad in court and with all the might of his blue-collar buddies. Conrad smiled and promised to show "principled" Jack" "what a man of means is truly capable of."
Jack felt outplayed. When his fiance overheard him venting to Declan, she sprang to action. Amanda broke into Emily's computer and walked it over to Conrad, showing him she had video proof that he'd set up her "father" David. She let Conrad believe she'd been the one messing with the Graysons of late and said she was just getting started. 
A cowed Conrad took Jack's payment and signed over the bar. Nate did not take the news well. The brute offered to "remove" the problem.
Amanda and Jack got married in the very spot in which Emily had married him as a child. After flashing back to her own happy day, Emily handed Amanda the "ring." It was the pipe cleaner from their childhood wedding. Jack was touched. He remembered loving Amanda before he'd even known what that meant. Emily seemed distraught. She had to look away. When she did, she spotted Aiden watching from above! He'd come back to her.
After the emotional ceremony ended, the newlyweds set sail for their honeymoon.
Armed with Conrad's old papers, Victoria told Daniel that Helen was with The Initiative. If he fell in with her by moving the money, he'd put himself and everyone else in danger. She'd only kept quiet because they'd threatened his life. Daniel worried that Helen would be suspicious if he didn't move the money. Victoria had incriminating evidence that would protect them, but she needed more time.
Helen and The Initiative watched the whole conversation via their clock cam. The monster went straight to the manse and let Victoria know. She warned that if Victoria didn't hand over the evidence, Daniel would be gone by morning. Victoria took a swig of her drink and walked Helen to the pool house. As Helen opened the safe, Victoria leveled a gun on her. Helen didn't believe Victoria had it in her. She was wrong! Victoria shot her in the chest. Then she called Daniel, instructing him to pretend she was Helen calling to cancel their meeting. When he got home. he couldn't believe Helen was dead on his floor. Conrad was pretty shocked by the sight, as well. 
Aiden found Emily on the beach and apologized for walking away. He was ready to make The Initiative pay and promised she'd never be alone in this. She sighed that she'd lost Daniel. Aiden wasn't worried. Little did they know, Daniel had brushed her off to protect her from The Initiative.
"From the moment we're born, we're drawn to form a union with others," Emily voiced. "An abiding drive to connect, to love, to belong. In a perfect union, we find the strength we cannot find in ourselves.,, But the strength of the union cannot be known until it is tested."
Declan had a question for Jack and Amanda and tried to call the newlyweds on the boat, but someone turned off the boat's radio. Nate was on board!
"Revenge" airs Sundays at 9 p.m. ET/PT on ABC.