'Nashville': They kissed!
'You shouldn't have to work so hard to make someone love you.'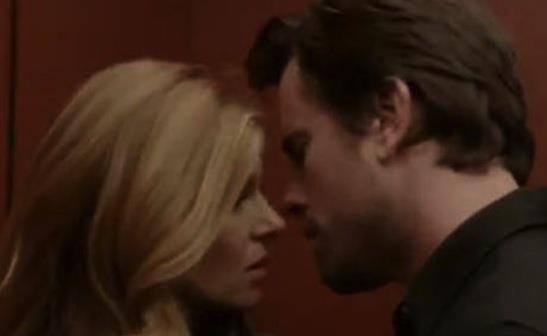 Screaming fans greeted Rayna and Juliette in Chicago. As the divas smiled and signed autographs, Juliette tried to get Rayna to admit she was pissed about Deacon joining the tour. Ranya wouldn't bite, but was definitely reeling. When she found herself alone on the elevator with Deacon, neither one of them said a word. Then she called Teddy to explain that Juliette had hired Deacon without her knowledge. She insisted she didn't want him there. Teddy wasn't appeased, especially after Rayna admitted she'd seen Deacon since firing him.
On the upside, Rayna was loving her new chick bandleader, AJ, and Deacon agreed to teach his replacement a lick he used to play during their shows. Rayna admitted having him on the tour felt awkward, so Deacon said he'd stay out her way. Too bad they were staying at the same hotel. The exes again found themselves together in an empty elevator. Rayna was excited about her new label, which was officially a go as long as she could bring in a few acts. She tried to ask Deacon about his talented niece, but he ignored her completely. Fed up, she asked Whitey to set her up with Scarlett and Gunnar so she could sign them. Whitey noted that the newfound distance between Deacon and Rayna felt like a good thing.
Deacon teased Juliette, saying he was overwhelmed by "all the glitter" of touring with her. She suddenly worried she was traveling with too big an entourage. After the show, she grumbled that the glitter, back up dancers, smoke and wind machine made her feel like an act instead of an artist. She wanted to grow up. Her manager Glenn reminded her that fans were fickle and urged her to stick with her brand. "One wrong step, you're struggling like Rayna James." Those words were ringing in her ear as she and Deacon worked on a soulful new ballad, which definitely wasn't her brand. She shared her frustration with Deacon, who recalled having the same convo with Rayna. When pushed, he admitted Rayna would stay true to herself. Juliette worried no one would follow her. "Wouldn't it be worse to lose yourself?" Deacon asked.
Want more TV? Like us on Facebook and follow us on Twitter.
At the second Chicago show, Juliette took the stage in a button down white shirt and jeans. She promised her fans she'd get to the stuff they came to see and then sat on a stool and performed that ballad with Deacon. Even Rayna was impressed, but a Tribune reviewer live-tweeted the song and slammed Juliette. Highlights included calling her a "manufactured pop tart" and using the hashtags #FailJuliette #WantMyMoneyBack. Juliette was crushed and kicked everyone out, but her assistant snuck back in to tell her that she loved the performance. Juliette was still staring at the twitter feed, so her assistant showed her the YouTube video of the performance. It had 100,000 views in less than two hours. Juliette's tears turned to joy. She told Glenn she wanted to add "Consider Me" and "Undermine" to her new album. After recent fiascos like the nail polish, the marriage and her mother's addiction making the news, she was through playing bubblegum queen. She believed her audience would grow with her. Glenn warned her against it, but she wasn't hearing him.  
Glenn tracked down Deacon and blamed him. He said the performance felt like "a Rayna/Deacon special" and told him to back off. Deacon stormed off and got on the elevator. And there was Rayna, once again. She demanded to know what he was doing on her tour - So he kissed her! "I'm done talking," he growled. When the door opened, he pulled out of the kiss and left her stunned. After ringing her hands for a while, she texted Deacon to come to her Penthouse room. He didn't hesitate.
Back in Nashville, Teddy ran into newly single Peggy. They had a warm, supportive catch up session. "You shouldn't have to work so hard to make someone love you," Peggy concluded - so he slept with her!
Scarlett and Gunnar were both having housing issues. His was still living with his former bandmates and they were giving him trouble for leaving them for Scarlett; while Scarlett was having trouble making rent, because Avery owed her money. She hoped to make rent at their next gig, but only banked $22.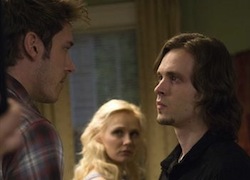 Avery's manager Marilyn seemed to be delivering. She'd even lined up an episode of "Star Towns," a TV show that followed stars around their towns. When she caught Avery Googling Scarlett, she told him to get over it, but during the Nashville tour, Avery took the camera crew to his old hood. Scarlett saw him out front and came out to see what was going on. She refused to be on camera and asked him for the money he owed her. He refused to pay up. She told him he was pathetic and then asked Gunnar to be her new roommate. 
Of course, Avery showed up to "make peace" while Gunnar was moving in. Avery apologized, gave Scarlett the money and admitted he'd wanted her to see the TV crew. The niceties ended as soon as Gunnar came out of his room. Avery assumed they were sleeping together. "You just remember who had her first," he sniffed at Gunnar. Gunnar told Avery that feeling like trash for taking up with Marilyn didn't give him the right to disrespect Scarlett. Avery threw a punch. Gunnar took Avery down with three of his own and sneered that they weren't sleeping together. After Scarlett kicked Avery out, she tended to Gunnar's lip. He admitted he wasn't always a good guy. She didn't seem to mind.
Avery stormed back to Marilyn's, packed his bags and demanded they keep their relationship professional from now on.
Rayna opened her door expecting to see Deacon, but Teddy was standing there. Deacon looked crushed as he watched Teddy go into her room. Inside, Teddy told Rayna he'd had a moment of clarity - of course, he didn't mention he'd had it while in bed with Peggy! Instead, he recounted their recent problems and admitted he'd been hoping for a magical moment where it went back to the way it was. Tired of waiting, he asked for a divorce.
Get the 411 on the music in this episode on the Nashville website.
"Nashville" airs on Wednesday at 10 p.m. ET/PT on ABC.