'The Voice' top 6 results: A favorite goes home
Amanda Brown eliminated in a shocker, luck runs out for Melanie Martinez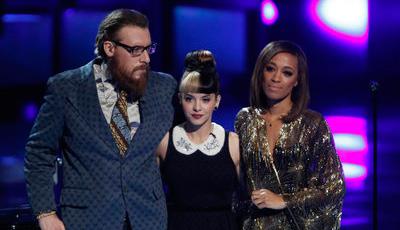 By John Kubicek
It seems like only yesterday the coaches on "The Voice" were hitting their buttons and turning their chairs in the blind auditions. Now, here we are on the verge of the Season 3 semifinals, as the top 4 singers are revealed.
Bing: 'The Voice' | Photos: See more of the action from Season 3 | LNOTV: Watch recaps
 
Will another coach join Christina Aguilera on the sidelines, with nothing to do but sing Fiona Apple songs and desperately try to jump onto Blake Shelton's bandwagon?
More: 'The Voice' on Buddy TV | Video: Watch clips and more

We'll also find out if being in the iTunes top 10 continues to ensure safety. This week, half of the artists achieved that honor, with Terry McDermott, Nicholas David and Cassadee Pope all cracking the top 10. To their credit, Trevin Hunte reached 11 with his "Dreamgirls" cover, and both of Melanie Martinez's songs were in the top 20.

Still, I'm predicting Trevin and Melanie as the two going home, though I acknowledge there's a decent chance that, in a surprise upset, Amanda Brown might go home. We'll find out soon enough.

This is "The Voice"!

Wardrobe Watch: Xtina is in a pink wig. C'mon, girl, stop trying so hard. You have nothing else to do on the show, so bust out the sweatpants and a bag full of cheese puffs. Cee Lo Green is adorned in a sequined black suit jacket.

It turns out there were four artists in the top 10 for iTunes. This means four of the contestants get their iTunes votes multiplied by 10. So does that mean the other two (Melanie and Amanda) are automatically gone? If so, I think "The Voice" needs to change this stupid x10 rule.
"Let Me Love You" by Ne-Yo and Amanda Brown
All I know about Ne-Yo is that this is the same song I fast-forwarded through while watching "90210" last week. Also, I'm pretty sure the rest of California is suffering a smoke machine shortage, because "The Voice" is using all of them this season.

Carson Daly commends Cee Lo Green because, during the blind auditions, he pushed his button for everyone who made the top 10. That says less about his good taste and more about the fact that he's a button slut who gives it away for everyone.
Want more TV? Like us on Facebook and follow us on Twitter.
Duet No. 1: Terry McDermott and Trevin Hunte ("Feel Again" by OneRepublic)
We get three duets to fill time tonight. This is an odd pairing, but I kind of like it. The song definitely benefits Terry's style, but Trevin adds some nice soul to it as well.
Results: Part 1
The first singer in the final 4 is ... Terry McDermott!

Good for him. His Foreigner performance was stellar, and now I think it's safe to assume Team Blake will have two singers in the semifinals, since Cassadee Pope is going to win the whole thing.
Duet No. 2: Amanda Brown and Cassadee Pope ("Breakaway" by Kelly Clarkson)
This song doesn't really fit Amanda's style. It's decent for Cassadee, as it highlights some of the country twang that Blake desperately wants to drag out of her. Maybe it's just me, but neither of them sounds particularly good. I feel like they're phoning it in.
Results: Part 2
The second singer in the final 4 is ... Trevin Hunte!

Ugh. I can't believe America fell for that "Dreamgirls" performance of desperation. Why isn't everyone else as over Trevin as I am? This also kind of killed the suspense, because I'm almost 100 percent certain Cassadee and Nicholas will be safe, so it seems like it's gonna be curtains for Team Adam.
"Overjoyed" by Matchbox 20, Nicholas David and Trevin Hunte
Rob Thomas is a whore. And that's all I have to say about that.
"The Voice" confessional
Everyone does impressions of the coaches. Melanie is by far the best at impersonating everyone. And Terry's mocking Adam's overpriced T-shirts with holes in them was great, too.
Results: Part 3
The third singer in the final 4 is ... Cassadee Pope!

No surprise there, since I keep saying she's gonna win the whole thing. Team Blake is looking very strong. Now I'm just crossing my fingers that Nicholas David somehow goes, since he has been a thorn in my side ever since he beat out my beloved Mackenzie Bourg in the live playoffs. Yes, I'm still bitter.
Duet No. 3: Melanie Martinez and Nicholas David ("Criminal" by Fiona Apple)
Congratulations, Xtina, you got your wish. This is one weird combo of voices, but I kind of love it. They're both so out there that it works. The only problem is that we know at least one of these two is going home soon, so it's a little uncomfortable.
Results: Part 4
Things are being changed up, as they're eliminating one singer earlier than usual. Good, now the eliminated singer can actually get a little screen time.
Melanie Martinez is eliminated!
Not much of a surprise. I honestly believe the only reason that she made it this far is because she made it into the top 10 on iTunes for the past two weeks, and got her votes multiplied by 10. To her credit, she's the last singer left from the four contestants the judges saved during the live playoffs. Maybe if she and Adam had focused more on her singing and less on creating a magical stage performance, she wouldn't be going home.
The final results
Then there were two. Will Adam Levine join Xtina on the sidelines, or will my own personal nightmare come to an end?

The fourth singer in the final 4 is ... Nicholas David!
Amanda Brown is eliminated!
That's a damn shame. So now Team Adam is done, and the semifinals will pit Team Cee Lo against Team Blake.

I think now is definitely the time to reevaluate the iTunes top 10 voting rule. The fact that the four singers who made the top 10 -- and therefore got their iTunes votes multiplied by 10 -- are safe, while the two who didn't are going home, clearly suggests it was probably an important factor in the decision.
BuddyTV: Check out John Kubicek's pre-show predictions and analysis
BuddyTV: Don't miss another episode! Keep up with your favorite shows, like "The Voice," using the BuddyTV Guide app!
"The Voice" airs Mondays and Tuesdays at 8 p.m. ET/PT on NBC.