'Revenge': Unspeakable loss
Nate wasn't the only one to go down with The Amanda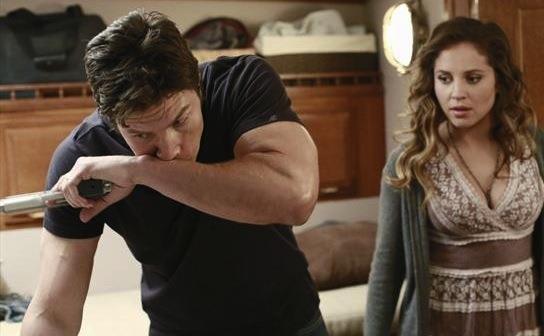 "Sacrifice, by its strictest definition, takes something precious in exchange for the appeasement of a higher power," Emily voiced as divers searched the ruins of The Amanda. "True sacrifice demands unspeakable loss."
Bing: More on 'Revenge' | Watch clips and full episodes of 'Revenge'
Jack and Amanda sealed their union with a romantic tryst on The Amanda. Nate was also on board, but the thug was nice enough to wait until morning to surprise the newlyweds with his gun. When he realized Amanda was the one blackmailing Conrad, he demanded her computer and the proof that was on it. She managed to pull a gun on him, but it wasn't loaded, so she tried another tactic. Jack listened from downstairs as his new wife explained that he was just a part of her revenge plan. While she suggested Nate team up with her to take down the Graysons, Jack darted back downstairs, found Declan's laptop and turned it on. 
Conrad, Daniel and Victoria disposed of Helen's dead body - Or rather, Victoria dressed up like Helen and got into her chauffeured car, while Conrad handled the body. They were going to set up Amanda and put an end to her threats. Daniel was horrified, but played along with his mother's plan, which involved staging a spat for The Initiative's camera. As scripted, she barged into his office and announced that she'd handed the evidence over to Helen. He in turn pretended not to believe he had been in danger, to begin with. 
Want more TV? Like us on Facebook and follow us on Twitter.
Back at the manse, Conrad moved up his gubernatorial announcement and told Ashley she must help keep him safe from Amanda. Instead, Ashley went straight to Emily and warned her that Amanda was in over her head. Emily was floored to hear Amanda had used her computer to blackmail Conrad. Ash' seemed to be hoping the gesture would get her back in Emily's good graces, but Em' gave her the brush off and rushed over to Amanda's place. Conveniently enough, Charlotte was there looking at wedding photos and shots of the honeymooners before they set sail. Emily spotted Nate hiding on board The Amanda. She immediately had Nolan track Nate's phone. It was clear he was still with the boat. When Declan's computer went online, they were able to hack into it. Once they saw Jack staring nervously at the screen, there was no questions something was wrong. They hopped on a speedboat.
Jack came upstairs and railed at Amanda for using him. Then he told Nate that Amanda's laptop was downstairs. While Nate went down to find it, he staged a fight with Amanda. The tension seemed very real, even though it was just a ploy to trap Nate downstairs. When Nate tried to shoot his way out, Jack was hit. Amanda threw her bleeding husband in the lifeboat and kicked the boat away. She stayed back to wrestle with Nate and give Jack a chance to get away.
Emily and Nolan raced to find Jack. He was unconscious but alive when they pulled him on board. Nolan rushed Jack to the hospital, where he went straight into surgery. Emily, meanwhile, took Jack's place on the life raft, determined to save her friend.
When Amanda came to, she was downstairs. She intentionally sprang a leak in the boat and then slammed Nate over the head. Emily showed up just in time to deliver the next few blows. After some more wrestling, Amanda shot Nate. Unfortunately, he'd accidentally shot the propane tank. As the girls were making their getaway, Amanda launched back onto the boat to save her necklace. She spotted Nate lighting a cigarette and tackled Emily. The boat exploded around them.
Charlotte and Declan were playing house with their nephew when Victoria stopped by to invite her daughter to come home for their annual Labor Day party. Charlotte didn't want to fake any more Grayson smiles. Lucky for Victoria, their A/C was out. She invited the "family" to cool off at the manse. While she waited for them, she dumped some of Helen's things under Amanda's bed.
Conrad cooed over his wife at their soiree. She reminded him their deal would end with summer, which meant their reunion was almost over. He said the deal was off. He needed her by his side to win the Governor's race. Plus, they had to deal with The Initiative. Right on cue, a man named Trask showed up looking for Helen. After Victoria revealed she'd handed the proof over the Helen, Conrad dropped the Amanda bate. Then they kicked him out. Trask went right to Amanda's and found the evidence Victoria had planted.
Aiden wanted to use Padma to get to The Initiative. Emily didn't trust her and Nolan balked at using his girl, but Aiden won. Aiden shared his story with Padma. He told he wanted to help her and instructed her to find Helen, so she called Helen and said she had her hands on Carrion. She wanted proof that her father was still alive. 
Trask received the message. Then he called someone and said, "Helen's been compromised. I need to arrange delivery." That apparently meant sending Padma her father's finger!
Emily survived the explosion, but Amanda was barely holding on. Week as she was, she made Emily promise to take care of Jack and her baby. She wouldn't accept Emily's apology. "You've given me the one thing I thought I'd never have: A real family," Amanda gasped.

Emily flashed back to the night they'd parted as girls. She'd given Amanda the necklace and promised she'd be back for her. "We're sisters, right?" a tearful Amanda had asked. "I love you."
As the life passed from Amanda's eyes, Emily cried, "I love you, too."
Back at the Graysons' party, Conrad announced his candidacy with his family standing behind him. Charlotte and Victoria were working the Grayson charm, but Daniel wasn't smiling. Later, his parents calmly discussed the cooling weather. "How are we going to live with this?" Daniel demanded. Victoria told him they'd carry on like nothing happened, just like always. As for setting up Amanda, the way they'd set up her father all those years ago? "She chose the wrong enemy," Victoria shrugged.
Emily let Amanda's lifeless body slide into the water. She was sobbing, but her resolution was only hardened. This ultimate sacrifice had left her with "an undying devotion to a cause greater then oneself and a moral duty to see a journey through to its absolute completion."
"Revenge" airs Sundays at 9 p.m. ET/PT on ABC.