'The X Factor' top 10 perform: Contestants give thanks
Emotional tributes and twice the Kardashians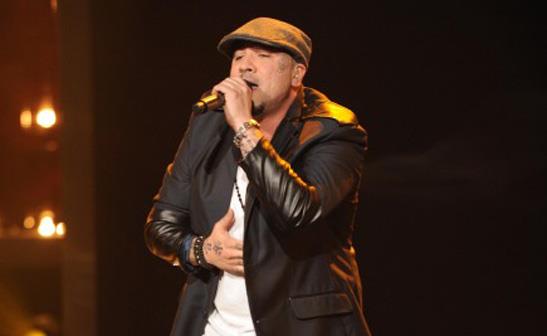 By Jilliane Johnson
There is one more day until that stuffed turkey hits the dining room table. So before you clean house and welcome your entire family over for a Thanksgiving feast, sit back, relax and enjoy "The X Factor"!
On this night, the top 10 perform live for your votes. We lost some fan favorites last week. Do you think Wednesday's performances will turn this season's elimination shockers around?
Bing: 'The X Factor' | Photos: Season highlights | LNOTV: Watch recaps
Well, guess who is sitting in the audience this evening? It's Khloe Kardashian-Odom's more infamous sister, Kim. She smiles big and waves to the stage, but is she motioning to Khloe or Mario Lopez? Interesting. In any case, the top 10 and their mentors walk out on stage, and the show is on!
Tonight's theme: Dedications to the people you're thankful for (Try saying that three times fast.)

Tate Stevens
Category: Over 25s
"I'm Already There" by Lonestar
Thankful for: His father
Give this man his own arena, already: Tate Stevens is already there. He's a veteran performer without having ever setting out on a tour. How does he do it? It's going to be hard to knock this one off of his throne at the top of the voter rankings.
"I feel as maybe this wasn't your best performance, but you're still incredible," says Demi. She and Simon noticed the shakiness in Tate's voice. Well, yeah! I'm sure he got emotional after singing to his father. For once, I agree with Khloe as she voices my opinions to America. "I didn't hear any cracks in his voice," she says. Hear, hear, Khloe!

Diamond White
Category: Teens
"Because You Loved Me" by Celine Dion
Thankful for: Her mother
The only critique that I would give Diamond, were I a judge being paid millions to give my opinions, is that her emotions sometimes get lost in the showmanship of her performances. She has an amazing voice that seems to have reached a new level tonight with this song selection. Move over, Tate!
While Demi holds back tears, L.A. believes that Diamond will be around for years to come. "You have never had a moment like that," he says. No doubt about it, Diamond is in it to win it. She's just established herself as a threat.
Khloe backstage
Khloe finds out that Beatrice Miller has no added pressure this week. It's probably because she knows Britney will save he,r no matter what. Yeah, I said it.
EMBLEM3
Category: Groups
"Secrets" by OneRepublic
Thankful for: Ben and Drew, spiritual leaders
It's nice to see the awkward moves slowed down for a bit as Wesley, Keaton and Drew take seats on stools. There's even a string ensemble behind them. The harmonies are good, and the girls' screams are even better.
L.A. was looking for more emotions from the trio this week. Unfortunately for him, he's the only one who thinks that way. Britney, Demi and Simon are all happy with EMBLEM3's performance.
Arin Ray
Category: Teens
"Hero" by Enrique Iglesias
Thankful for: His older brother
Sorry, ladies! Apparently, Normani, of Fifth Harmony, is Arin's "friend thing." Cute. Now let's take a turn toward an odder topic. Arin is thankful for his brother, yet Britney has chosen a love song for his performance. I just cannot get lyrics like "I can kiss away your pain" out of my mind. He does sound a lot better than last week, though I think he still lacks confidence on stage.
"If I owned a record label, I wouldn't have signed you. I was just really bored," Demi says. Simon asks Arin what he wants out of his performances. Arin is confident with his answer, stating that he wants to be himself. "I wanna dance for y'all because that's what I do," he says. Let's hope that if America keeps him in the competition, Britney lets Arin choose his own song.

CeCe Frey
Category: Young Adults
"Wind Beneath My Wings" by Bette Midler
Thankful for: Her older sister (who has passed)
I really want her to perform better because of who this performance is dedicated to, but I just can't. Yes, the emotion is there. Her voice is so shaky that she can't even manage the last lyric. It's touching, yet I would not buy her album.
"I have to praise you because your emotion was so genuine, so real," L.A. says. It's as if he took the words right out of my fingertips.
Most inappropriate question of the night: "What did it feel like, singing that song to her?" asks Khloe to a sobbing CeCe. How do you think she felt? How does Kim deal, honestly?
"I was told that if I sat on your lap that you get really excited," Khloe asks Simon, and then demonstrates.

Fifth Harmony
Category: Groups
"I'll Stand By You" by the Pretenders
Thankful for: The Lord
This is the perfect song choice. The arrangement complements their harmonies amazingly. Camila really stands out every time the girls perform, but the others are finally beginning to catch up to her. I stand by my prediction. We'll see them in the finale.
"I love watching you girls together because it's really genuine," Demi says. She loves the performance, even though she wasn't so crazy about the song choice. This is coming from the girl who believes CeCe has a shot.
Beatrice Miller
Category: Teens
"Chasing Cars" by Snow Patrol
Thankful for: Twin baby sisters
This little girl is having to grow up so much on this show. I admire her and all that she wants to do with her family. Perhaps it's the pressure of all this that hinders her performances at times. The emotion is definitely coming out this night. Even Britney shows feeling as her eyes well.
L.A. believes that Beatrice is an inspiration to other little girls. Demi, on the other hand, wants to see her do things that are more appropriate for her age. Which would you prefer?
Vino Alan
Category: Over 25s
"Proud to Be an American" by Lee Greenwood
Thankful for: The military
Does anyone else feel as if they need to call in to send their ten dollars? I understand the meaning behind it, and the feeling is there from Vino, but it just looks like one big gimmick: an eagle, a choir, the whole nine. Aren't there patriotic songs with some soul?
Simon says, "You don't judge a book by its cover, because who knows that underneath that hard shell is a really soft interior." I have to agree with Simon. Vino has a great personality, and his admiration for the troops is admirable as well.
Paige Thomas
Category: Young Adults
"Everytime" by  Britney Spears
Thankful for: Her adoptive mother, Colleen
Smart play, Demi! Choose a song originally performed by one of the judges and make sure your act sings it better. Done and done! Paige has come a very long way from using all of the spectacle to win votes. Her voice truly shines tonight.
"I think you performed it beautifully," Britney says. Paige takes the time to explain to Khloe and America how she feels after her emotional performance. "I'm here to show that people go through hard times and I'm there with you," she says. It's all about the emotion, so forget about the pitch this week. Except for whoever falls in the last spot with votes, of course.
Carly Rose Sonenclar
Category: Teens
"Somewhere Over the Rainbow" by Judy Garland
Thankful for: Her older brother
How does a girl this young have this kind of control over her voice? Shouldn't she be worrying about puberty or something? This last note is just unfathomable.
"You went to two big notes," L.A. points out. "You only needed one!" Demi thinks she's an alien, and Simon believes she'll be No. 1 next week. No doubt about it, Carly Rose has taken this competition to an all-new high.
That's it, folks. The lines are open for voting. Who earned your vote this night? Was it the incredible and awe-inspiring Carly Rae? Perhaps it was the scream-provoking EMBLEM3? Could it possibly be CeCe Frey, trying to creep her way up from the last spot on the leader board? Leave those comments below!
Thursday on "The X Factor," there will be more upsets as two acts go home. Also, Cher Lloyd, a contestant from "The X Factor UK," will perform. Tune in for a special Thanksgiving episode on FOX.
BuddyTV: Are Khloe and Mario passing the co-host test?
BuddyTV: Don't miss another episode! Keep up with your favorite shows, like "The X Factor," using the BuddyTV Guide app!
"The X Factor" airs Wednesdays and Thursdays at 8 p.m. ET/PT on FOX.

Khloe is so stupid. She has this stupid smirkey smile thats so annoying. She doesnt know what the heck she is doing up there... she is so phony!!! She is a big AMAZON women. She needs to lose weight.. you can see her ROLLS in that black stupid looking dress she was wearing. She needs to do something with her FACE. Her facial impressions are SO GAY!!!  God Khloe YOU ARE SOOOOOOOOOOOOO ANNOYING!!!!! and please continue to wear dresses/skirts that cover your knees.. your KNEES are SOOOOO GROSS!!!! scrub them or something.. get a KNEE LIFT.. they look dirty and they are saggy... LMAO... YUCK!!!!!!!!!!!!!!!

If Khloe comes back next season. I will not watch. How can she criticize LA for his opinion on a singer? I think that she is a real COW just by the outfit that she was wearing. Is CeCe for Real? I can't believe how she has the judges fooled. She is a real Phony. Fake tears, Ugly dyed blond hair etc. She can't sing period. You all need to keep JUST Mario as a host. And only him.
Are you sure you want to delete this comment?