'The Bachelor': And then there were three
One woman's brother puts a major crimp in her style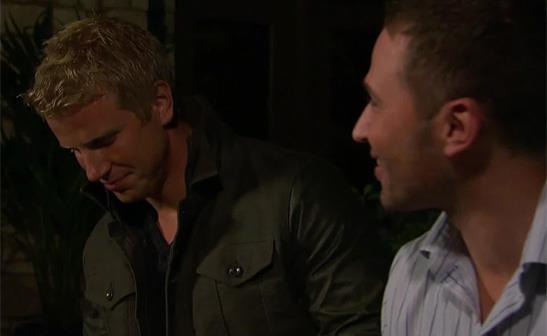 Unbelievably, we're back from the Caribbean and it's already time for hometowns. It seems like it was just a few weeks ago that Sean met all these women he now interchangeably says have "all the qualities he looks for in a wife." Actually.... 

First up is professional organizer AshLee, the control freak who fits the description so well that she made it into her actual job. She is into Sean, and there is no talking her out of it, even when she shifts uncomfortably into slightly gushy territory: "To bring home this man ... I have been dreaming about this day as far back as I can remember," she says. A few weeks ago? When she met him? When she saw "Les Miserables"? ("Bring Him Home" ... etc.) Who knows. What we do know is that AshLee's dad -- like Sean's dad -- is a reverend. "I think they're probably pretty similar," Sean says. AshLee's still talking about what was for her a five-star response to last week's revelation that she'd been married, briefly, in high school: "Your response -- I'm not going to cry -- I couldn't have dreamed it would be that good. 'You're not broken?' That's exactly what my dad would say," she says. "You're so handsome -- I love looking at you." Who else needs to think AshLee, for her own sake, needs to dial it down a notch? 
AshLee's parents want some of the details on their time together, and AshLee's all too eager to tell them about her ah-ha moment on the shores of Lake Louise. This is definitely the most spiritual description a polar bear plunge has ever gotten: "I stood there and I looked at this lake and I said, 'I have to leave every fear of abandonment behind,' and I jumped in, and in my mind I submerged everything and left it behind and then I came out." It's a good thing AshLee's dad is a reverend, actually, because she's going to need some serious spiritual guidance if this thing with Sean doesn't break her way. Then she tells her parents that "we rolled around in the sand," and really, that was a little bit too much TMI for her parents, anyway. AshLee's mom is generally on board ("Her eyes show she's madly in love") except for the whole part about Sean also dating three other women: "Are you going to break her heart?" "It's certainly not my intention," Sean says. Then her dad asks him nearly exactly the same thing. "She's put a lot of her heart into this, so it's probably a good thing you live in Dallas so I don't run into you [if you hurt her]," he says. "Don't let that weigh on your decision." LOL. Sean officially gets the blessing, but it seems pretty clear that this wasn't a five-star outing. 
Next up is Catherine's hometown date -- which, remarkably, looks like it goes even worse. AshLee's date was, roughly, fine -- but Catherine's date comes across as a slow-motion disaster, at least when her sisters decide to do her in. The first half of the date looks fun and normal: "I love Catherine's energy," Sean says. Catherine adds: "I love the way he smells, I love his big beefy arms ... I love the way he accepts me for who I am." Both of them are into their regular-day-out date: "It feels like we've been boyfriend and girlfriend for a while, and this is just something we'd do on a normal Saturday." Catherine teaches him a Filipino gesture of respect for an elder, which involves touching their hand to his forehead. He seems to do this moments later for Catherine's grandmother, to absolutely no particular reaction from her. 
Here to provide much more in the way of reaction is Catherine's sisters, who come across as Cinderella's evil step-sisters. First, they tell Catherine that they're not totally feeling the process: "I feel like I'm your big sister, and I support whatever you do, but I feel like you're trying to convince us to like him," one says. (Catherine totally is doing that, but it seems like a pretty forgivable sin.) "I wouldn't be here if I didn't really like this guy," Catherine says. Sean has his turn with them next. "Do you think she's honestly in a place right now where she could settle down?" The short answer to this is "no way." The longer answer is: "She goes in 100 percent with guys and then when fun doesn't work out, she'll just kind of do whatever and obviously she's here," one says. It's not exactly a ringing endorsement. Also, she's messy. "It's not like she's dirty -- it's just, clothes everywhere, at all times," the other one says. And then there's talk of her "extreme moods." If you're looking for a cheat sheet on how to get a guy to stop liking your sister, here you go. There's one last parting shot before we move on. It comes courtesy of Catherine's mom: "This is an adventure; it's vey unique. Can it work? Don't know." And that's all the fun we're going to have in Seattle. "Her sisters brought up things about Catherine that made me doubt our relationship," Sean says. Now, granted, he has incredibly limited time with everyone -- but who else thinks he should lay off Catherine a bit and take the information he got from her sisters with more (many, many more) grains of salt? 
Sean looks like he's absolutely terrified of the date with Lindsay -- at Fort Leonard Wood in Missouri -- and this is mostly because her dad is a two-star general. Lindsay, Sean tells us again, has all the qualities he would want in a wife. "I love her youthful energy -- she brings out the kid in me," he says. They get cupcakes, and Lindsay advises Sean to call her dad "Mr." instead of "General." Then she makes him do sit-ups while she kisses him. It's really that boring. Sean says that thing he always says about "I figured out that she was more than just the crazy person in that dress," and then, of course, Mr. General asks if he's in love with Lindsay. Sean's reply: "I'm not in a position to say that right now." Somehow, Lindsay's dad offers the most middling possible endorsement of Lindsay's ability to act as the prime decision-maker in her own life -- the metaphor involves paratroopers -- and Sean shuffles off. The weird thing is that this hometown visit goes way better than the one that precedes and follows it, so this counts as a win for Lindsay. 
Finally, we come to Desiree's date in L.A. Des takes Sean hiking: "The other dates are so extravagant and I really enjoy to take this time as a real couple." They go back to her apartment to prepare dinner for her parents and brother, and that's when things begin to get weird. First, a random dude shows up on her doorstep and begins shouting: "Des, I love you -- I've been texting, calling -- where the hell have you been?" "I've been busy," she says. Written out like that, it looks like the sixth-grade play it sort of is. "You're going to be with this actor?" Des's "boyfriend" asks her. Sean's fists are clenching, but then ... surprise! It was all a surprise. "Gotcha!" Desiree says. She has now officially paid him back for making her believe that she had destroyed a priceless sculpture, earlier in the season. 
If only Des had been so lucky the rest of the night. Trouble's coming, and his name is Nate. "Just don't fall for it," Des's brother advises her. "I'm thinking this is like not going to work -- this is stupid, almost." This all comes across as partly what every
brother/father/mothe​r/sister
should do in this situation, and partly just annoying and embarrassing. Nate eventually sequesters Sean for a private tete-a-tete. "She's really into you, but you're not really into her," Nate says. "Are you really that into her?" Sean says, "I'm crazy about your sister." Nate's reply: "You're crazy about a lot of girls, right?" If only he knew. "I think you're just a playboy -- you're having fun with the circumstances." Sean is getting riled up all over again: "I'm sorry I gave you that opinion, but that's not me." Sean takes off what seems to be pretty soon afterward. Des doesn't even know how badly things have gone at this point. "I'm really disappointed," Sean says. "It's not at all how I wanted the night to end." 
Sean and his heavy heart go back to the mansion for the rose ceremony. Lindsay and AshLee are safe, he says -- but as for the other two, it's anybody's guess. "I was really hoping for clarity, and I didn't get it," Sean says. "I'm confused." He mostly seems subdued by the prospect of Nate being at his dinner table for all time and forever, but of course he wouldn't be, and besides -- could it really be true love if Sean is so easily swayed by an obnoxious in-law? Doesn't everybody have one of those? That's not how Sean sees it: "He's always going to be there, and he's probably always going to get under my skin." Meanwhile, he's feeling down on Catherine because "she's very independent and she definitely has big, lofty goals." Yikes? 
Right as the rose ceremony is about to begin, Des pulls Sean away for a private talk, which mostly consists of her crying and probably wishing her brother had never been born. They return, and Sean gives roses, as expected, to AshLee and Lindsay. As for the final rose, Sean puts it down ... and just walks off, to stare at pictures of the four women in that weird little room off to the side. "I am having a hard time here," he says. Chris Harrison, who doesn't seem to be enjoying this season nearly as much as Emily's, is moping and tells him to "get this right and take your time." 
It's Des who's going home. Is it her brother's fault? Or was her brother right the whole time and Sean just wasn't that into her? Would she have gone home tonight if Nate hadn't shown up for dinner? "You have every quality I'm looking for in a wife," Sean tells her, which is almost exactly what he said about to Lindsay to her dad. A tearful Des is not feeling it: "I honestly feel like i can make you the happiest." "I've been praying for clarity this entire time, and this rose ceremony i didn't get it," Sean says. Either way, Des is on the way home, after a hug that lasts an uncomfortably long time. "I'm going to miss you so much -- I really am," Sean says. Des's reply: "Then don't let me go." He does, though. 
Who has a guess for what her relationship is with her brother by now?