FEATURED POST
Alison Sweeney, Chandler Massey and Deidre Hall open up about recent storyline at OUTFEST
Will Horton has come out as gay on "Days of Our Lives." Sami and Lucas' son kissed a boy back in February, but on Thursday, April 5, Will made it official, thanks in part to Grandma Marlena. The plot now turns to his coming out to the rest of Salem, and that process could take awhile. In the meantime, "Days of Our Lives" and OUTFEST celebrated the landmark storyline and Will Horton's character in West Hollywood, and MSN TV was on hand to get the dish from everyone involved in the story, including Chandler Massey (Will), Deidre Hall (Marlena), Alison Sweeney (Sami), Bryan Dattilo (Lucas) and Lauren Koslow (Kate).

Bing: Watch clips and full episodes of "Days of our Lives" | More about OUTFEST

It's a storyline that's been building for over a year, but Will has finally taken the hardest step. "After all the tears, the crying, the struggle and the angst, the actual moment where he accepts [that he's gay] came easy," Massey recounted in the video above. "Will's done denying it and it turned into a fun afternoon with Grandma, which is great. It was a nice moment and it's been a long time coming. It was almost a relief. Even though I'm playing a character, I've been playing this conflict for so long I felt like I, personally, had a huge burden lifted off my shoulders."
Members of the LGBT community were ready to throw Grandma Marlena her own party.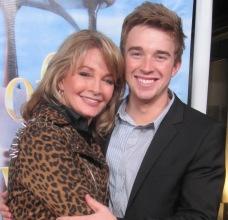 "I could not be happier with the Will storyline," Hall raved in the clip below. "I'm the luckiest girl in town. I have a
website
, and when I write anything about the storyline, I get hundreds of responses. Everybody is wildly accepting and supportive, and a lot of gay men are writing, 'I wish I had Marlena when I was going through that.' It's a nice example for family. As a parent, we always know we don't raise the kids we want: We raise the kids we've got. We have Will, as he is."
Lauren Koslow contends that message is what makes this storyline transcend the gay issue. "It's dealing with a specific issue, but it's also about coming of age and finding out who you are," she explained. "What I love is that it's not an overblown story. It's about dealing with the issue of owning who you are and realizing that you're loved."
As fans know, Grandma Kate embarrassed Will by being too accepting. Having long assumed he was a homosexual, she approached him about it before he'd even accepted it. She was just being her fierce self and hopes he'll take the example.
"Kate, who's been an outsider most of her life, wants to warn him: 'People may not like you. People may love you. That's okay. You don't have to conform to other people's ideas of who you should be. She certainly hasn't!'" Koslow said. "She's very supportive of him and that's the special thing she brings to him - to be fierce."
While the grandmas and gay BFF Sonny have been instrumental in Will's journey, Hall gives Massey and the show's
recently fired headwriters
credit for making this storyline work.
"It's so rich, touching, humane and beautifully written and it's just been delicious watching him," she raved. "Through it all, he's known how he wants to do it. All we do is push, shove, laugh and share meals, so it creates that intimacy, but this work is all his. There's no place that he's not looking, and you will see more of that intensity in the next few months."
Hall is referring to the continuation of this story, as Will begins to reveal himself to the rest of Salem. "He comes out differently to different people," she previewed. "Everybody has a different reaction. Some people don't [react well], some people do, some people are nervous about it, some people are in denial – it's all there."
Will thinks his parents won't take it well, but a proud Lucas may just surprise him. "It's not an easy thing, exposing yourself like that," Bryan Dattilo (Lucas) teased. "It will be hard, so Lucas will be sympathetic and willing to defend him. He'll be waiting for someone to cross the line - He wants to throw a right hook!"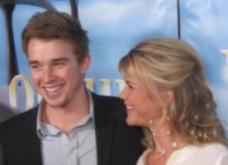 But Sami will be, well, Sami. "I was on pins and needles, wondering, 'How is Sami going to react?'" Sweeney teased in the clip above. "The funny thing about Sami, in any situation, is that you do wonder what her reaction will be. You can count on it to not be an average person's reaction and this is certainly no different. She definitely has a very Sami reaction."
Sami may not be ready for what her son has to tell her, and to be fair, neither are some daytime fans.
"One of the amazing things about "Days of Our Lives' is that we've never shied away from breaking storylines," Sweeney maintained. "This is certainly another example of storylines that get people talking."
"Anytime you get into a story that transcends the arena, you'd like to be a part of it, because you're changing people's lives," Datillo added. "If we can help with that, that's great."
Sweeney, however, had to laugh when asked about playing a storyline that may leave fans divided. After all, she's been playing Sami for almost 20 years.
"Oh, please. I have never not been involved in a storyline that got mixed reactions!" she said, before getting serious. "Obviously, this has some higher stakes on the political landscape than some of the other stories I've been a part of, but at the same time, part of being in entertainment is that you get people talking, on both sides of the conversation. I have always worked hard to understand everybody's perspective and that people do have a valid point of view, so I'm interested. I can't wait to hear people's reactions. Bring it on!"
"Days of Our Lives" airs weekdays on NBC.