FEATURED POST
Julian Fellowes wishes that the show could have kept Matthew Crawley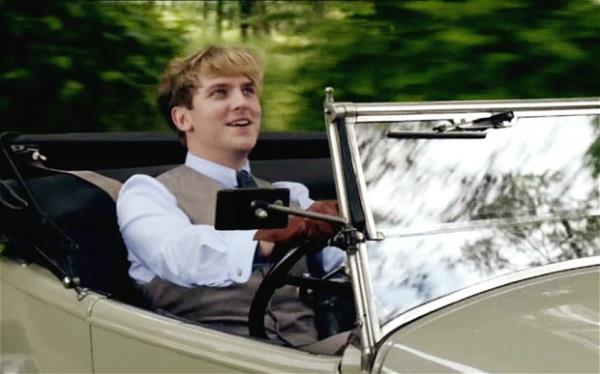 Warning: Spoiler ahead. Do not read if you don't want to know what happened on the "Downton Abbey" Christmas special that aired in the U.K. Proceed at your own peril!

If you haven't yet seen the"Downton Abbey" Season 3 Christmas special, you're definitely going to want to skip reading this.
But if you've managed to see the episode in question -- which aired in the UK on Christmas Day -- you'll understand why Brits are calling the ITV Christmas special a "tragedy" and a "travesty." Some even said the plot turn had "ruined Christmas." Yes, Brits can be dramatic, but they were just that effected by the departure of one of the show's central characters, Matthew Crawley -- played by Dan Stevens -- in quite an irreversible fashion.
Fans of the show have long been following the drama of Stevens' departure, and now creator Lord Julian Fellowes is speaking out about it for the first time in the wake of the Christmas episode, which wraps up the Matthew Crawley plot line in quite a final and fatal way. 
Fellowes told Brit paper
the Daily Telegraph
that if there had been another option, he'd have kept the Crawley character alive "without question."
But he reports that despite the producer's best efforts, he couldn't convince Stevens to stay. "We would have loved to keep him," he told the Daily Telegraph. "We would have loved to keep Jessica [Brown Findlay] too. We tried to persuade him to stay. He had done fantastically well for the series and his creation of Matthew was terrific. But this is life. Dan felt that this was the right thing for him, and the right moment to move on to different arenas."
But did that have to mean sudden death for the character? Apparently so. "If [Stevens] had been prepared to come back for maybe two or three episodes in a series, that would be different. Then we could have had a foreign posting or invented a career that would have made it possible for him to be away. Otherwise, we would have had to make this tremendously successful love affair between Mary and Matthew unhappy, which I didn't feel would be believable. For them to separate and Matthew never to set eyes on his son again would not be believable either. So we really didn't have any option. By him dying, their love can remain intact."  
And don't expect any "Dallas"-style resurrections for from Fellowes. "Matthew wil be dead," he said. "Mary will not find Matthew in the shower -- that I can promise."
In the end, he wishes Steven the best. "I'm pretty sure he's got a terrific future," Fellowes said. "We will miss him." 
Stevens has said that he chose not to renew his contract after three years because of a "desire for freedom." "We were always optioned for three years," Stevens told
The Daily Telegraph
. "And when that came up it was a very difficult decision. But it felt like a good time to take stock, to take a moment. From a personal point of view, I wanted a chance to do other things."
So what does the future hold for the show? A statement from ITV noted that Michelle Dockery, who plays Matthew's wife, Mary, will be returning for Season 4. "In the next [season], alongside all the usual drama, comedy and romance involving the much-loved cast of characters, viewers will see Mary adjusting to her life and attempting to move on without the man she loved." 
Season 3 of "Downton Abbey" will air in the U.S. on Sundays at 9 p.m. ET/PT on PBS, beginning January 6.