FEATURED POST
Actor asks fans to not 'judge' his former 'SNL' co-star's recent racial outburst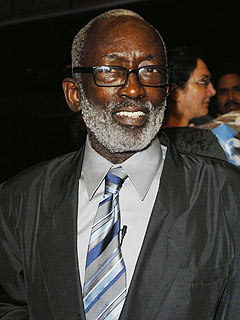 Garrett Morris is an outspoken man.
So it's no wonder people have been asking him a lot lately what he thinks about his fellow "Saturday Night Live" cohort Chevy Chase's recent outburst and use of the N-word.
Bing: More on Garrett Morris | Chevy Chase  | Chevy Chase's outburst
"I can see where he's coming from," Garrett, 75, told MSN TV, adding that even his costars on CBS' "2 Broke Girls" wanted to know his opinions on Chase. "I can't say that I agree with him blowing up on the set but maybe, sometimes, that's what you have to do. You don't know how long it's been going on.
"Don't do the judging thing."
Plus: TV's creepy smilers | TV's Halloween specials
Morris starred alongside Chase on "SNL" from 1975 to 1976 until Chase left the show. Morris left in 1980. He said although the two haven't spoken in years, he is still grateful to Chase, 69, for writing the hearing-impaired sketch, a bit Morris is still known for.
Oddly enough, Morris is more disappointed that Chase didn't keep his cool than in his choice of words. Chase supposedly used the slur to make a point about his character's increasingly bigoted views on "Community." 
"I would never do that," Morris said, in regards to Chase's course of action. "I would have my own way of doing it. I would go to my agent or my manager. Essentially, unless you're against the wall, let them look bad."
Morris, who also owns a comedy and blues club in Los Angeles, said he's proud to be a part of an edgy comedy like Michael Patrick King's "2 Broke Girls" and embraces shows and artists who are politically incorrect. On Monday's show, Morris' character, Earl, will get more of a back story and even a son (guest star Cedric the Entertainer).
He also said he wishes his old show, "SNL," were more daring like when it first started. 
"They're trying to stay popular and make money and you can't blame them for that," Morris said of "SNL." "I prefer Michael Patrick King's approach."
"2 Broke Girls" airs Mondays at 9 p.m. ET/PT on CBS.