FEATURED POST
Soap fans and stars celebrate the news on Twitter, 'GMA' to expand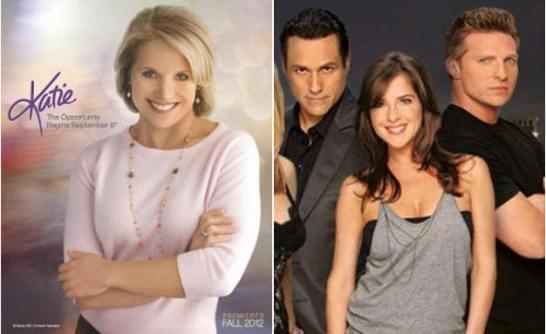 Soap opera fans have been targeting "The Revolution" as a means to save "General Hospital," and even Katie Couric took a stand against having that show as a lead-in for her upcoming ABC talk show, launching this fall. Now, it looks like they're getting what they wanted. Word comes that "General Hospital" will stick around and "Good Morning America" will launch an afternoon summer show, while "The Revolution" is getting the proverbial ax. Needless to say, "General Hospital" fans and stars are doing the happy dance on Twitter.
Bing: More on "GMA" | "General Hospital" | Katie Couric

Since "The Revolution" took over the "One Life to Live" time slot, the transformational talk show hasn't managed to build a following. Soap fans feared ABC would stick by the show, in spite of its paltry ratings, and cancel "General Hospital," but MSN TV has confirmed the big news broken by Deadline.

"The Revolution" will go off the air the first week of July. And then, on July 9, "GMA" will continue its campaign to take down "Today" by launching a summer series, currently titled "GMA in the Afternoon." The new show will be lighter in fare than its namesake and will feature members of the "GMA" morning crew, as well as some new faces, according to Deadline.

The idea seems to be that "GMA in the Afternoon" will serve as temporary filler, until "Kate" premieres Sept. 10. But if it performs, it's hard to believe ABC will let it go.
The "General Hospital" Twitter Party
In the meantime, "General Hospital" is safe and will survive to see its 50th anniversary next April, which has fans and castmembers spinning on Twitter. Here are a few of the posts:
Maurice Benard: "I just heard we're going to keep going. What can you say about Frank, Ron, the crew and everybody at General Hospital? Im just so damn proud" and "I also wanna thank the audience, which means the fans, for turning this around because the bottom line is ratings"
Laura Wright: "Wooo hooo Hell Yeah!!! GH Stays!!!! Thanks so much to @valentinifrank @carlivatiron. And all the fans!!!!! #GH rocks!"
Steve Burton: "Much luv to the fans for keeping #GH Alive. Congrats to all."
Nancy Lee Grahan: "One year renewal! Thank you ABC, GH fans, and @valentinifrank and @carlivatiron. What a difference! Upward! ... @MauriceBenardMB we left too early today. They're all whooping it up on set right now! xoxo"
Bradford Anderson: "Congrats to all! And thanks to our incredible viewers!!"
"One Life to Live" veteran Farah Fath may have put it best: "ABC cancels OLTL replacement The Revulsion. mm-hmm... It's hard to even muster up an 'We told you so.' smh. #DUHHHH!!!!!! Congrats to General Hospital cast and crew! A soap renewal in 2012 is nothing short of victorious."
"General Hospital" and "The Revolution" air weekdays on ABC.