FEATURED POST
Following in Katie Couric's footsteps again, 'Today' alumna eyes fall 2014 launch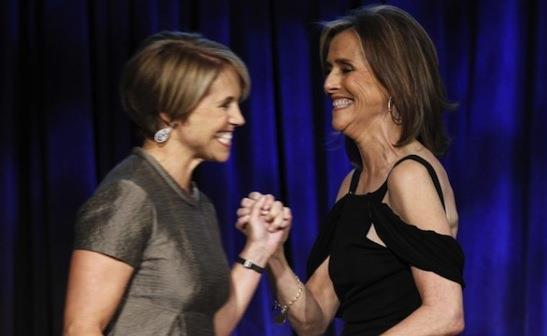 When Katie Couric left "Today," "The View" moderator Meredith Vieira filled her post. Now, word is Vieira is looking to follow Couric into the daytime talk show game. The exiting "Who Wants to be a Millionaire" host will shoot a pilot with NBCUniversal Domestic TV Distribution in hopes of a fall 2014 launch. 
Bing: More about Meredith Vieira| Katie Couric
Vieira's daytime move wouldn't be exactly like Couric's. While "Katie" recently earned Daytime Emmy nominations as an informational talk show, word is Vieira's show will be "lighter and more entertaining." That makes sense. If she lands the gig for fall 2014, she'll join lively talk shows "Ellen" and "Steve Harvey" in NBC's daytime line-up.
Whether she'll be competing with Couric remains to be seen, as "Katie" has only been picked up through 2013/2014 season so far.  
More: Former MTV stars still on MTV | Short-lived late night shows | Family businesses on TV

Vieira hosted "Who Wants to be a Millionaire" for 11 seasons and currently contributes to "Dateline NBC," "Rock Center with Brian Williams" and Lifetimes' "Intimate Portrait." She was the original moderator of "The View" and after nine years with ABC, moved on to co-anchor "Today" with Matt Lauer in 2006. Her 2011 "Today" exit led to the Ann Curry debacle, about which Vieira recently spoke out, defending Lauer. 
Want more TV? Like MSN TV on Facebook and follow us on Twitter.
Morning show fans will recall that when Vieira exited "Today", she said she was looking to spend more time with her family. Apparently, she's had enough of that, since she's now looking into a new five-day a week gig! Then again, talk shows aren't quite the grind of morning news.
"Today" and "The View" air weekdays on NBC and ABC, respectively. "Who Wants to be a Millionaire" airs weekdays in syndication.