FEATURED POST
As the finale nears, we look back at Rosie Larson's gamut of potential killers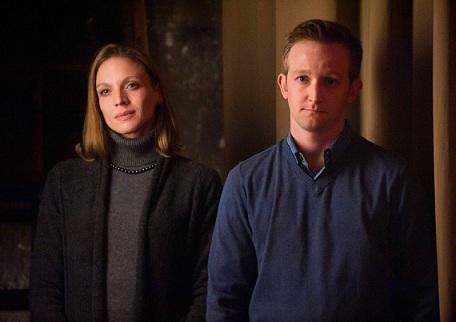 While
"Mad Men"
fans audibly groaned at that AMC series' recent anticlimax, audiences who stuck with the network's other spring drama, "The Killing," have been taken on a fun and suspenseful journey these past 12 weeks. Still, it's been a long slog since America was first made privy to the Rosie Larsen case and sucked into the claustrophobic world of Seattle criminal justice, and viewers are antsy for revelations during this coming Sunday's season finale. 
Those same committed couch potatoes may not even remember each and every suspect creator
Veena Sud
and her writing team have introduced over the past year. Which is why we've exercised our due journalistic diligence and collected 10 of Rosie's most viable, and seemingly implausible, potential killers. That, and to help narrow down exactly how we got from creepy high school boyfriends to scheming political insiders. Oh, "Killing."
Jasper Ames (Richard Harmon)
Remember when it appeared this was an open-and-shut case about a brooding teen misfit who took advantage of Rosie during a Halloween dance? Oh, if only it were that simple. Turns out Jasper's just a spoiled brat under his wealthy daddy's strict governance. Although still a creep.
Michael Ames (Barclay Hope)
Speaking of the duplicitous Ames clan, papa Michael's got his fingerprints all around the edges of Rosie's murder. His largess ensured Jasper stayed out of Seattle PD's crosshairs, but Michael himself is deeply involved with Mayor Adams and Chief Jackson's shady waterfront dealings, which we now know are directly connected to Rosie's untimely death. Jury's still out on this silver fox.
Chief Nicole Jackson (Claudia Ferri)
This no-nonsense Wapi casino owner and proud tribeswoman is also known for inflicting domestic abuse on partners like her head of
security/girlfriend,​
​ Roberta, in addition to ordering the savage beating of snoopy Detective Holder. Then again, 5.0's been lurking around on account of Nicole's ties to Mayor Adams and his whole waterfront shenanigans. As of this writing, Ms. Jackson indeed remains a Chief suspect.
Mayor Lesley Adams (Tom Butler)
Mayor Adams already ranks high in the pantheon of oily, snake-like TV politicians, and even forged damning photographs of his nemesis, Councilman Darren Richmond (more on him in a bit), driving the car that Rosie's body was discovered in. As of last week, it seems the Mayor is only guilty of being a greedy slimeball, but that greed also led to all this waterfront/casino drama, which indirectly resulted in Rosie's death. 
Councilman Darren Richmond (Billy Campbell)
It's still unclear whether criminally exonerated, recently paralyzed,
suicide-attempt-surv​
​iving (yeah, he's had a rough go) mayoral candidate Darren Richmond is actually the wizard behind the curtain of Rosie's tragic demise. But we do know he's had a thing for escorts, that Rosie volunteered for his campaig, and that his aides, Gwen and Jamie (definitely more on them later), are starting to make Mayor Adams' tactics look passive aggressive. We shall soon discover how far "Orpheus" descends.
Bennet Ahmed (Brandon Jay McLaren)
Rosie's favorite teacher and confidante also chaperoned that fateful Halloween dance, participated in Councilman Richmond's youth-outreach programs and may or may not have been the last person to see Rosie alive. Turns out, he wasn't, nor was he involved in any impropriety with Rosie, as Holder and Linden initially suspected. Too bad Rosie's dad, Stan Larsen, didn't get the memo. He and his mentally unhinged friend/employee Belko Royce (see next entry) nearly beat Bennet to death. Stan has tried to make amends with the still-recovering educator, to no avail.
Belko Royce (Brendan Sexton III)
Nothing spells red herring like a shadowy loner who lives with his tyrannical mother and secretly obsesses over protecting the teenage daughter of his best friend and boss. Belko may have beaten one falsely accused suspect (Bennet) and shot and paralyzed another (Richmond), before slaying his mother and eventually shooting himself while in prison, but one heinous act he didn't commit was Rosie's murder. And if he did, it's not likely we'll get a confession.
Terry Marek (Jamie Anne Allman)
No one's been presumed innocent in "The Killing," not even Rosie's family. And for a while there, least of all Aunt Terry, who it turned out was Michael Ames' mistress, an escort for Ames and Richmond's service of choice and a generally resentful younger sister to Rosie's grieving mother, Mitch. Alas, Terry's merely a lonely, depressed and confused young woman, but not, as it appears, a niece-murderer. 
Janek Kovarsky (Don Thompson)
Stan Larsen was never really a suspect, but his past indiscretions may have played a hand in his daughter's death. We discover early on that Stan and Belko were affiliated with mob leader Janek Kovaesky's outfit in a past life. Eventually, Stan makes the near-critical mistake of turning to Janek for assistance in exacting revenge for Rosie's death, and we learn that Janek's goons may have been tangentially involved in the events leading to her passing. Good thing Janek's angry teen hitman Alexi took Kavorsky out after discovering the kingpin ordered his father's killing some years ago. Phew.
Gwen Eaton and Jamie Wright (Kristin Lehman and Eric Ladin)
Currently Linden and Holder's primary leads, Gwen was definitely the one driving the car Rosie's body was dumped in, and Jamie was positively at the construction site where Rosie was killed on that Oct. 5 night. It's all related to a hush-hush collusion with Michael Ames to double-cross the mayor and secure the waterfront for Richmond. What we don't know is whether Richmond knew of their dirty deeds, and who actually inflicted the mortal wounds and left a 16-year-old girl for dead. These two either got in over their heads, followed orders and got caught in a pickle, or are wolves in slightly less-wolf-y clothing. Or all of the above. We'll find out in just a few days.
"The Killing" season finale airs Sunday, June 17, at 9 p.m. ET/PT on AMC.