FEATURED POST
Shake-ups continue!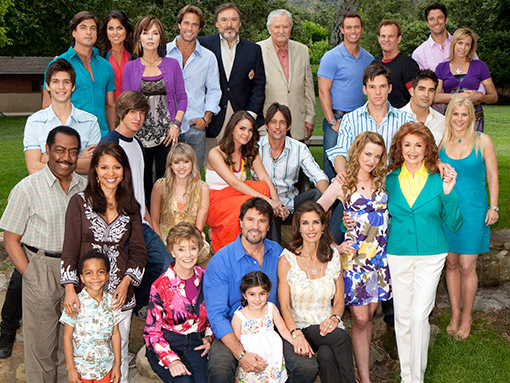 By Deanna Barnert
Special to MSN TV
On the heels of a head writer shakeup and a serious cast reshuffle, "Days of our Lives" has announced a new team of executive producers. Former co-executive producer Gary Tomlin is officially out, with Noel Maxam and Greg Meng taking over as the new Co-Executive Producer team.
"It's time to make a more positive, romantic and intriguing show driven by the power of heroic love," said "Days of our Lives" head honcho Ken Corday. "I'm very excited about the new adventure we are about to take which is based on the show that my parents created 45 years ago."
Over the past month, "Days of our Lives" has announced a new head writing team, Marlene McPherson and Darrell Ray Thomas and major casting changes.  As an update on the casting ins and outs in Salem, so far, "Days of our Lives" has said goodbye to Louise Sorel (Vivian), Crystal Chappell (Carly), Nadia Bjolin (Chloe), Tamara Braun (Taylor), Bren Foster (Quinn) and Francisco San Martin (Dario). Casting additions include returning Deidre Hall (Marlena), Drake Hogestyn (John), Matthew Ashford (Jack) and Mark Hapka (Nathan) and newcomer Freddie Smith ("90210") are heading to town.
Now, "Days of Our lives" has given Gary Tomlin the axe -- or at least, they've replaced him with new co-exec producers. Co-Executive Producer Noel Maxam has been a producer on the show for four years, while Co-Executive Producer Greg Meng has served as Executive in Charge of Production for over ten years.
The revitalized crew at "Days of Our lives" is working together to create a "grand event in the fall," respite with big surprises.
"I am confident these changes will bring back excitement and anticipation to our family of fans as they tune in each day to see what happens," Corday teases. "You won't want to miss a single episode of the new 'Days' ahead!"
Gary Tomlin has been at the helm in Salem since 2008. While often credited with getting "Days" finances in order, his start as an actor also made him a favorite of some Salem locals. Tomlin's history in daytime goes back to a 1973 acting gig on "Search for Tomorrow." He made his move to the other side of the camera after his 1979 stint on "Another World" and has since served as a director, writer and producer on soaps like "All My Children," "Passions," "One Life To Live," "Search for Tomorrow" and "Sunset Beach." He also created the animated series "W.I.T.C.H."
"General Hospital" recently made news with its own head writer shakeup and with the Daytime Emmys set for this weekend in Las Vegas, stay tuned for more big daytime soap and talk show news! 
"Days of our Lives" airs weekdays on NBC.