FEATURED POST
Host opens up about her big return to daytime, her competitors and 'Dancing'
Ricki Lake is returning to daytime after eight years away from the talk show scene. MSN TV went straight to the source to find out what to expect when "The Ricki Lake Show" premieres Monday, Sept. 10.
Bing: More about Ricki Lake
In an effort to get fans involved before her new talk show even launches, Ricki Lake has been inviting all Friends of Ricki to her production meetings (the next one is Thursday, Sept. 6, at 3 p.m. ET and 12 p.m. PT via Ustream) and local MeetUps. She's also been dropping videos via YouTube that share moments like her experience in an anti gravity yoga class and her sons recording her show's new theme song. With promos touting the message, "I have the same questions as you," she's also been getting fans involved by asking some of those questions on Facebook and Twitter. 
Plus: Fall TV's familiar faces | Fall TV premiere dates
In short, Lake hasn't kept her plans or energy under wraps, but MSN TV delved deeper into what she'd like to see for her new show, how it will compare to her often sensational '90s run in daytime, whether she's nervous about competing with Katie Couric, Steve Harvey and Jeff Probst, and how "Dancing With the Stars" helped her get back to daytime.
MSN TV: "Dancing With the Stars" has been a comeback vehicle for so many stars. Did you join the competition to wake up your old fanbase and rebuild an audience for your premiere?
Ricki Lake: Anytime you have the audience once a week in the number one demo, it certainly gives you power. For me, it was really about selling the show. We needed to clear a certain amount of the country. But obviously I also wanted to connect with the audience and I'm hoping when we start the show, the audience that liked me on "Dancing With the Stars" is going to tune in and check out the show.
How did you feel when you realized you'd be launching your show in such a crowded market?
Well, I'm a pretty competitive person. I'm like, "Bring it on!" I'm a fan of everyone that has a show coming out this year. I'm very curious to see what Katie [Couric] is going to do, and Steve Harvey. He makes me laugh. And Jeff Probst, I've been following since Season 1 of "Survivor." Yes, there's a lot of competition right now, but I think we are just focused on doing the best show that we can for the audience that grew up with watching me, and then some.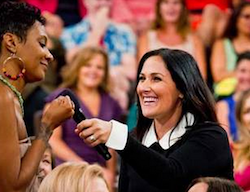 In addition to having history in daytime, you are the only new host this season who is actually in the coveted daytime ratings demographic, which gives you an edge. But how concerned are you about bridging the gap with a younger audience that gets its entertainment and news in such a different way than the traditional daytime audience?
When you do a topic that everyone can relate to, it will keep people interested. Relationships, love, weight, makeovers and all those things, they span generations. The grandmother can relate, and the granddaughter can relate. But it's going to be interesting this year. This is all new for me as well -- the technology that exist now, the immediacy and the short attention span of the viewer. It's going to be trial and error. I'm just going to do what I do -- which is be true to myself, have a natural curiosity about people, humanity and behavior, and be candid about my own life and experiences.
You've been very open about your struggle with weight. Is daytime a good fit for a host who doesn't always like his or her weight?
Oprah [Winfrey], I really related to her and her weight battle. It made us feel like she was one of us. I think it makes me that much more relatable. Like it or not, I'm someone who struggles with wanting to look young and be a size whatever. I don't want to be a hypocrite. There days when I feel really good about myself and there's days when I wish I could change some things. It's about trying to reach a place with being happy where we are today. It's such a tricky thing, because I don't want to perpetuate this obsession that we have, but I also can't help but be human. It's going to be my thorn in my side forever, but for the most part, I'm a success story. To be in size 28 jeans? I definitely know I'm not fat, but I also know I still want to go further. 
What are some of the topics you have on "The Ricki Lake Show" schedule or wish list?
We're having a 41-year-old virgin, and she's on my staff! The idea that someone in their forties hasn't had sex: Who is that person? I'm fascinated. I can't imagine not having that in my life. I haven't talk to her about it yet, because I want to have it be a spontaneous and authentic as possible.
Losing a child ... And gun control is a huge issue that I'd love to talk about, from the standpoint of a mother. We're planning to do an hour on my movie, "The Business of Being Born." I would love to do an hour on the breast-feeding debate and on circumcision. Germany, Santa Monica and San Francisco have wanted to ban circumcision. It's a topic everyone can relate to. It's provocative. It applies to all of us if the laws are being changed [about] what we are allowed to do to our bodies or our children's bodies. It's worth talking about. I'm curious and passionate about a lot of women's issues that I want to talk about.
And when you have an opinion, are we going to hear it?
What do you think? I don't hold back, but I'm not about instilling my view on everyone. I want it to be an inclusive environment, for everyone to have an opinion and be heard.
Going back to the word "provocative." How will this talk show be different than your last run in daytime?

Before it might have been a lot more crazy, with DNA tests and all that. We had a formula. It's about aging it up a little bit. It's about doing stuff with a little more substance. Still a little fluff, but more substance.
Are there any topics that are off limits?
No, but I'm going to be very careful about- ... I'm certainly going to be open book, but keeping in mind that I have a 15-year-old whose friends might see it. It's just being conscious of my son's privacy, to a certain extent. But anything and everything can be discussed if we treat it with respect. One thing I pride myself in doing 2100 hours of television with my old show, I always treated everyone on my stage like they were part of my family and came with respect. Everyone has a voice and deserves to be heard.
"The Ricki Lake Show" premieres Monday, Sept. 10, in syndication.