FEATURED POST
Demi Lovato's visit inspires host to reveal her own struggle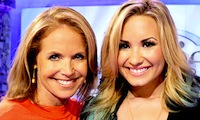 With Demi Lovato scheduled to visit "Katie" Monday, Sept. 24, there was no doubt the "X Factor" host would discuss her battle with bulimia. Katie Couric's disclosure that she too struggled with the eating disorder was a surprise. But the word is she shared her story during the episode. 
"I wrestled with bulimia all through college and for two years after that," Couric said, according to the
NY Post
. "And I know this rigidity, this feeling that if you eat one thing that's wrong, you're full of self-loathing and then you punish yourself, whether it's one cookie or a stick of gum that isn't sugarless, that I would sometimes beat myself up for that.
"How do you have a healthy relationship with food, and say, 'You know what, I can have one cookie and it's OK?' That is such a huge thing for people who wrestle with this."

After struggling with the disease from ages 18 and 24, Couric apparently conquered it during her early years with ABC news with the help of a therapist and research. Couric has provided additional information about eating disorders via her
YouTube page
. 
During Lovato's visit, the Disney grad opened up about her own battle, revealing memories of thinking she was fat at age three. She also talked about being bullied in school and recounts the very public breakdown she had few years back. 
"I made a huge mistake and I ended up hitting one of my friends who was a back up dancer," Lovato recounted. "I felt horrible, I wasn't really in control of my emotions at the time and I was just out of control and there's no excuse for it, but it definitely showed everyone I needed to get help and I think two days later I was checking into rehab." 
"Katie" airs weekdays in syndication.