FEATURED POST
Leah Remini out, Holly Robinson Peete's future looking murky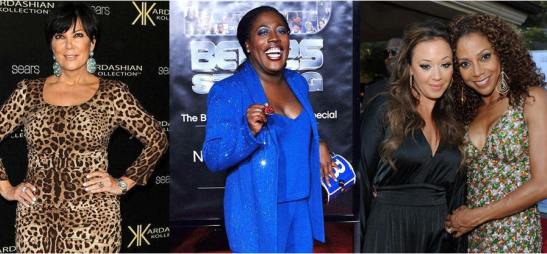 The net has been abuzz with speculation since word broke that Kardashian Queen Kris Jenner and "Steve Harvey Morning Show" funnywoman Sheryl Underwood are joining "The Talk" team. The story was that they were replacing Leah Remini and Holly Robinson Peete, not Sharon Osbourne, who is taking a break from the talker. But reporters may have spoken too soon ... or not.  
Bing: Watch clips and episodes of "The Talk"
Rimini is indeed out, having tweeted the news herself late Thursday: "It is official: I am sorry to say that I have NOT been asked back on the show. Sorry to my fans. U worked so hard! I adore u guys." Later, she added, "No reason was given."
Bing: More about Sheryl Underwood
Deadline seems to have gotten that part of the story correct, but what about Holly Robinson Peete?

"Truth is I have still not officially been released ... " Peete tweeted. "Devastated by the news that @LeahRemini was not asked back to @TheTalk_CBS. She brought humor, heart and authenticity."

With fans tweeting support to Remini and Peete, it seems Deadline may know something Peete doesn't "officially" know. CBS isn't talking "The Talk" exits, but a source close to the show confirmed to MSN TV that Kris Jenner and Sheryl Underwood are indeed joining the team, in different capacities -- and the math doesn't add up for Peete.

"Sheryl is joining as co-host at start of season and could become a regular," our source reported. "She'll join the panel with Julie Chen, Sara Gilbert and Sharon Osbourne for the season two launch, which starts Tuesday, Sept. 6."
Though Osbourne will be on hand for the premiere, she still plans to have a lighter schedule this season and it sounds like Chris Jenner may be one of her replacements. "Chris has signed on as a guest host for two weeks, early in the season," confirmed MSN TV's source.

"The show is also looking at other potential hosts or guest hosts, but hasn't ruled out a season with four on the panel," adds the source. Chen, Gilbert, Underwood and Osbourne/Jenner makes four. Not good news for Peete, officially or otherwise.

As for the new additions, Kardashian mama Chris Jenner needs no introduction. It's hard to imagine why CBS felt the E! reality mom needed more airtime, but she should bring an interesting dynamic to the table -- not to mention visitors from the Kardashian camp.

Sheryl Underwood, who is a self-described "sexually progressive, God-fearing black Republican," should also shake up the mix.

Stay tuned for more on this story.
"The Talk" airs weekdays on CBS. Season 2 launches Tuesday, Sept. 6.