FEATURED POST
Would co-host with Kelly Ripa and continue 'SNL' news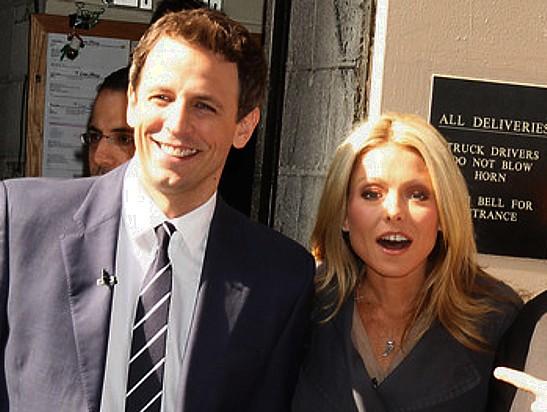 "Live! with Kelly and Seth"?
It's nearly a reality -- at least, according to Showbiz411. The popular morning show has until September to decide on Kelly Ripa's permanent new co-host.
Since Regis Philbin retired last November, a conga line of potential co-hosts has tried his chair on for size. But when Meyers returns on Monday -- following well-received stints in April and May -- he will, tellingly, be granted the first full-week stand since Neil Patrick Harris's last year. And this one is during sweeps week.
Bing: More about 'Live! With Kelly'

According to the report, the current contenders also include former football great Michael Strahan and singer Josh Groban.
"Others who'd like the gig have not been asked back as many times as Meyers," Showbiz411 reports. "Strahan has been a strong contender, but in the end, I'm told, it's Meyers who has the widest appeal, background and strengths."
If the move happens, Meyers can still keep his gig reading the fake news on "Saturday Night Live." However, he would probably have to resign as the show's head writer.
"Live! with Kelly" airs weekday mornings in syndication. Check your local listings.