FEATURED POST
Celebrity chef and dad mocks canceled Nick show for kicks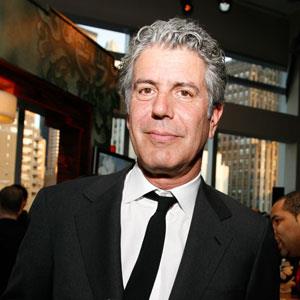 Anthony Bourdain needs attention. "The Taste," ABC's chef competition show on which he's a judge, debuts later this month. And his CNN show, "Parts Unknown," premieres this spring, but that's too far away for the 56-year-old bon vivant.
So what's Bourdain been doing to steal the spotlight in the meantime? Live tweeting "iCarly," of course. 
Bing: More on 'The Taste' | Anthony Bourdain | 'Parts Unknown'
That's right. The celebrity chef, husband and father took to Twitter to post his observations on the now defunct Nickelodeon teen comedy about a girl (Miranda Cosgrove), her friends and their web show.
Plus: 13 TV resolutions for 2013 | TV hipsters
One tweet read: "Carly and Sam are so mean to Freddy. He should quit — let those b------ find another shooter who works for free. #iCarly #sweatshop" while another said: "Carly using Freddy's sexual obsession to exploit him for free professional services wrong! He'll probably grow up to be Brett Ratner now."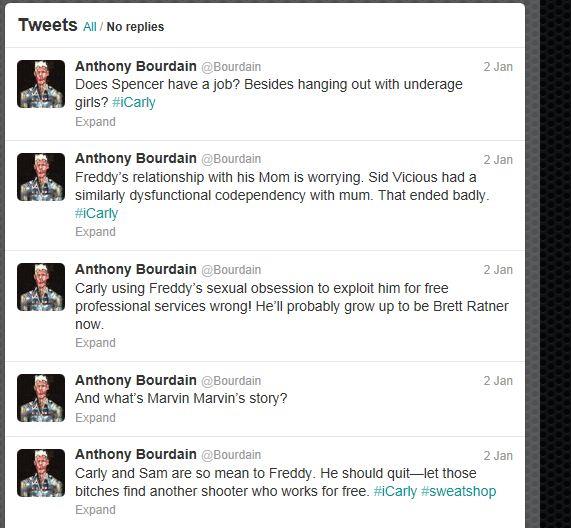 Yes, we know. These are some humorous tweets, but Bourdain is too grown for this kind of mockery. Besides, his views on travel guru Rick Steves are much funnier.
"The Taste" debuts Tuesday, Jan. 22, at 8 p.m. ET/PT on ABC. "Parts Unknown" debuts this spring on CNN.