FEATURED POST
Will 'Modern Family' actress' personal problems overshadow her work?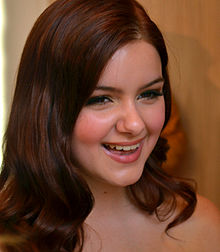 The red-carpet premiere of the Disney Channel's new animated movie, "Sofia the First: Once Upon a Princess," was a success this weekend, with one exception -- the film's star Ariel Winter. 
The 14-year-old "Modern Family" star is the voice behind Sofia, Disney's first bicultural princess. But Winter is also wrapped up in an ugly custody battle, in which her mom has been accused of abuse and Winter's older sister is filing for guardianship.
Bing: More on Ariel Winter | Ariel's Winter's off-screen woes | 'Modern Family' | 'Sofia the First: Once Upon a Princess'
Because of Winter's off-screen troubles, she was understandably absent from the red carpet for "Sofia the First" Saturday. And when she appeared at the end of the movie singing one of the songs, several members of the audience reacted with audibly noticeable gasps followed by moans of sadness.
Plus: Past shows that should return | Shows that should be canceled
Can Winter weather this storm of bad personal publicity, and will it affect the way people look at her on "Modern Family" and "Sofia the First"? Time will tell, but more than likely she will. People love survivors if they come out on top.  
In the meantime, the tabloids have been stalking Winter and following her every move ever since the abuse allegations went public. Winter's next guardianship hearing is Nov. 20.
"Modern Family" airs Wednesdays at 9 p.m. ET/PT on ABC. "Sofia the First: Once Upon a Princess" debuts Sunday, Nov. 18, at 7 p.m. ET/PT on the Disney Channel with an encore presentation Thursday (Thanksgiving Day), Nov. 22, at 9 a.m. ET/PT on Disney Junior.