FEATURED POST
Do you have what it takes to share the camera with Anderson Cooper?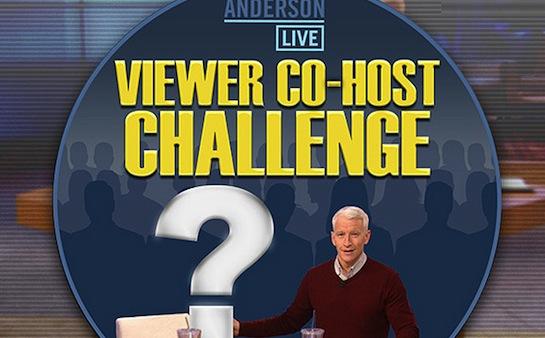 Andy Cohen, Sara Ramirez, Bethenny Frankel, Kelly Osbourne, D. L. Hughley, Goldie Hawn and Kellie Pickler are just a few of the co-hosts who have tapped in for a day on "Anderson Live" this season. Now, Anderson Cooper is looking to make one his viewers co-host for a day. Do you have what it takes?
Bing: More about Anderson Cooper    
The "Anderson Live" Viewer Co-Host Challenge kicked off Monday, Oct. 22, and runs through Wednesday, Nov. 14. Viewers can visit the "Anderson Live" website and find the link to upload a video (two minutes or less) that shows off their personality, co-hosting ability and creativity -- and answers the question "Why would you make the perfect co-host on 'Anderson Live'?"
Plus: How real is reality TV? | TV reboots | Fall TV guide
After the "Anderson Live" team selects their five favorite entries, viewer voting will run on the website from Nov. 19 through Nov. 29. Anderson's co-host for a day will be picked Nov. 30 and receive round trip airfare, two night's hotel accommodations and ground transportation to the studio.
"Anderson Live" airs weekdays in syndication.