FEATURED POST
What we saw before, during and after the show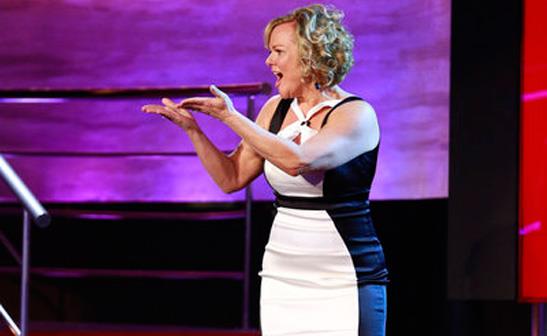 By Minh Nguyen
Special to MSN TV
MSN TV was among the 900 strong audience members sitting inside the auditorium Monday night to witness the crowning of "The Biggest Loser" winner Danni Allen and the at-home winner Gina McDonald. Danni Allen, a 26-year-old advertising account coordinator, began the season at 258 pounds and weighed in at 137 pounds during the finale. She lost 46.90% of her body fat. Yes, our jaw dropped when we saw her come out on stage!
Bing: More about 'The Biggest Loser' | Gina McDonald
Before the show, Alison Sweeney came out camera-ready, except for flip-flops. She told the audience, "There's such a feeling of love when you guys cheer and scream, when you give everything up. I said to them all (backstage) to take that in and remember it for the rest of their lives. They've worked so hard. They deserve to be standing here. They deserve to feel that energy and that love from each one of you. You are all so wonderful to be here and be part of this experience for them and for me."
While the winners were onstage, we were told the audience was the biggest it had ever been, going from 500 last time around to 900. The atmosphere was very similar to church as audience members stood almost the entire time singing, clapping, yelling positive messages of love.
Plus: Unforgettable and regrettable reality shows | Reality TV lawsuits | Our favorite 'DWTS' pros
Bob Harper came to give the contestants hugs. Jillian Michaels' little, adorable child sat across from us and came down to hug her mom. The audience gushed over how cute the moment was as the little toddler walked back to her seat all on her own. Dolvett Quince danced happily with a woman who had lost 50 pounds to Carly Rae Jepsen's "Call Me Maybe." We heard other fun and motivating songs such as the Pointer Sisters' "Jump (for My Love)", Taio Cruz's "Dynamite, I Came to Dance, Dance, Dance" and Black Eyed Pea's "I Gotta Feeling."
At the end of the show, as the white and silver streamers were falling down, it felt magical, as if it was snowing inside. The floors were slippery as we walked onstage and spoke to the at-home winner, Gina McDonald. The 47-year-old attorney and law firm owner from Hoover, Ala., had gone from 245 pounds to 132 pounds for the final weigh-in. She had lost 46.12% of her body fat.
She was all smiles and told us her night was "great." She explained, "I just won $100,000 and lost 113 pounds at home." When we asked her what she would take away from her "Biggest Loser" experience, she told us, "What I did on the outside isn't nearly as important as what I did on the inside. I've grown a lot on the inside. I'm more spiritual, I'm emotionally healed on the inside and so I'm moving forward. It will just get better from here on out."