FEATURED POST
The rock legend talks AIDS, addiction, coming out and fatherhood
With NBC gearing up for the Olympics, "Today" is already settling in across the pond. Matt Lauer even landed an invite to Sir Elton John's home outside of London for an exclusive two-part interview, airing on "Today." The rock legend talked about his memoir, "Love is the Cure: On Life, Loss and the End of AIDS," due out July 17, and got personal about AIDS, his struggles with drugs, alcohol and bulimia and coming out as a homosexual. 
Bing: More about Elton John | "Today" | AIDS
It's hard to remember a time when the world didn't know Elton John is gay, but the superstar did once have to take that divisive step out of the closet. During the "Today" interviewing airing Tuesday, July 17, and Wednesday, July 18, Lauer asked John whether he'd had fears about how his sexual orientation would affect his career.
"No, I honestly didn't. And it-- To be honest with you, it did [affect it] a little bit," John said. "In America, people burned my records for a second and radio stations didn't play me. It didn't have any effect like the Dixie Chicks had when they made the anti-Iraq statements and their career was ruined. So by me saying gay in the 1970s-- it didn't have a big effect on me whatsoever." 
Also: Shows that went too soon | The brows of summer | Also: Summer TV report card
John kept rocking, vamping and partying right up through the outbreak of the AIDS epidemic.
"I wasted such a big part of my life, when this epidemic was beginning to happen in the early 1980s," he admitted. "And I was a drug addict and self-absorbed. You know, I was having people die right, left, and center around me, friends. And yet, I didn't stop the life that I had, which is the terrible thing about addiction. It's that-- you know, it's that bad of a disease."
He added that the drugs and partying made him feel invincible, at the time, and that having stayed HIV-negative after years of unsafe sex makes him "the luckiest person in the world."
Since sobering up, John has become one of the world's leading AIDS activists. The sale of his memoir will benefit the Elton John AIDS Foundation (EJAF), which has raised $275 million since 1992 to fight the AIDS epidemic and help those affected by it.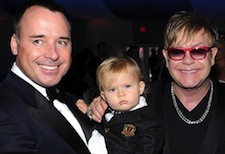 John has also become a husband and father, and told Lauer he hopes to have another child.
"I'd love to have more children," he revealed. "And also Zachery-- being the child of a famous person is hard… When he's four and he starts going to preschool, kids will say, 'You don't have a mummy.' And we know that. We talked about this before we had Zachery. And we're gonna say, 'Well, listen, there's gonna be consequences involved in having a child when you're two gay parents.' And I want him to have a brother or a sister to go to school with him. And so that he can have someone to play with…
"It's going to be heartbreaking for him to grow up and realize he hasn't got a mummy," John added. "But he's so happy. I've never seen a more contented child. And you have never seen two more contented people as David [Furnish] and I." 
"Today" airs weekday mornings on NBC.